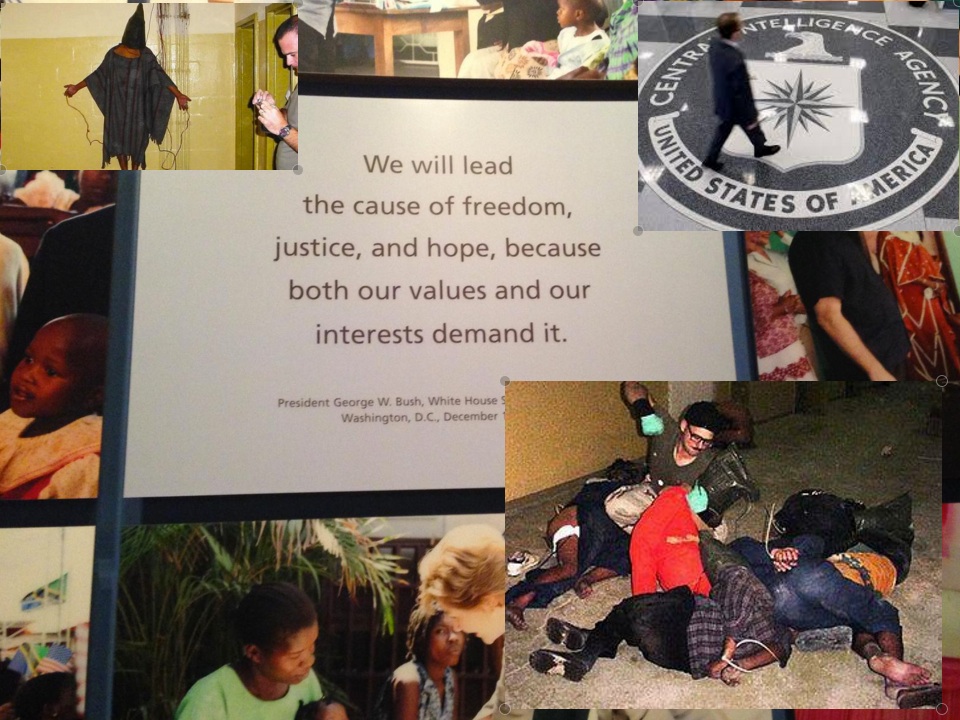 Digital Graffiti Installation Gives Unauthorized Tour of Bush Library
The 'augmented reality project' offers a much less rosy picture of the George W. Bush presidency.
It's difficult to find widely publicized images of torture at Abu Ghraib, or of desperate New Orleans residents stranded on rooftops after Hurricane Katrina, at SMU's George W. Bush Presidential Center. References to former Vice President Dick Cheney are almost as scarce. For better or worse, the presidential library has an agenda, and it's one that — it could be argued — involves glossing over some of the more controversial aspects of one of our most controversial president's time in office.
An "augmented reality project" launching Friday aims to give museum guests a more nuanced understanding of Bush's two terms. Using the Layar app, visitors can point their smartphone or tablet at one of 10 "trigger locations" in the museum. The George W. Bush – Presidential Library Augmented Reality Project will then feature information that corresponds to a particular display, covering everything from the 2000 election to the war on terror.
For example, a display that looks like this:
Will appear like this in the "augmented reality" on your phone or tablet:
The text found here will follow. Other examples of such "digital graffiti" — which, it maybe goes without saying, has not been approved by the Bush Center — include an insertion of Edward Snowden's Twitter feed into a display about the Patriot Act. The famous video of Kanye West declaring that Bush "doesn't care about black people" makes its way into an exhibit about the government response to Hurricane Katrina.
The project was created by Ellen Chenoweth, a Texas ex-pat and Philadelphia resident who, as a press release notes, is not a professional historian, but someone who was "disturbed by the version of American history from 2000-2008 that was presented at the Bush presidential library." Chenoweth hopes "to provide visitors with additional information, and to insert some relevant images, video, and text into the narrative presented by the Bush Center."
The release cautions that:
The intent is not to tear George W. Bush down, but to provide a more complex view of the administration's policies and the Bush legacy than that provided in the official space of the George W. Bush Presidential Library. Bush has described the library as "a place to lay out facts"; the installation aims to promote this mission.
That may be a little disingenuous. The project has a clear point of view, which is highly critical of Bush's policies and legacy. It constructs a counter-narrative to the Story of Bush as told by the museum, attempting to dissect what is a fairly rosy portrayal of the 43rd president.
If a truly objective assessment of the Bush presidency can be made, it won't be found in this project or in the Bush Center itself. But, presented with two opposing sides, guests are free to make up their own minds.
The full release is below. Go here for more info on the George W. Bush Presidential Library Augmented Reality Project.
Official launch this Friday, May 13.  Installation is live between May 13, 2016 and April 28, 2017.  More details at georgewbushpresidentiallibrary.wordpress.com.

All content is designed to respond to and interact with the George W. Bush Presidential Center on the campus of Southern Methodist University (SMU) in Dallas.

The George W. Bush – Presidential Library Augmented Reality Project (GWB – PLARP), presents additional information and context, alongside the information that is presented by the museum.  There are 10 hotspots within the permanent exhibit at the Bush library, covering topics ranging from Bush's environmental policies, to the Global War on Terror, to the response to Hurricane Katrina.  The hotspots are activated when a user points a device at the museum image, and then is able to view the additional content.

To participate, users only need a smartphone or tablet, and to download the free augmented reality app Layar.  Directions for accessing the content are available at the project website, and should be printed and taken into the museum as a map for the optimal experience.

The May 13 launch date is intended to coincide with SMU's graduation weekend, as SMU students are able to attend the museum for free.  (Active military personnel are also able to obtain admission tickets for free.  Those who are not SMU students or military will need to pay admission, outlined on the Bush Center website.)

Interested people who are not able to access the augmented reality in situ can still experience the project through the website.

The George W. Bush – Presidential Library Augmented Reality Project (GWB-PLARP) was created by Ellen Chenoweth.  Currently living in Philadelphia, Ellen was born, raised, and educated in Texas, with a degree in history from Rice University and a degree in dance from Texas Woman's University.

Although not a professional historian, Ellen was disturbed by the version of American history from 2000-2008 that was presented at the Bush presidential library (partially funded with public money through the National Archives and Records Administration).

This project is an attempt to provide visitors with additional information, and to insert some relevant images, video, and text into the narrative presented by the Bush Center.  The intent is not to tear George W. Bush down, but to provide a more complex view of the administration's policies and the Bush legacy than that provided in the official space of the George W. Bush Presidential Library.  Bush has described the library as "a place to lay out facts"; the installation aims to promote this mission.

Topics covered by the GWB-PLARP:

Bush's environmental record

Bush and Hurricane Katrina

2000 election, Bush v. Gore

Vice President Dick Cheney

Torture of detainees, Abu Ghraib

Global War on Terror

Overall legacy

Effect of Bush's tax cuts

Iraq war

Patriot Act