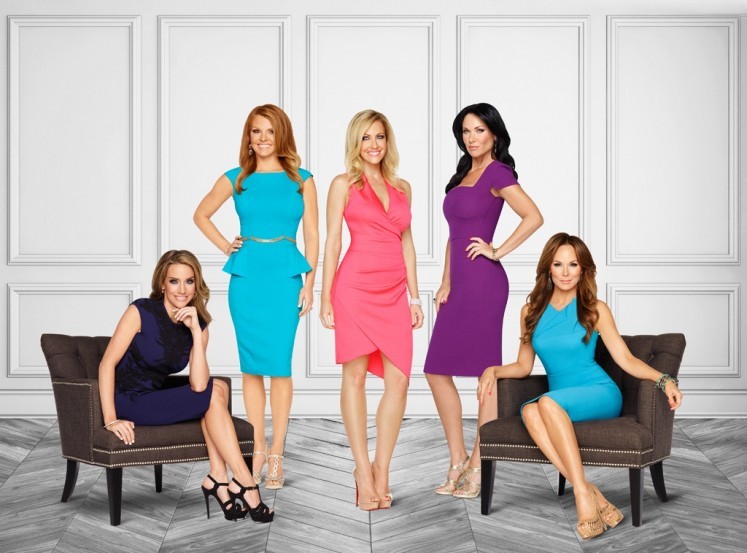 The Real Housewives of Dallas Preseason Power Rankings
Who will be the most Real housewife in Dallas?
The Real Housewives of Dallas premieres Monday on Bravo, kicking off a season-long battle to determine who is, in fact, the most Real housewife in North Texas. We've seen the first episode of the show, and while we're sad to report that none of our anticipated storylines seem to be playing out, we feel that we have a solid understanding of the major players.
Who will sit on the Real Housewives equivalent of the Iron Throne? Who will hoist the Real Housewives Lombardi Trophy at the end of the season? Who will emerge victorious from 10 episodes of swanky charity galas, petty feuds, and Dallas cliches? Here are our preseason power rankings of the contenders.
1) LeeAnne Locken
The foul-mouthed former carny would probably be more at home on Game of Thrones, where she wouldn't have to veil the ruthless social climbing and power-hungry scheming behind a veneer of Southern hospitality. It seems clear that Locken would be just as comfortable ordering an execution as a mimosa. The sigil of House Locken? An ill-tempered rattlesnake with the words, "mouth of the South." It's observed in Housewives' first episode that "people in Dallas are very much afraid of LeeAnne Locken," a woman who is neither a housewife, or — from what the show tells us — exceptionally wealthy. She also doesn't seem to be especially real, but this country has long awarded those with a knack for reinvention and deception. Locken's an up-by-the-bootstraps striver who has forced her way into the insular world of North Texas High Society with little more than her Machiavellian wiles. At the risk of mixing literary comparisons here, Locken is a bloodthirsty Jay Gatsby in high heels. She's earned the No. 1 spot this week. But can she hold it?
2) Brandi Redmond
The cheerful former Dallas Cowboys cheerleader with an affinity for "Jesus Juice" and scatological humor is bold enough to challenge Locken's dominance. We applaud her bravery, and her easygoing manner may lead opponents to underestimate her.
3) Cary Deuber
Deuber, a registered nurse who works with her husband at a plastic surgery center, notes that "Deubs" rhymes with "boobs," showing an incisive wit that may help her reach the top of the Housewives heap in episodes to come.
4) Tiffany Hendra
Hendra gets points for having an allegedly scandalous past to distract her enemies from her true plans, but she married a musician, which forces us to question her judgment. Hendra seems comfortable in her role as Locken's sidekick, but she'll have to show a little more autonomy to emerge victorious from this season of Housewives.
5) Stephanie Hollman
The most housewife-y of the Housewives, Hollman needs to escape the 1950s if she has any hopes of winning this thing. While she doesn't necessarily need to pull a Lorena Bobbitt, we suggest she follows Cary Deuber's lead — assume a Lady Macbeth role and prod her husband into doing her dirty work.
6) The Husbands
We can't really remember anything about these guys. They'll need to coordinate their efforts if they want to turn a dark-horse campaign into Real Housewives glory.
7) "Jesus Juice"
Alcoholism is no laughing matter, regardless of what cute name you give that third glass of wine before 5 pm. We'd hate to see "Jesus Juice" rise in the rankings, tearing apart families and livers in the process.
8) Fart Jokes
This is Real Housewives of Dallas, not a Seth Rogen movie. That kind of scatological humor has no place here. Have some decorum.
9) Dallas
We're not sure that any of the action depicted in episode No. 1 actually occurred in Dallas. Real Housewives of North Texas' Wealthiest Suburbs and Richest White Enclaves doesn't have the same ring to it, though.
10) Charity
The word "charity" is used liberally and with gusto on The Real Housewives of Dallas. The Housewives themselves are eager to assure the audience that they do charity. There are charity events. Charity fundraisers. People work in charity. Give to charity. Eat, sleep, and breathe charity. Charity, seemingly, is as vital to the Real Housewives of Dallas lifestyle as big hair and a propensity for petty feuds. Who is this charity benefiting? Who is ensuring the funds raised at this charity benefit are being allocated properly? Should philanthropy be a substitute for fair taxation and just public policy? These questions are given short shrift. Charity as a status symbol, however, is going to be a real contender in the power rankings this season.