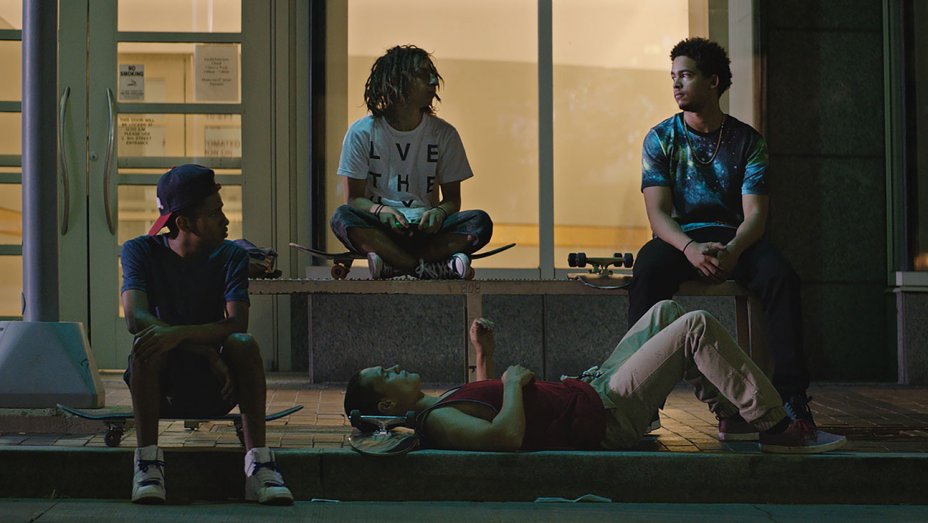 Your Guide to the 2016 Dallas International Film Festival
The Dallas International Film Festival opens tonight with The Land, which stars Dallas' own Erykah Badu and made waves at Sundance for its portrayal of four skateboarding teenagers drawn into the drug trade in inner-city Cleveland. More than 160 films will show over the next 10 days, including special screenings of beloved movies like E.T. (Saturday afternoon at Dallas City Performance Hall), and Labyrinth, which will screen Saturday evening at Klyde Warren Park following a David Bowie look-alike contest. This weekend's programming at City Performance Hall also includes the world premiere of the filmed-in-Dallas television show, Queen of the South.
For the most part, the action will be centered around the Angelika and, after the USA Film Festival moves in next week, the Alamo Drafthouse on Lamar. Peruse the schedule, and check back here for daily updates and reviews from the festival. To get started, here are reviews of all the films that we were able to see ahead of time.
Arianna
4:45 p.m. April 15, Angelika 8; 4:45 p.m. April 20, Angelika 8
Grade: B
In narration at the film's outset, teenager Arianna tells us that she's had three births. I wasn't at all confused from then on as to what the supposed secret of her early past was, so it was disorienting to flash back to watching Arianna learn for herself why she has to take hormones to grow breasts and why she's never menstruated. She looks on admiringly at the budding, womanly figure of her cousin as she spends leisurely summer days at her family's lake house outside Rome. She watches porn and feels the pull of sexual desire but can't experience pleasure when she attempts to masturbate. Her attempts to lose her virginity to an intriguing young man are aborted because the process feels too painful. The film is a gently moving — if at times overtly symbolic — story of a young person trying to discover, and define for herself, her own truest identity. — Jason Heid
Shorts 1
7 pm April 15, Angelika 4; 1:45 pm April 16, Angelika 7
The one-shot Teapot is an intriguing, thoughtful gem from Takeaway Scenes, which challenges actors and filmmakers (who are required to remain anonymous) to develop intimate shorts under a strict set of rules and principles, including the mandate that "honesty is king." Bisonhead is a powerful vignette about the 21st century remains of the Ponderai American Indians' relationship with hunting buffalo at Yellowstone. Of the shorts we haven't yet seen in this block, standouts include Eat Prey, about a bachelorette party gone horribly wrong, and The Mink Catcher, which is set at an upper-crust shindig in 1980 Dallas. — Alex Macon
Farmer/Veteran
7:15 p.m. April 15, Angelika 7; 5:15 p.m. April 16, Angelika 8
Grade: C+
I wonder if sunk costs forced the makers of this documentary — about a PTSD-scarred Iraq war veteran trying to find peace through a new life as a farmer — to carry on with their work even after it became clear that there was nothing particularly revealing in the story of Alex Sutton. Which is not to suggest that Sutton isn't one of a generation of young men severely screwed up by the horrors of war. Though clearly a loving husband and father, Sutton routinely wanders around his property with a rifle casually at his side and seems to take inordinate pleasure in the task of killing his animals. I only wish that the film had either made Sutton just one part of a larger look at veterans or that this had been a 20-minute character study only. At feature-length, and with no narrative arc to speak of, the material captured comes off as repetitive and thin. — Jason Heid
Late Night Shorts
10 pm April 15, Angelika 7; 9:45 pm April 16, Angelika 7
Saying much more about The Procedure than its one-sentence description allows ("A man is captured and forced to endure a strange experiment") would spoil the film's sickeningly hilarious punchline, but rest assured that it earns its "late night" billing. Sisters is eerie and ambiguous, mixing science fiction, body horror, and domestic drama in its portrayal of two siblings reconnecting after a terrifying event. The most memorable film I saw before the festival is Rate Me, a digitally demented portrait of an English prostitute told through 12 user reviews taken from a website devoted to call girls and their johns. Visually inventive and whip-smart, it's a frenzied imagining of a dark and fascinating space where sex, money, and the internet converge. The rest of these late night shorts, including The Chickening, Taco Terror, and Portal to Hell, in which a man battles a Lovecraftian horror, sound appropriately bizarre for midnight movie connoisseurs. —Alex Macon
A Fat Wreck
10:30 p.m. April 15, Angelika 6; 7:15 p.m. April 16, Angelika 7
Grade: C
I'm not sure even hardcore fans of punk rock will enjoy this self-congratulatory documentary about the history of the Fat Wreck Chords music label and its founder "Fat Mike." The filmmakers take a chronological approach to their subject and seem to feel the obligation to present segments recounting the entire discography of all the top acts whose albums were published by Fat Wreck. None of them are widely known outside of punk circles and most tell not-so-enlightening or interesting tales of how they got signed. Seemingly to stay within the bounds of fair use (and thus avoid licensing fees), no song plays for more than a few seconds before cutting off and being replaced by another. Also employed is the use of puppets in recreating moments recounted by the film's parade of talking heads. It's a gimmicky choice that ultimately serves no storytelling purpose.  — Jason Heid
Until Proven Innocent
2:15 pm April 16, Angelika 6; 4:30 pm April 17, Angelika 4
Grade: B+
The latest in the genre of true-crime, questionable-conviction documentaries (The Thin Blue Line, Making a Murderer) benefits from having much of its story laid out in a gripping 2012 piece in Texas Monthly. Corpus Christi mother Hannah Overton was sentenced to life in prison after being convicted of capital murder in the fatal salt poisoning of her four-year-old foster son, despite strong evidence that the child's death was accidental. The usual suspects, including a myopic police investigation, an overzealous prosecution, and a complicit news media, are called into question. Overton's lawyers and the Texas Monthly journalist who brought so much attention to the case serve as the Greek chorus in an all-too-necessary investigation of the failings of our criminal justice system, and the film finds its emotional gravity in interviews with Overton's family and the wrongfully imprisoned mother of four. —Alex Macon
In Pursuit of Silence
2:45 pm April 16, Angelika 8; 12:15 pm April 17, Angelika 7
Grade: B
You might want to close your eyes during parts of this documentary, and that's a good thing. As it mostly focuses its camera on mundane shots of rundown urban buildings and picturesque rural landscapes, it urges moviegoers to just listen to the natural sounds around you — without distractions from technology or incessant chatter. The point is that we don't have enough silence in our lives, and although such a concept might seem obvious, the meditative approach of director Patrick Shen is persuasive. Although the pace is deliberate, those in the right mindset should appreciate a film that doesn't need to speak to get its point across. — Todd Jorgenson
Shorts 2
4:15 pm April 16, Angelika 7; 2:45 pm April 17, Angelika 7
Those titles available for preview include the coming-of-age tale Battalion of My Beat, about a teenage girl who dreams of joining the Algerian military, which promotes a message of equality without turning preachy or melodramatic. (B) … The amusing comedy How to Lose Weight in 4 Easy Steps does provide the titular advice, but it's more about the romantic travails of a guy (Beck Bennett) who goes to the gym. Conan O'Brien even pops in. (B) … Heartfelt yet contrived, PB is about an unlikely musical partnership between two female outcasts at a snooty private school. (C) — Todd Jorgenson
Halfway
5 pm April 16, Angelika 6; 9:45 pm April 17, Angelika 4
Grade: B-
Quinton Aaron (The Blind Side) gives a nicely understated performance in this earnest melodrama that features some powerful moments before turning heavy-handed in its second half. Aaron plays a bitter ex-con whose half-brother (T.J. Power) negotiates an early prison release so he can work on a fledgling dairy farm operated by a troubled single mom (Amy Pietz) in rural Wisconsin, where he has trouble adjusting to the quiet life among the redneck locals. The character-driven screenplay by rookie director Ben Caird includes some worthwhile observations about cultural diversity, the justice system, and second chances. Those good intentions make the predictable twists easier to digest. — Todd Jorgenson
Sing Street
5:30 pm April 16, Angelika 4
Grade: B+
A treat for both the eyes and ears, the latest musical odyssey from director John Carney (Once) is set in 1980s Dublin, where Conor (newcomer Ferdia Walsh-Peelo) is an awkward teen from a blue-collar family who decides to start a band to impress an older girl (Lucy Boynton). He eventually assembles some ragtag bandmates and a stage presence, modeling the group after whatever pop band is trendy at the time. Carney's film is heartfelt and personal, and although he narrative doesn't offer much in terms of surprise or character depth, the abundant songs are endearing and catchy, and it overflows with appealing performances and nostalgic charm.  — Todd Jorgenson
All the Colors of the Night
11:45 a.m. April 17, Angelika 4; 4:15 p.m. April 22, Alamo 7
Grade: C-
This Brazilian film about people (and at least one ghost) sitting around telling stories of violence to one another in tones of faux profundity felt like a long slog even at its relatively short running time of just over an hour. Set primarily in an apartment with a spectacular ocean view, two women ponder what to do with the dead body of a man that somehow came to be on the living room floor. They get side-tracked swapping tangentially related tales from their past, and I'm not sure I ever understood how what happened happened, or who it happened to, or even whether any of it happened. All the Colors of the Night is part of a grand tradition of would-be artistic works that attempt to pass off sheer inscrutability as emotional and intellectual depth.  — Jason Heid
Takim (The Team)
2:30 pm April 17, Angelika 6; 1:30 pm April 18, Angelika 8
Grade: B-
This Turkish film about two brothers who enter a tournament to save the family-owned soccer pitch from a sinister developer marks every single box on the "sports movie cliche" checklist. There's the assembling of the ragtag group of misfit players, led by the stern coach whose own career ended short of the big leagues. The rival team, whose black jerseys might as well be labeled "bad guys," oozing punchability with every snide put-down and haughty gesture. The rousing speech about the importance of teamwork, delivered in the huddle before the big game. Director Emre Sahin has some larger political ideas about urbanization and inequality in Istanbul on his mind, but, for the most part, Takim just wants to be a feelgood sports movie. It succeeds on that front, with a fun cast and stylish "street soccer" scenes that should leave a smile on your face, even though you've seen it all before. —Alex Macon
The Anthropologist
5:15 pm April 17, Angelika 8; 5:15 pm April 18, Angelika 8
Grade: C
Somewhere in this documentary, there is an important and powerful film about the catastrophic effects of climate change on long-standing cultural practices around the world. Yet the movie that could have been is interwoven with a cloying narrative about an American teenager's ambivalence toward her anthropologist mother's career, which takes them both from Siberia to the coast of Virginia, where rising temperatures are wreaking havoc on old traditions. This is paralleled, until it's inexplicably abandoned about halfway through the movie, by an interview with the daughter of the famed 20th century anthropologist Margaret Mead, who happily followed her mother into the field. Perhaps this was meant to be a moving portrait of a mother-daughter relationship, rather than a profound call-to-action about climate change. The Anthropologist, a film suffering from a severe identity crisis, is neither. — Alex Macon
The Bad Kids
7:45 pm April 17, Angelika 8; 4:45 pm April 19, Angelika 8
Grade: B
A heartbreaking look at troubled students attending a last-chance alternative high school in Black Rock, Calif., The Bad Kids also delivers an inspiring portrayal of the administrators given the impossible task of breaking a cycle beyond their control. The tragedy is obvious, and deeply felt, with poverty, drug addiction, and domestic chaos working against whatever stability a classroom can provide. The teachers' quiet compassion is a lifeline, but we're left with the discomfiting impression that for every student pulled out of a hopeless situation, another is left to sink. The documentary is an effective reminder that the only "bad kids" are those we fail to help. — Alex Macon
I Promise You Anarchy
10:30 pm April 17, Angelika 7; 10:45 pm April 18, Angelika 8
Grade: B
There's style and attitude to spare in this gritty Mexican crime thriller about a gay teenage skateboarder (Diego Calva Hernandez) involved in illegal blood trafficking whose quest to make some extra cash hits a snag when his lover (Eduardo Eliseo Martinez) becomes ill and his operation becomes mixed up with a Mexico City kidnapping ring. At its core, the film is a coming-of-age romance that hints at broader socioeconomic issues including immigration and black-market pharmaceuticals. The evocative visuals from director Julio Hernandez Cordon combine with the natural performances by an ensemble cast of newcomers to bring a raw authenticity to some otherwise familiar subject matter. — Todd Jorgenson
Shorts 3
7:15 p.m. April 18, Angelika 7; 10:15 p.m. April 19, Angelika 7
The highlight of this entertaining and touching group of films is a delightful documentary about a 90-year-old woman whose introduction to the wonders of the internet via Google ("It gave me a sense of connectedness unlike any I'd ever experienced at the synagogue.") causes her to lose her lifelong Jewish faith ("I went very quickly from Julia Child to Christopher Hitchens") and inspires her to eat bacon for the first time. Also worth the time are a heartbreaking short about a Chinese couple who come to America for the funeral of their daughter and another doc about a small Florida town that treats its high schoolers headed to prom as celebrities, turning out like paparazzi to photograph them and their extravagant rides to the dance. — Jason Heid
Dheepan
4 pm April 19, Angelika 4; 6 pm April 24, Alamo Drafthouse 2
Grade: B+
Heartfelt and topical, this compelling drama from director Jacques Audiard (A Prophet) examines the European immigrant experience through its title character (Jesuthasan Antonythasan), who flees war-torn Sri Lanka for Paris, taking along a makeshift family of two strangers to satisfy French authorities, allowing him to get a job as a caretaker in a rundown apartment complex. That's where Dheepan reconnects with his violent past, which threatens his future. Although the action-packed finale gets carried away, the film is both sympathetic and even-handed. While gradually building tension, it succeeds most as an intimate and provocative look at refugee struggles given added emotional resonance by current events. — Todd Jorgenson
Demimonde
10:45 p.m. April 19, Angelika 8; 10:15 p.m. April 20, Angelika 7
Grade: B
This Hungarian thriller, set in an upper-class Budapest home in the early 20th century, doesn't quite live up to its Hitchcockian ambitions. After an opening segment in which we see a dead woman floating in a basket in the Danube, we flash-back four days to follow young Kató as she takes employment as a maid in the house of Lady Elza, who (along with her devoted housekeeper Rózsi) harbors secrets about how she came to afford such a luxurious lifestyle. Assorted love triangles develop, involving also Elza's wealthy benefactor and a young, handsome poet. The movie will leave you guessing as to who will commit the murder, and it has some fun in teasing its audience with the appearance of various objects we know will be present at the crime scene. — Jason Heid
In View
7:45 pm April 20, Angelika 8; 10:30 pm April 21, Alamo Drafthouse 3
Grade: C+
A moderately poignant yet relentlessly downbeat examination of the grieving process, this Irish drama follows Ruth (Caoilfhionn Dunne), an exasperated Dublin cop struggling to cope with a recent tragedy in her family that has left her feeling isolated and withdrawn. Her grief manifests itself in a mix of internal guilt and external resentment toward just about everyone, exacerbated by alcoholism and drug use. As the film charts her path to redemption, it commendably doesn't offer any easy answers. Yet the script by rookie director Ciaran Creagh struggles to generate sympathy for Ruth as her depression leads to a second-half twist with a muddled emotional payoff. — Todd Jorgenson
The Liberators
7 pm April 22, Angelika 7; 5 pm April 23, Angelika 6
Grade: B
This documentary is well-suited by a matter-of-fact approach to a true story that connects the dots between the Nazis' fascination with the occult, stolen treasure, and a U.S. army lieutenant with an art degree and a habit of visiting Dallas gay bars. The Liberators tracks the strange journey of a small trove of priceless medieval art, stolen from a German church in the waning days of World War II only to reappear in the small town of Whitewright, Texas, decades later. A German "art detective" manages to track it down with some help from a New York Times reporter, but getting the priceless items back to their proper home remains a tricky proposition. The Liberators, in its simple recounting of such a fascinating saga, has a better grasp of the importance of its subject matter and more compelling characters — namely, the late, sticky-fingered Lt. Joe Meador — than a film like The Monuments Men, a flashier movie about the recovery of cultural artifacts lost in World War II. — Alex Macon
Morris From America
2 pm April 23, Alamo Drafthouse 2; 7:30 pm April 24, Alamo Drafthouse 3
Grade: B
Quietly profound if generally predictable, this coming-of-age saga from director Chad Hartigan (This Is Martin Bonner) stars newcomer Markees Christmas in the title role, an optimistic American teenager who moves to Germany, where his single father (Craig Robinson) works as a soccer coach. As Morris is forced to mature while making new friends, the film offers a deeper examination of cultural differences and adjustments, but also the subtle things that link us all — from music and fashion to flirtations and insecurities. Christmas has a charismatic screen presence and Robinson balances humor and wisdom in a change-of-pace role, as the father-son dynamic forms an emotional anchor. — Todd Jorgenson