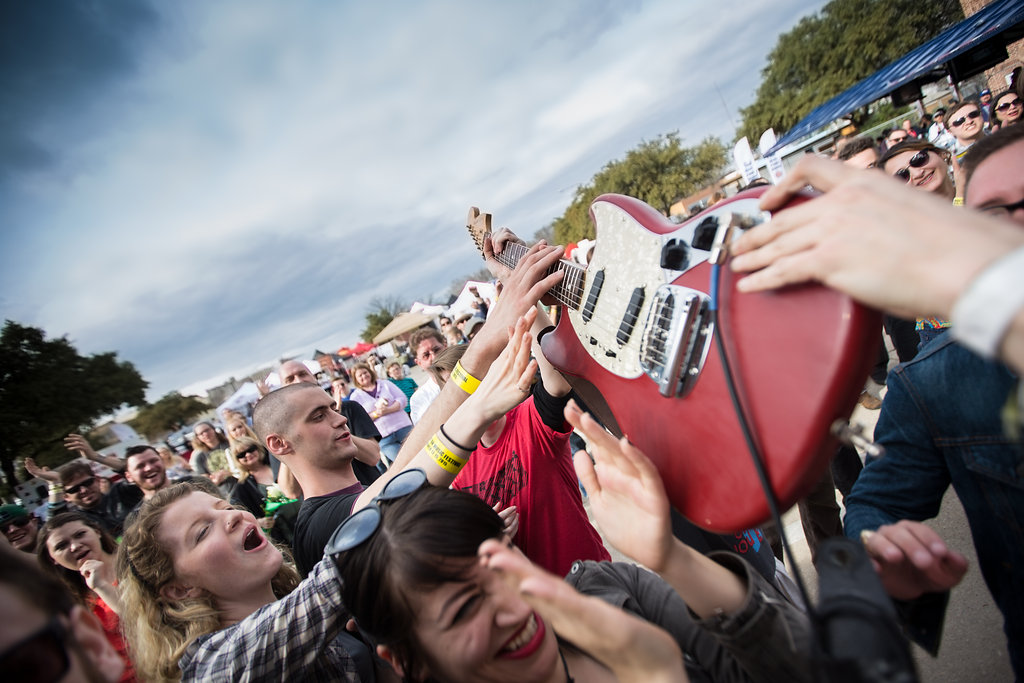 Which Spring Music Festival in Dallas Is Right For You?
We break down the pros and cons of 10 upcoming festivals.
We've already established (a couple times) that you don't need to go to Austin this spring for SXSW. Or for any other reason.
Dallas has more than enough springtime music festivals to go around. So many that it would be madness to go to all of them. So many that we're just now realizing we almost forgot a few: Edgefest (with Cage The Elephant, The 1975, Good Charlotte, Foals, and more) is on April 30 at Frisco's Toyota Stadium, the SO WHAT?! Festival (with New Found Glory, Underoath, etc.) is March 19 and 20 at Grand Prairie's QuikTrip Park, and the Elm Street Music and Tattoo Fest is on May 20 and 21.
So many, in fact, that the good people of North Texas could probably benefit from some kind of consumer guide evaluating some of these upcoming music festivals. We hope the following blog post will help you and your wallet decide which of these spring festivals are right for you.
35 Denton | March 11-13 | Venues throughout the fair burg of Denton
Performing acts: Biz Markie, Charles Bradley, Electric Six, Sheer Mag, Eliot Sumner, and a whole lot (dozens upon dozens) of local bands.
Price: $25-$65
For you if: You will take a bevy of local and upcoming acts over big-name headliners | You want to discover new local music | You want to see your favorite local bands | You live in Denton and get irrationally angry when people lump it in with Dallas | You can name more than one Biz Markie song | You can't name more than one Biz Markie song, but you do know all the words to "Just a Friend" | You know the chorus to "Just A Friend" | You have (just) a friend in one of the 100 bands on the lineup and they're going to be super bummed if no one is at their show
Full lineup and tickets
Spillover Fest | March 18-20 | Venues throughout Deep Ellum (Trees, Dada, Three Links)
Performing acts: Anamanaguchi, The Orwells, Le Butcherettes, Nothing, Power Trip, and other punk-y, garage rocky-y, metal-y bands in Texas for SXSW.
Price: $20-$45
For you if: You are familiar with the words Parade of Flesh | You have better sense than to go to Austin for SXSW, but want something kind of similar | You own three or more band T-shirts that would make your parents squint their eyes and shake their heads in consternation | You have spent a significant amount of time in a mosh pit | You have ever called someone or something a "sellout" without irony | You regularly go to punk shows on weekdays
Full lineup and tickets
Local Brews, Local Grooves | March 26 | House of Blues
Performing acts: Telegraph Canyon, Blue the Misfit, Dead Flowers, other local bands from a variety of genres
Price: $14-$40
For you if: You are in it for the booze and food samples, man | You appreciate the chance to see a bunch of solid local bands on the same bill
Full lineup and tickets
Off The Rails Country Music Festival | April 23-24 | Toyota Stadium
Performing acts: Blake Shelton, Eric Church, Sam Hunt, other country singers you hear on the radio
Price: $69+
For you if: You listen to country music radio | You are a Frisco history and railroad buff | You think that Shelton fellow on the television has a lovely voice | You call yourself a "cowboy" or "cowgirl" on your Tinder profile
Full lineup and tickets
Something Wonderful Festival | April 23 | Texas Motor Speedway
Performing acts: Tiesto, Dada Life, and more European DJs with light shows
Price: $89+
For you if: You consider NASCAR and EDM your twin passions | You are extraordinarily well-hydrated | You have a secret stash of glow sticks and colorful beads hidden under your bed for occasions like this | You call things you like "the truth" | You blew out your car speakers listening to a Skrillex song five years ago | You suffer from performance anxiety, and can only dance if you're surrounded by at least 3,000 other people, all facing in the direction of a DJ with an expensive light show
Full lineup and tickets
Bugs and Brews | May 1 | Granada Theater
Performing acts: Rebirth Brass Band, Oil Boom, and other zydeco and jazz acts
Price: $10-$34
For you if: You are just in it for the crawfish broil, man | You wish you were in New Orleans right now
Full lineup and tickets
Old 97's County Fair | April 16 | Main Street Garden
Performing acts: Old 97's, Drive-By Truckers, Deer Tick, and other alt-country bands
Price: $35
For you if: You can't wait for the State Fair to ride a Ferris wheel, play midway games, and eat corn dogs | You are a cool mom or dad and you want to bring your kids to an appropriate music festival | You own so many plaid shirts the pattern is etched permanently onto your chest | You, like most sensible people, think putting a Ferris wheel in Main Street Garden is a fun idea
Full lineup and tickets
JMBLYA | May 13 | Cotton Bowl
Performing acts: Future, Rae Sremmurd, Kevin Gates, Post Malone, more
Price: $50
For you if: You like rap music | You don't care that Future's already played Dallas twice in the last six months, it's Future | You are happy to see the Cotton Bowl used for something other than football
Full lineup and tickets
Homegrown Fest | May 14 | Main Street Garden
Performing acts: Ghostland Observatory, Neon Indian, Wild Child, and more Texas-based bands
Price: $35
For you if:  You haven't left Main Street Garden since the Old 97's County Fair, and have been surviving on fried husks under the shadow of the Ferris wheel | You are still sore about last year's inclement weather, and want to experience Homegrown outdoors | You plan to convince Neon Indian's Alan Palomo to move back to Texas | You are still a cool mom or dad, and it's time to bring your kids to another music festival
Full lineup and tickets
Widlflower! Art and Music Festival | May 20-22 | Galatyn Park in Richardson
Performing acts: Toadies, Black Joe Lewis, Jimmie Vaughan, the guy from Styx, cover bands, various singer-songwriters, and more
Price: ??? (Tickets go on sale April 18)
For you if: You are not really a cool mom or dad, but you want to introduce your children to the music of U2 via the U2 tribute band Unforgettable Fire | You wish there were more music and art festivals in the suburbs of Dallas | You appreciate the fine art of the mosey
Full lineup and (eventually) tickets