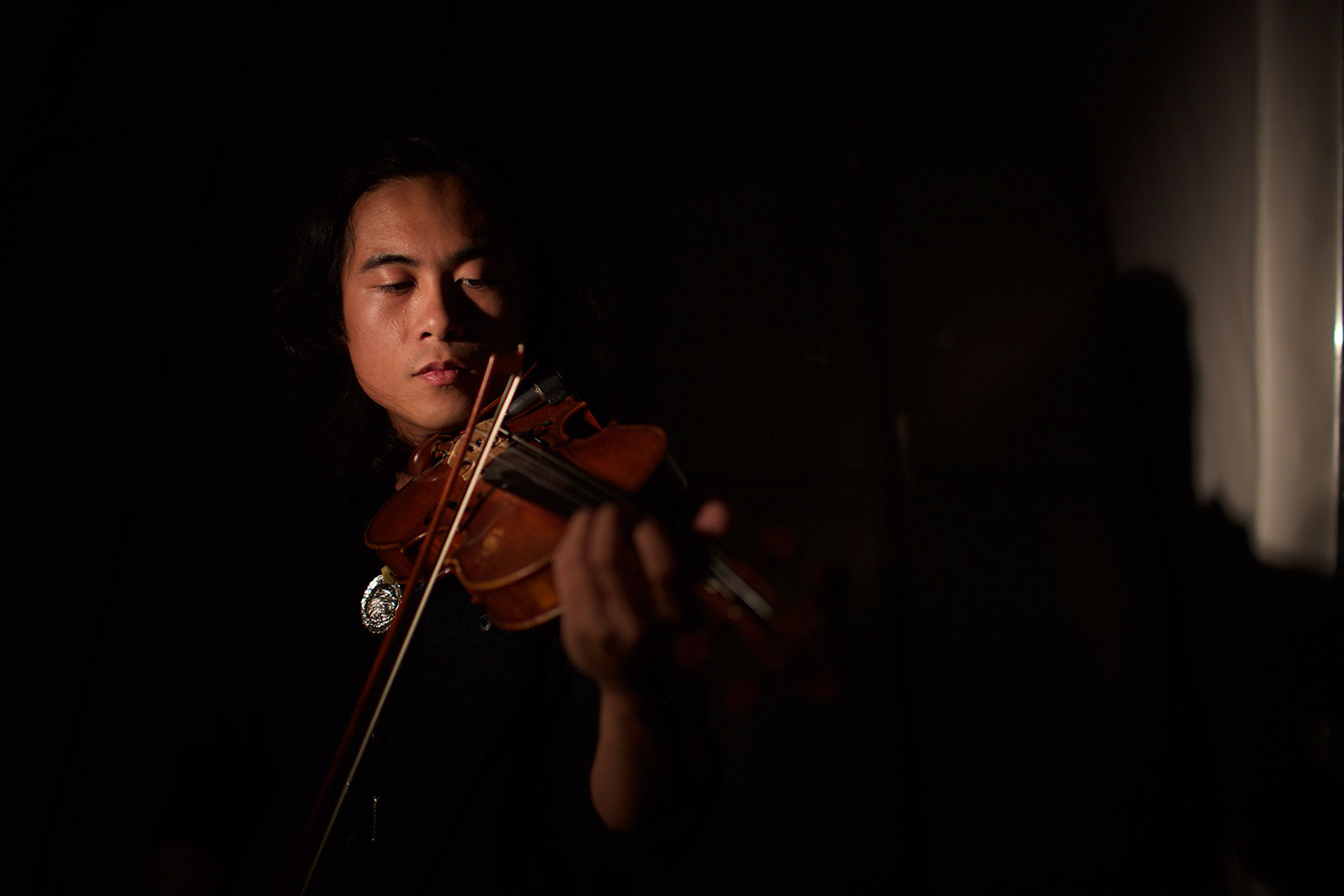 Denton Violinist Leoncarlo Canlas Is a One-Man Orchestra
Armed with a violin and a loop station, Canlas writes his symphonies live.
A symphony reverberated down East Hickory Street in Denton on a recent Sunday evening.  The acoustics created by the buildings on this narrow street framed the sound perfectly, bouncing it evenly from one façade to another so it wasn't clear where the music was coming from. It was as if a movie soundtrack was being piped in from some hidden location. Tracing the sound to its source eventually led to Harvest House, and the orchestra creating it was, in fact, one musician: Leoncarlo Canlas.
Armed with a violin and a loop station, Canlas (who performs under his first name as Leoncarlo) sounds like six musicians at once. He plays the violin with the bow, beats on it like a drum and strums it like a guitar, creating a variety of sounds. He has even sung into the openings on the instrument, his voice bouncing around inside. When performing, Canlas records a 10 to 20-second clip of himself playing, and puts it on repeat — "looping it." He continues playing and looping, creating layers on layers of music. He does this all live, without pre-recorded tracks.
The effect is mesmerizing, and people have taken note. He's played a number of Sofar live sessions. Fans in Ireland who saw the series flew him out for their wedding, he says. He played a TEDx conference in Fargo, and performs regularly throughout North Texas. This month alone, he played in Tulsa, at the Crown and Harp in Dallas, and at the 35 Denton festival and an Off-35 Denton showcase that he put together.
That night at Harvest House, Canlas' music evoked visions of lush piney woods fronting gray, glassy lakes in the sunless Northwest. The imagery was right-on considering the way he describes his upcoming debut album, Still Forms: "I've used taglines before like 'lush cinematic soundscapes.' Originally it was going to be called Art Forms in Nature, but I tried to come up with a more subjective way to frame the music," he says. "The challenge that I faced when I wrote Still Forms was how to take these static ideas (a loop that continues over and over and over again, which can be very boring), and form them up to create the illusion of movement."
His soaring violin is anything but static. Layered with all of his other loops, it's nothing short of a beautiful avalanche. His music is always evolving. He can have three loops going at a time and can add to each loop in a technique called "overdubbing," which makes each song sound like it's being played by an orchestra. Canlas says he uses the same basic formula but changes and enhances his songs with each performance, so no two shows are ever the same.
"Think of it this way: you have a recipe that works, and you know it so well by heart that you don't really need to measure things out anymore," he says. "Sometimes when you're cooking, you improvise a little bit to make it taste a little bit different. So it's kind of like the same thing."
Although he's a classically trained violinist out of the University of North Texas, Canlas branched out into other genres of music while still in high school, and started playing gigs in 2008 with folk acts like Seryn, Sam Robertson, and the Old Banners. He launched his solo act in 2011, crediting the musician Andrew Bird as one of his inspirations.
"That man is a personal hero. I heard his album The Mysterious Production of Eggs, and there's a song called 'A Nervous Tic Motion of the Head to the Left.' I was like, 'What the heck is going on? This dude sounds like an entire orchestra.' He's doing this all live. My mind was blown," Canlas says. "Andrew Bird came into my life at this point in time that I was trying to master the classical repertoire and also branching out into jazz and rock. This is when I bought my electric violin and my first effects pedals."
Canlas also credits beat makers like Botany in Austin, who he worked with recently, as well as producers J Dilla and Flying Lotus.
"I really appreciated how he [Flying Lotus] was able to turn beats into these impressionistic hip-hop tapestries. If you really think about it, genres are all misnomers. In my music, I draw from all influences around me and try to create something new and hopefully refreshing to people," he says.
He draws inspiration from outside music too, including poetry from Pablo Neruda's Twenty Love Poems and a Song of Despair, which he samples in a song on Still Forms. "It's just him reciting his poetry, it's heavily affected, but every now and then you can pick out words in Spanish. I was really taken away by the beauty of the poem," Canlas says. "He talks about the vastness of pines and how that compares to his love for somebody. I thought that would be really cool juxtaposed against themes of my album: love of an individual and how they relate to their environment and nature, and how that can change a person over time. It's meant to push the listener along on this auditory journey in a forest."
Licensing the poem was the last thing holding up the album release, which is slated for June 4 at Harvest House. Canlas says it's been ready to go for a while. He started trying out album arrangements in live performances two years ago and self-produced his album starting in 2015 after a successful Kickstarter campaign. Shooting music videos in the vastness of Big Bend is next on the agenda, and will provide, no doubt, a fitting backdrop for his album.
"I spent a lot of time and a lot of thought on the musical, artistic integrity of [this album]. There's just so much going on in my music. One of my favorite things to do, as a musician, is to sit down and figure out, how is all of this coming together? Much like an architect," Canlas says. "It's exactly what I want to say to people for my first release."