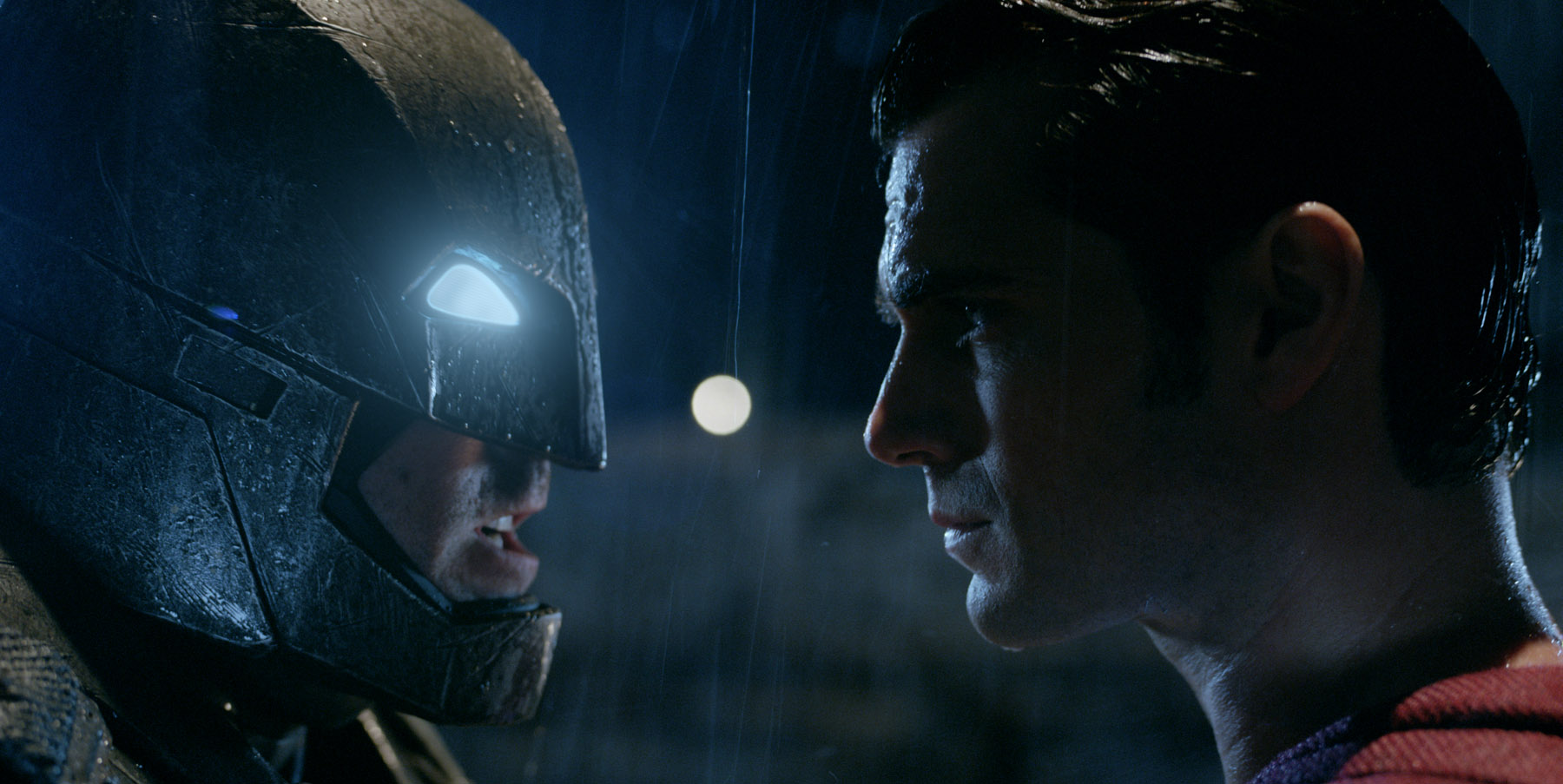 Batman v Superman Is a Super Serious, Super Dull Comic Book Movie
The dawn of a new generation of dreadfully po-faced supehero movies.
After a near-decade of Marvel's crowd-pleasing but anonymous world-building-by-committee approach to its cinematic universe, it's refreshing to see the reins handed to a director with his own particular aesthetic for Batman v Superman: Dawn of Justice, the launch pad for a new series of interconnected movies starring characters from the rival DC Comics.
Unfortunately, that director is Zack Snyder, whose joyless vision saps any fun from the inherent thrill of watching two iconic comic book strongmen duke it out on the big screen.
This is a dark film in every sense of the word, from its drab color palette to its self-consciously gritty subject matter. Does a PG-13 comic book blockbuster need to take so much relish in suffering? The Dark Knight, the high water mark of the recent glut of superhero movies, had its fair share of brooding, but it had a point.
If Batman v Superman has a point aside from giving DC Comics its own cinematic cash cow, then it's not immediately clear. In between workmanlike, CGI-suffocated action scenes, there's a lot of talk of gods and men, justice and legacy, family and hope — imagine some other words Snyder may have scrawled on a whiteboard labeled "THEMES," and you get the picture. These gloomy conversations don't add up to much, or do anything interesting with these well-worn characters.
The film is grim for the sake of grimness. It's almost as if Snyder, who has spent much of his career directing similarly dour comic book adaptations such as 300 and Watchmen, is embarrassed to be making a superhero movie and feels the need to assure audiences they are enjoying something serious and adult. It's unrelenting, and clocking in with a plodding two-and-a-half-hour runtime, it's excruciating.
Batman v Superman picks up about 18 months after the events of Snyder's Man of Steel, the 2013 Superman movie that climaxed with the cavalier near-destruction of Metropolis and the likely deaths of tens of thousands of people in a battle between our hero and his alien countrymen.

Superman (Henry Cavill, looking the part) has become a folk hero for saving the city, and is near-deified by many for his ongoing good deeds around the world. As Clark Kent, he keeps a day job at the Daily Planet, where he ignores sports assignments from his editor (Laurence Fishburne) and continues a relationship with the intrepid journalist Lois Lane, played by Amy Adams. (In a movie that revolves around a flying alien in tights fighting a vigilante with a utility belt, nothing is more fanciful than the moment a newspaper pays for a helicopter for one of its reporters.)
However, all that extraterrestrial mayhem from Man of Steel isn't sitting well with certain elements of the U.S. Senate, who are keeping a close eye on Earth's resident Kryptonian. More importantly, it's caught the attention of a wealthy tycoon-playboy in Gotham City, just across the bay from Superman's base of operations in Metropolis.
Bruce Wayne, fearful of Superman's capability for collateral damage, begins using all the resources at his disposal — including a loyal butler named Alfred (Jeremy Irons) and years of practice at dressing up as a bat and beating up criminals with an impressive arsenal of gadgets — to investigate the red-caped crusader.
Ben Affleck acquits himself well as an older, not necessarily wiser, Batman. The umpteenth interpretation of the deaths of Bruce Wayne's parents is kept mostly to the opening credits, and we're given just glimpses of Batman's unhappy career: Wayne Manor is burned to the ground, while a glass case displays a conspicuously empty Robin costume defaced with a mocking, clownish message.
Jesse Eisenberg, who seems to be having a good time, plays the villainous young billionaire Lex Luthor as a manic, awkward tech titan entitled by his wealth and his genius. (It's Mark Zuckerberg with a fixation on the apocalypse and deep-seated daddy issues.) Luthor's scheme involves obtaining a powerful green mineral found in a downed Kryptonian ship and, eventually, pitting Batman and Superman against one another. Or, as he puts it in a characteristically grandiose flourish punctuated by Hans Zimmer and Junkie XL's bombastic score: "The greatest gladiator match in the history of the world: God vs. man."
Meanwhile, we're left to wonder about a mysterious woman (Gal Gadot) with an interest in Luthor and his secret files on a group of gifted people we'll undoubtedly learn more about in future movies.
And there will be more movies, for better or worse.
Batman v Superman's few strengths — namely, Affleck, Gadot, and Eisenberg — may flourish in another film, free from Snyder's claustrophobic style. Another film might even deftly explore some of the ideas Snyder seems intent on banging his head against: Superman as a Christ figure; an aging Batman's concerns about his violent legacy. Another film could string together a couple coherent action sequences that don't fall apart in a haze of death rays and energy beams.
Tim Burton and Christopher Nolan's Batman movies and, to a lesser extent, the Blade series, demonstrate that a filmmaker can successfully put his or her mark on a comic book adaptation, building on an extensive preexisting mythology in an exciting, original way — while still selling millions of tickets.
The Marvel formula, seen in The Avengers and its offshoots, has been to churn out engaging, light, internally consistent (within their fictional universe) movies at the expense of any idiosyncrasies or off-brand creative touches. (See the Edgar Wright-directed Ant-Man that never was.) Snyder's film should at least be commended for bearing the hallmarks of its creator.
Let's just hope it doesn't set a precedent. If Batman v Superman is any indication, DC Comics' response to America's love affair with superheros will be a decade of po-faced movies that in no way deserve to be taken seriously.