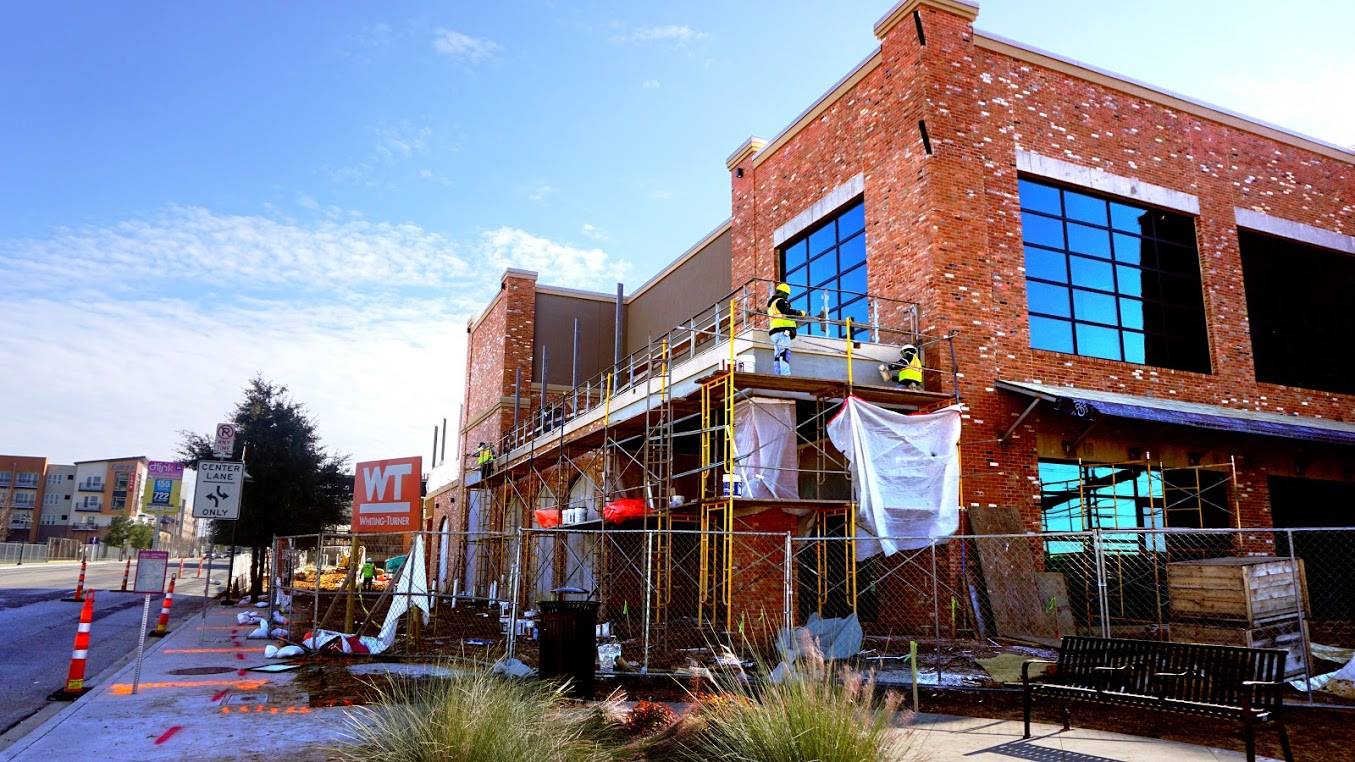 What We Know About the Alamo Drafthouse Opening in Downtown Dallas
A great view of downtown, karaoke rooms, and collaborations with Dallas arts groups.
At the tail end of last week, Alamo Drafthouse confirmed a Feb. 12 opening date for its new theater at 1005 South Lamar St. in the Cedars. The "grand opening" is March 9. We didn't have many more details than that at the time.
After attending a "State of Alamo DFW" media roundtable Saturday with some local Alamo bigwigs, details are slightly less scarce. The chit-chat was at the branch in Richardson, so we still have not seen the interior of downtown Dallas' long-awaited movie theater. (The Dallas Morning News has, if you're more of a visual learner.)
But Alamo DFW COO Bill DiGaetano, creative manager James Wallace, and general managers Champ Jones and Jordan Michael did have some interesting tidbits about the Dallas theater, and about Alamo Drafthouse's expanding presence in North Texas. Theaters are coming to Las Colinas and Little Elm, and DiGaetano hinted that a Tarrant County location may not be far off — although Fort Worth itself remains Alamo's "great white whale." There is, unfortunately, no chance of Alamo Drafthouse taking over the Lakewood Theater anytime soon, DiGaetano said. (The lack of parking remains a sticking point.)
Let's talk about the new theater downtown, though. Here are the bullet points of what we learned:
It will have seven auditoriums and about 700 seats.
It will have two stories, with the second story devoted to a bar and a couple outdoor patios. The unobstructed view of downtown is apparently pretty striking.
The theater will have its own 400-space parking lot. Someone will ensure that concertgoers heading to the nearby Gilley's complex do not use the free theater parking. Two DART rail stops — The Cedars and the Convention Center — are within several blocks, and bike racks will be available.
The theater will have karaoke rooms.
Special event programming will, eventually, be specific to the Dallas theater, with some Alamo staples (the sing-alongs and so on) being imported or reworked. Example: "Chef'd Up," in which a local chef whips up a dish tied to a particular movie. Example 2: A week of "vs." movies, e.g. Freddy vs. Jason or King Kong vs. Godzilla.
The theater's proximity to Dallas performing arts organizations was something that was stressed. The Alamo in Richardson has worked with that city's Eisemann Center, bringing in Molly Ringwald and Mandy Patinkin (who were performing at the Eisemann) for film screenings. When Star Wars opened, members of the Richardson Symphony Orchestra played John Williams' score in in the theater lobby. We could see something similar with the new Alamo Drafthouse and the groups housed at the AT&T Performing Arts Center.
The theater will play a bigger role in local film festivals and other events like Dallas Comic Con. The Dallas International Film Festival was name-checked. The Richardson theater, for its part, has already worked with Dallas VideoFest on programming like last year's French New Wave showcase.
There was also talk of an outdoor screen for special events, and there is at least some potential for Alamo Drafthouse roadshows in Dallas.
There will be deals on food, drinks, and movies in the early days, as they iron out any opening kinks.
All of the above sounds pretty swell, and we're counting down the days until Feb. 12. There is no shortage of great movie theaters in Dallas, but that part of town could surely use one. The last downtown theater in the West End closed more than 15 years ago. Alamo Drafthouse has a proven track record in Austin, and the Richardson theater, which opened in 2013, has been a wonderful spot to eat, drink, and see a movie. This shouldn't be any different.