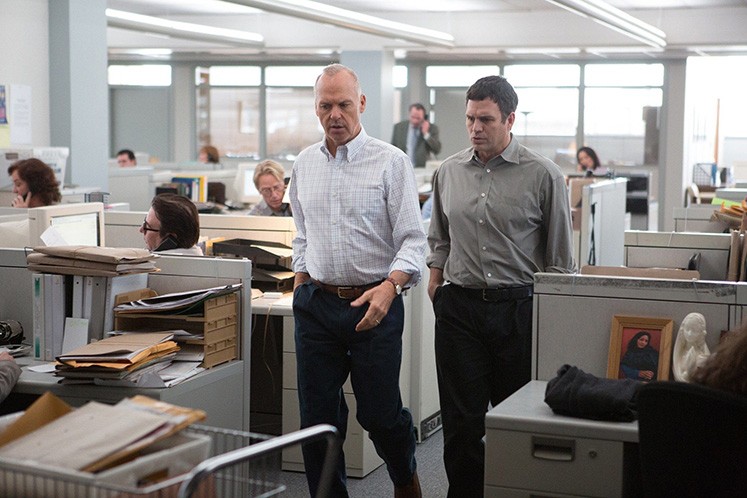 Dallas-Fort Worth Film Critics Pick the Best Movies of 2015
Spotlight takes the top honor.
The Dallas-Fort Worth Film Critics Association has picked Spotlight as the best picture of 2015. The paean to old-school journalism, based on the Boston Globe's investigation of the Catholic Church's sexual abuse scandal, also got the honor for best screenplay in the awards announced this morning.
The Revenant, Alejandro Gonzalez Iñárritu's frontier revenge flick follow-up to Birdman, had a strong showing with awards for best actor (for Leonardo DiCaprio) and best director, while Brie Larson was named best actress for her turn as the world's most resilient mother in Room.
The DFW Film Critics Association is made up of 31 film-loving writers operating in North Texas. Its president is none other than our own Todd Jorgenson, who, just for the record, neglected to send me a press release about these awards this morning.
It's worth noting that local critics have yet to see the new Star Wars (release date: Dec. 17), a movie that I desperately hope will be good. I also wonder whether Quentin Tarantino's The Hateful Eight, which was in contention for best supporting actress and best score, suffered from a late release date (Dec. 25) and a lack of early press screenings. Maybe it was just bad.
Regardless, the full press release and list list of winners are copied below.
The Dallas-Fort Worth Film Critics Association voted the newsroom drama SPOTLIGHT as the best film of 2015, according to the results of its 22nd annual critics' poll released today. This year's awards are presented in memory of Philip Wuntch, the longtime Dallas Morning News film critic who passed away in October.

Rounding out the composite list of the top 10 films of the year were THE REVENANT (2), CAROL (3), SICARIO (4), MAD MAX: FURY ROAD (5), THE BIG SHORT (6), THE MARTIAN (7), ROOM (8), THE DANISH GIRL (9) and BROOKLYN (10).

For Best Actor, the association named Leonardo DiCaprio for THE REVENANT. Runners-up included Michael Fassbender for STEVE JOBS (2), Eddie Redmayne for THE DANISH GIRL (3), Matt Damon for THE MARTIAN (4) and Johnny Depp for BLACK MASS (5).

Brie Larson was voted Best Actress for ROOM. Next in the voting were Cate Blanchett for CAROL (2), Saoirse Ronan for BROOKLYN (3), Charlotte Rampling for 45 YEARS (4) and a tie between Charlie Theron for MAD MAX: FURY ROAD and Carey Mulligan for SUFFRAGETTE (5).

In the Best Supporting Actor category, the winner was Paul Dano for LOVE AND MERCY. He was followed by Mark Rylance for BRIDGE OF SPIES (2), Tom Hardy for THE REVENANT (3), Idris Elba for BEASTS OF NO NATION (4) and Benicio del Toro for SICARIO (5).

For Best Supporting Actress, the association named Rooney Mara for CAROL. Runners-up were Alicia Vikander for EX MACHINA (2), Kate Winslet for STEVE JOBS (3), Alicia Vikander for THE DANISH GIRL (4) and Jennifer Jason Leigh for THE HATEFUL EIGHT (5).

Alejandro Gonzalez Inarritu was voted Best Director for THE REVENANT. Next in the voting were Thomas McCarthy for SPOTLIGHT (2), George Miller for MAD MAX: FURY ROAD (3), Todd Haynes for CAROL (4) and Denis Villeneuve for SICARIO (5).

The association voted SON OF SAUL as the best foreign language film of the year. Runners-up included THE ASSASSIN (2), THE SECOND MOTHER (3), MUSTANG (4) and GOODNIGHT MOMMY (5).

AMY won for Best Documentary over THE LOOK OF SILENCE (2), THE WOLFPACK (3), GOING CLEAR: SCIENTOLOGY AND THE PRISON OF BELIEF (4) and THE HUNTING GROUND (5).

INSIDE OUT was named the best animated film of 2015, with ANOMALISA as runner-up. Thomas McCarthy and Josh Singer shared the Best Screenplay award for SPOTLIGHT over Emma Donoghue for ROOM.

The award for Best Cinematography went to Emmanuel Lubezki for THE REVENANT, followed by Edward Lachman for CAROL. The association gave its award for Best Musical Score to Bryce Dessner, Carsten Nicolai and Ryûichi Sakamoto for THE REVENANT, beating out Ennio Morricone for THE HATEFUL EIGHT.

The association voted TANGERINE as the winner of the Russell Smith Award, named for the late Dallas Morning News film critic. The honor is given annually to the best low-budget or cutting-edge independent film.

The Dallas-Fort Worth Film Critics Association consists of 31 broadcast, print and online journalists from throughout North Texas. For more information, visit www.dfwcritics.com or follow us on Facebook or Twitter @dfwfilmcritics.

The Dallas-Fort Worth Film Critics Association award winners.

Best Picture:

Spotlight (director — Thomas McCarthy)

Best Animated Feature:

Inside Out (director — Pete Docter)

Best Foreign Language Film:

Son of Saul (Hungary)

Best Documentary:

Amy

Best Director:

Alejandro Gonzalez Inarritu (The Revenant)

Best Actor:

Leonardo DiCaprio (The Revenant)

Best Actress:

Brie Larson (Room)

Best Supporting Actor:

Paul Dano (Love and Mercy)

Best Supporting Actress:

Rooney Mara (Carol)

Best Screenplay:

Spotlight (Josh Singer, Thomas McCarthy)

Best Cinematography:

Emmanuel Lubezki (The Revenant)

Best Musical Score:

The Revenant (Bryce Dessner, Carsten Nicolai and Ryûichi Sakamoto)

Russell Smith Award (named for the late Dallas Morning News film critic. The honor is given annually to the best low-budget or cutting-edge independent film.)

Tangerine (director — Sean Baker)