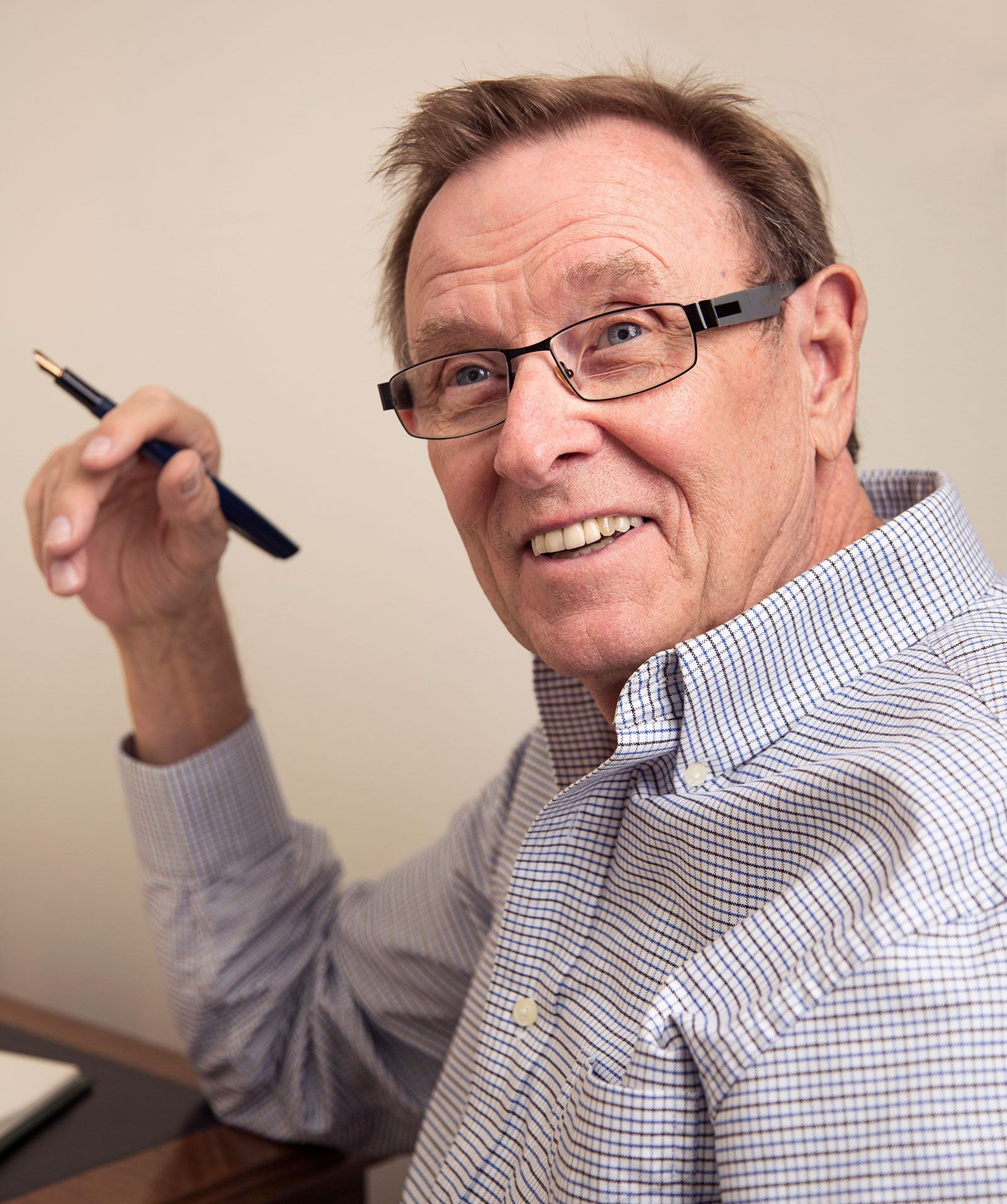 D.L. Coburn's The Gin Game Won Him a Pulitzer in 1978. It Has Never Stopped Paying Off.
Dallas' only Pulitzer Prize winner in the arts continues to enjoy the success of his first play.
I meet the playwright D.L. Coburn, Dallas' only Pulitzer Prize winner in the arts, at the Library Bar in the old Melrose Hotel. It's a dimly lit room with wood-paneled walls and high-back leather chairs, the kind of place where 4 in the afternoon feels like the middle of the night. A waiter is moving around, lighting little candles at each of the tables. Two pairs of hotel guests enjoy an early happy hour, while a businessman talks on his phone at the bar. We find a spot near a window covered in drapery, but as we begin to move through introductions, Coburn looks uncomfortable. He eyes two women at an adjacent table.
"Can we move?" he asks.
We find an identical table on the far side of the room. Coburn explains that he doesn't like giving interviews when other people are in earshot. Perhaps his reluctance is related to the pad of paper he always keeps in his pocket, ready to jot down some snippet of overheard conversation, a passing phrase eavesdropped and extracted from a bar or cafe.
"I'm just listening for something mundane that seems remarkably revealing," Coburn says. "I want to get that down. There are things that can incubate for years. A conversation in a bar [in Dallas] that no longer exists—and hasn't for a long time—is part of what I'm writing now."
It is not surprising to learn that a playwright is constantly on the lookout for raw material. What may surprise some, however, is that Coburn is working on new plays. It has been a long time since a new D.L. Coburn play burst on the scene. The 77-year-old playwright is best known—you might even say only known—for The Gin Game, a two-hander that debuted in 1977 and earned him the Pulitzer Prize a year later. He wrote seven additional plays, as well as screenplays and television scripts. There's even a scenario for an opera bouncing around. But nothing comes close to touching the success of The Gin Game, which is enjoying its second revival on Broadway, starring Cicely Tyson and James Earl Jones. His first attempt at playwriting, The Gin Game firmly ensconced Coburn in the theatrical canon, and the play is in near-constant production all around the world.
"I just signed a contract with Beijing three months ago," he tells me.
Coburn was in his late 30s when he wrote the play. At the time, he was working as an advertising consultant, and he already had some major industry notches on his belt. He started his career in his native Baltimore and moved to Dallas, where he helped come up with the famous Pepsi Challenge campaign, basing it on a bar game he had heard about.
Parlor games have played a role throughout Coburn's career. He considered himself something of a card shark during his younger, Mad Men days, when accounts took the young adman around the country on a private jet. "Eating macadamia nuts, not peanuts," he says. When he tired of advertising, Coburn decided to try his hand at playwriting. He was largely inspired by a production of Diary of a Madman at the Dallas Theater Center. He turned to cards as a dramatic foil.
In The Gin Game, an elderly man and woman meet on the porch of an old-age home and play a game of gin. The card game becomes a proxy for the characters' struggles with fate and responsibility. Their conversation escalates from polite and often humorous banter to verbal attacks that pick at old, familiar scabs: failed marriages, families, businesses.
Coburn was still on retainer with his advertising firm when he flew in the company jet to Los Angeles to attend the first production of The Gin Game. The director picked him up in a rusted-out 1951 Ford.
"I got in that car with him, and he reached down and took two cords from under the dashboard, touched them together, and it started," Coburn says. "I thought, I'm not so sure about this theater business."
As luck would have it, Coburn didn't have to slum it for too long. His play received a positive review in Variety, which led to the play's inclusion in a new play festival in Louisville. There it was spotted by Broadway producers, and in October 1977, less than 13 months after its first performance, the curtain rose on the Broadway premiere of The Gin Game, directed by Mike Nichols and starring Jessica Tandy and Hume Cronyn. It was a hit and ran for 516 performances.
"The stars aligned to the Pleiades," Coburn says of his quick success.
The irony is ripe: a play about a fate-frustrated older man directing his anger with life through a game of cards turns out to be the lucky draw for the young playwright trying to make a name for himself. But the quick success of The Gin Game was only the first hand in the play's long life. While the play has long been popular with audiences and theater producers alike, it is also one critics love to chide. Reviews of the latest Broadway revival praise James Earl Jones and Cicely Tyson but knock the play as "creaky" and "a slip of a thing." It is also notoriously difficult for actors, who have trouble memorizing the script, and directors, who trip over its difficult tone. And so for all these years, in addition to working on new plays, Coburn has spent a lot of his time taking care of his Gin Game.
"I'm a helicopter parent," he jokes. "I want people to see it done right, and if they don't get this right, it is like a bunch of temper tantrums. So when I get bad reviews, the play takes the hit."
Watching a recorded 1980 production of The Gin Game featuring the original Broadway cast of Cronyn and Tandy, you get a feel for why the play could be underestimated. The drama is carried by a deceivingly complicated comedic tone. Lighthearted, rom-com-ish one-liners in the first act set up awkward, revealing laughter in the second. Trivialities belie darker revelations. In one scene, Tandy's character suddenly slaps Cronyn's. The moment could be misplayed for slapstick, but in the hands of Tandy and Cronyn it is a violent and shocking act—you can hear the air sucked out of the room.
The chemistry created between cast and audience is why the play works. Coburn has refused to option the play for a film adaptation, and he insists actors meddle with details, like paying attention to the game of cards they are playing. A website dedicated to the play offers tips and resources, like how to properly score the staged game of gin according to the "Hollywood system."
"My work hasn't reached any kind of success as near as The Gin Game. And that's okay."
All of this helicopter parenting, Coburn is happy to admit, has to do with his awareness that no matter what else he has accomplished in his career as a playwright, his legacy is bound up in The Gin Game.
"My work hasn't reached any kind of success as near as The Gin Game," he says. "And that's okay. Right now, no one is going to have a big argument over what my magnum opus is."
Magnum opus may seem like big talk for a modest piece like The Gin Game, but Coburn tells a story that puts in perspective what it means to have written a play with this kind of staying power. One night, after a rehearsal of the new Broadway production, Coburn walked out of the Golden Theatre and onto 45th Street. He followed the marquees toward Broadway, making his way to Times Square. In the autumn evening, Times Square was ablaze in dazzling lights, an illuminated bubble that blocked out the sky and lit the street like day. He was overwhelmed.
"You look up and think, This is incredible," Coburn says. "Times Square is the center of the universe."
Coburn settles back into his leather chair, holding his Scotch and water. A quartet of fortysomething businessmen in nearly matching striped button-down shirts has come into the darkened bar and taken a table just a few feet away from us. No one, from what I can tell, is eavesdropping.
"And right down there is a marquee with my name on it. For the third time!" he adds. "It has a profound and deep effect."
A version of this column appears in the January issue of D Magazine.