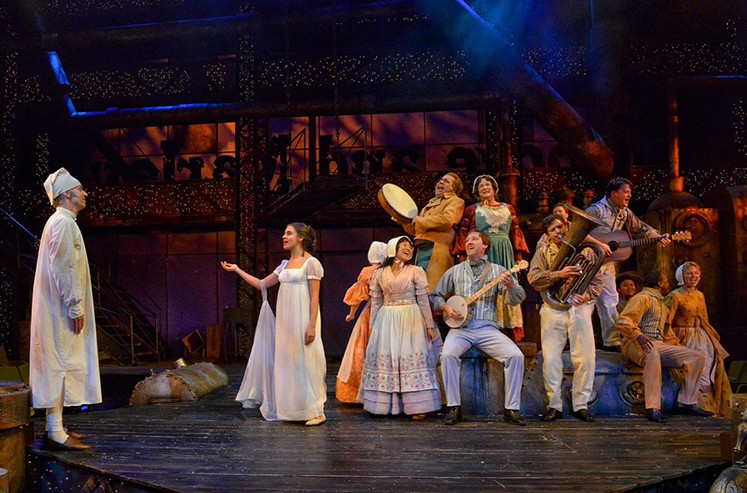 5 Must-See Shows in Dallas Theater This December
Christmas classics and a world premiere for the holiday season.
The Nutcracker reigns in December, with every dance company in the country producing some version of the ballet. Holiday offerings also tend to dominate the local theater schedule for most of December, with some notable exceptions. For this guide to five of the best shows in town this month, we tried to highlight a couple of those exceptions along with the Christmas rule. A few shows that opened last month and will conclude their runs in December are featured here.
For more Dallas theater to see this month and beyond, go here.
Clarkston | Studio Theatre at Wyly Theatre (Dec. 3-Jan. 31)
In April, the Wyly Theatre was transformed into a football field for Dallas Theater Center's production of Colossal. For Clarkston, the Wyly's close-quarter Studio Theatre will become a big box store. Playwright and certified genius (he's a MacArthur Fellow) Samuel D. Hunter's new work, making its world premiere here, follows a descendant of William Clark (of Lewis and Clark fame) on his own path working at at a CostCo, which sits on land that was long ago charted and subdued by American westward expansion.
The Fantasticks | Theatre Three (Dec. 3-27)
All good things must come to an end, even the world's longest-running musical. The Fantasticks closed in May after 51 years off-Broadway, but Theatre Three will present its own production this month. The popular romantic comedy about two fathers scheming to star-cross their children into love deserves to take a victory lap wherever it pleases.
A Christmas Carol | Wyly Theatre (Through Dec. 26)
Dallas Theater Center's annual holiday production consistently finds ways to make a well-worn tale feel fresh. Last year's show introduced several new elements without losing the Christmas charm that's made the Redemption of Ebenezer Scrooge a staple of the winter season. The great Hassan El-Amin stars as Scrooge and DTC is again partnering with the North Texas Food Bank to provide meals to needy families in the area.
Black Nativity | Bishop Arts Theatre Center (Dec. 10-20)
It's the opening chapter of the Greatest Story Ever Told as told by Langston Hughes. The Nativity has been retold in countless fashions over the years, and the great playwright's take on Jesus' birth — a blend of spirituals, gospel music, and Christian and African-American traditions — has itself been interpreted in a number of ways. TeCo Productions should bring its own flavor to the classic show while keeping intact both Hughes' poetry and the spiritual message of the Christmas story.
Jacob Marley's Christmas Carol | Stage West (Through Dec. 20)
The Virgil to Scrooge's Dante gets to tell his side of Charles Dickens' much adapted story. We know how things turn out for old Ebenezer, but what about his chained, ghostly former business partner? Does Jacob Marley find afterlife consolation for his worldly days as a greedy miser? This award-winning play answers those questions while putting a new spin on the tried-and-true moral of A Christmas Carol.