In the summer of 2013, Mel Kyle of the hip-hop group The Outfit, TX returned to his native Dallas from Houston, where he and fellow Dallasites Dorian Terrell and JayHawk Walker first started rapping together. The Dallas Mel knew when he was growing up in Pleasant Grove and Mesquite was changing. There were new artists, new venues, and a growing desire to showcase local talent. Dallas, unlike other Southern cities, such as Houston and Atlanta, has never had a nationally definable hip-hop scene.
Since moving back, The Outfit, TX has made it their mission to change that. While they have garnered a lot of attention for their own music—MTV called them "the best rap group you're not talking about (yet)," Spin named them a best new artist in May 2014—success for The Outfit, TX is tied to the dream of finally breaking out their city.
Dallas has had no shortage of notable rappers, from The D.O.C. to Dorrough to Lil' Will, whose "My Dougie" was out ahead of the national dance phenomenon. Why do you think the city's scene doesn't have the same identity as an Atlanta or a Houston? I don't know how to explain that shit. In Dallas, we got that pride. And our pride is equivalent to L.A., or Atlanta, or a New Orleans, or a New York. We don't play about our Cowboys, about our hoods. And we had rappers, like Tum Tum, Big Tuck, and even the Dougie stuff. People were coming down here for different events. They knew what we had. But then they leave, and it is like the best-kept secret.
Having worked in both Dallas and Houston, what is one of the biggest things that Houston has that Dallas lacks in terms of the music scene? Colleges. The college kids. In Dallas, there are UNT, TWU, and [Texas A&M] Commerce—and you have El Centro and the jucos. Houston is a college city. You have Prairie View, Rice, U of H, TSU. All these colleges feed into Houston. L.A. is a college city, Chicago, Atlanta. All the cities have hip-hop and music infrastructure. Dallas is not built like that. It is both a pro and a con.
When you moved back to Dallas, what was your strategy for building a scene? We need to be working together right now. That's our mentality. The problem is Dallas is too scattered. We are not in a place where we can compete with each other. All the materials were lying on the ground. We've just got to build the actual structure.
What do you mean by structure? There is no downtown yet. You have to have a city square to make a city. It doesn't make sense when all the materials are right here. We could have one of the best downtowns in the country.
Do you mean a figurative downtown or an actual physical space to congregate, a way for the scene to map itself? I think both—it is tangible and it is figurative. Figuratively, we need those large structures called "superstars." We need the Bank of America building, that icon. Atlanta wouldn't be where it is without TLC, OutKast, Gucci Mane, T.I. They had the superstars to set a real precedent. Dallas hasn't had any icons.
[d-embed][/d-embed]
Isn't there a chicken-and-egg problem there? Artists become superstars, in part, when they come out of an established scene with an identity. It's symbiotic. I don't think we've had any iconic moments in hip-hop yet that haven't been a part or attached to the wave of a city, of a novel identity. A lot of singular shit happens all the time, but it doesn't resonate because it is singular. It stands alone. In a city, you have to move together. It's like Coo Coo Cal. Do you remember Coo Coo Cal?
No. My point exactly. So Coo Coo Cal had a song called "My Projects," and it was tight. He's from Milwaukee. Do you know any other rappers from Milwaukee?
I don't. So imagine if there were six others, and they all had songs. It would be on the map. That's where we are. Dallas is on the map, but it is not like completely colored in yet. It is a sketch. But Dallas should be one of the biggest cities on that bitch, because we have seen for the last five or six years a lot of our cultural pieces getting appropriated by other people, from the hair dye, to the Dougie, to the "bro" slang, to the hair styles, to the soundscape. Being born and raised here, I know the beauty that Dallas is—the beautiful struggle. But at the same time, I'm tired of it. It doesn't make sense that we don't have a presence or a legacy in hip-hop.
Why do you feel like you have a responsibility to make Dallas break as a hip-hop city? That's the thing about Dallasites. We just want to see the city win. It might seem crazy. But you have to understand: hip-hop music is our existence. It is our soundtrack. Hip-hop is how we exist, if that makes any sense. Hip-hop is one of those special circumstances. Take jazz. You don't listen to Dizzy Gillespie and feel like you know New Orleans. Or rock. You don't listen to Chili Peppers and feel like you know California. But if you don't know L.A., didn't grow up in L.A., you know L.A. per Snoop Dogg, per Dr. Dre, per N.W.A. And you know Atlanta per Lil Jon and T.I. and trap. You know Houston per DJ Screw.
What is it about hip-hop? The soundscape, the slang, the vernacular, the stories. And Dallas is one of those places. Hip-hop is our medium.
A version of this Q&A appears in the December issue of D Magazine.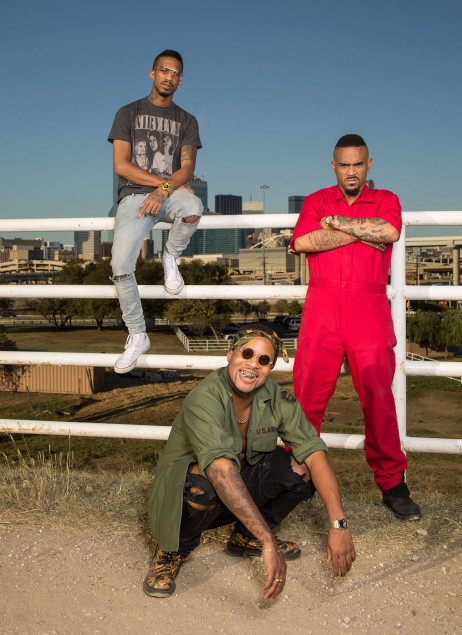 Get the FrontRow Newsletter
Get a front row seat to the best shows, arts, and things to do across North Texas. Never miss a beat.