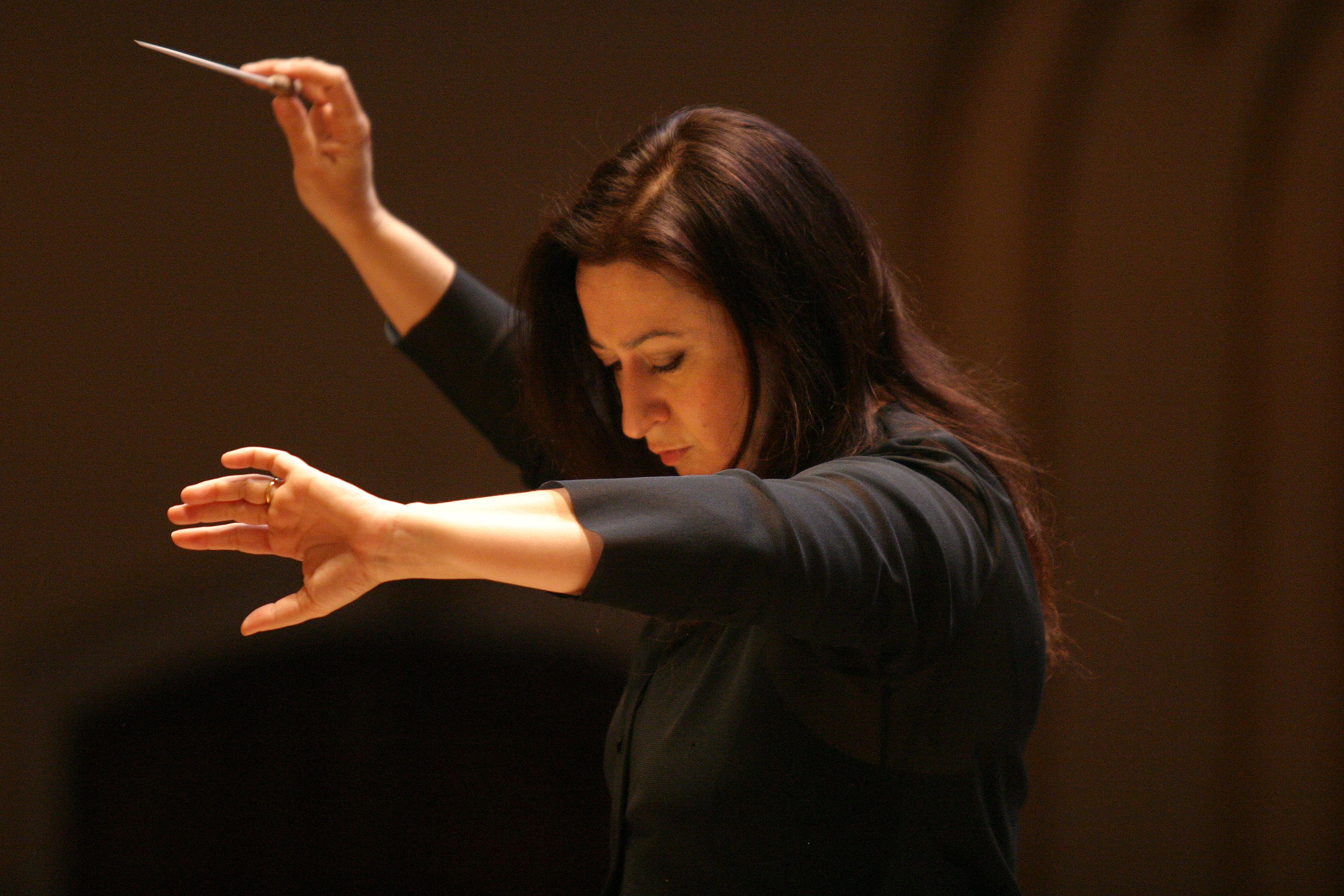 The Dallas Symphony Attracts a Crowd with Glass, Holst
A popular program that calls to mind Star Wars.
On Thursday night, the lobby of the Meyerson Symphony Center was unusually packed and inside the hall there were few empty seats. The draw? A program that features music by Philip Glass and Gustav Holst.
You've likely heard Glass's music before even if you rarely listen to classical music. Characterized by repetitive patterns and pulsing rhythms, his music is imbued with a hypnotic sense of perpetual motion. It's an instantly identifiable and appealing sound. If by chance you haven't heard Glass's music as the soundtrack to a movie, you've definitely heard some lesser film composer's imitation of his sound.
This weekend the Dallas Symphony is performing Philip Glass's Violin Concerto No. 1 with guest soloist Karen Gomyo. Conductor Simone Young, in her first appearance with the DSO, led the orchestra through this piece with commitment and energy. Physically, Young is a very active conductor who allows a strong internal sense of rhythm to visibly course through her body. Thursday night she bobbed up and down fluidly on the waves of Glass's pulsations, pulling a committed performance from the ensemble. Gomyo is well-suited for this piece. She plays it with a perfect combination of agility and delicacy. She's also a great collaborator, blending beautifully with the ensemble and never forcing solo sections into unnecessary showcases of virtuosity.
Unlike the prolific Philip Glass, Gustav Holst was a one-hit wonder. The Planets, his only well-known contribution to the classical music canon, is a staple of modern orchestras. It appears with regularity on the DSO's calendar and, like the Glass, always draws a crowd. It is, by any measure, an entertaining work. It's also deeply ingrained into popular culture. Star Wars wouldn't sound like Star Wars if John Williams had never heard Holst's portrayals of outer space. In fact, it's hard not to picture Darth Vader or hear his heavy breath in your mind's ear as you listen to the marching drums and blazing brass of Holst's Red Planet. Holst's Venus sounds as much like Yoda's home as William's Dagobah system.
On Thursday night, Young and the DSO gave Holst's Planets a vigorous, powerful performance. Mars and Jupiter were, as usual, highlights. A few transitions were rushed (Mercury's wings quite literally eclipsed Venus' peaceful final notes) and the piece seemed to run out of gas by the time we arrived on the mystical planet of Neptune, but for first-timers and even second or third-timers, this hit delivered.
In the world of classical music, composing a piece that becomes massively popular and frequently performed can, quite ironically, be a negative. As soon as a style (like Glass's) or a piece (like Holst's) becomes ubiquitous, it is perceived by some as lesser. On the surface, this attitude seems counter-intuitive at best and needlessly snobby and elitist at worst. But the problem is simply one of overexposure. This is great music, just like pizza is great food. We love it, but we don't want it all the time. Variety is important in a musical diet, too.
Young and the DSO do offer audiences a nugget of less-familiar music on this program with a charming performance of Hans Pfitzner's Prelude to Act I from his opera Palestrina. It was played exceptionally well by the orchestra last night and, well, I'd never heard it in a concert before. I like what's new to me. Most of us do.
Go hear The Planets if you never have before. If you have heard The Planets dozens of times and just want to hear them again because you love them, don't be embarrassed by your taste. Holst's one hit is a perennial favorite for a reason and Simone Young is a really fun conductor to watch.