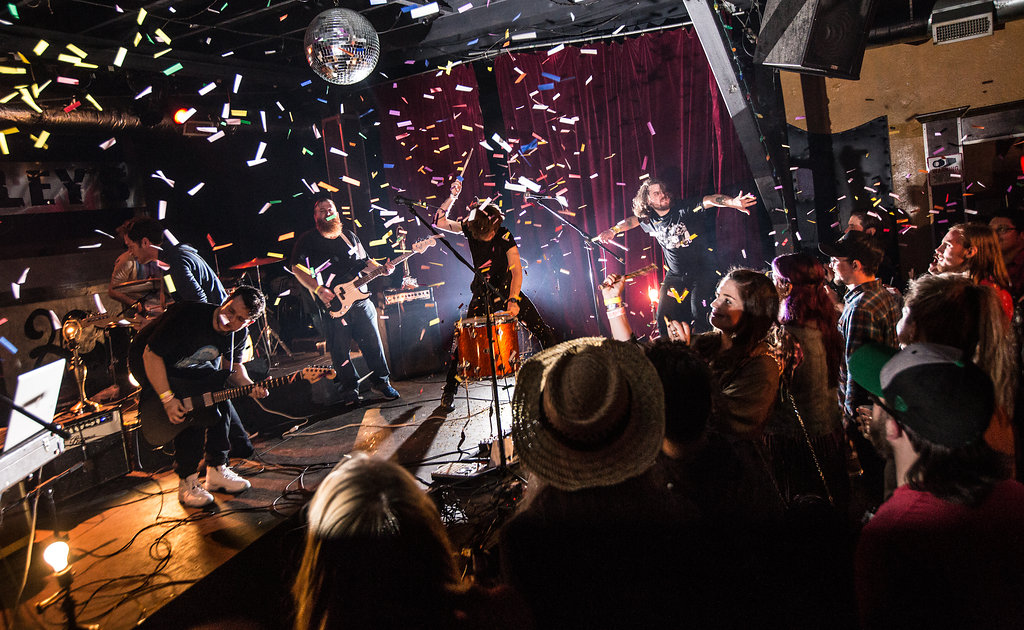 Hailey's Is Closing. Does Denton Need a Music Venue to Take Its Place?
Even if Hailey's had seen better days, no one will dwell on the down times. It's the good ones that will and should stick in most people's memory.
In a move that would have hurt a lot more five or six years ago, Hailey's Club announced last week that it will close at the end of 2015. The news, reported first by the Observer and then followed up on elsewhere, comes with the postscript that owner Jennifer Gibbs plans to open two new vaguely defined "concepts" in the space, although neither will be a music venue or club in the same vein as Hailey's.
The club, a Denton nightlife institution at 12 years of age, had been shambling along as a shadow of its former self for the better part of the last five years, despite the occasional flicker of life — the Thee Oh Sees show from last year and the venue's prominence in the past few editions of 35 Denton and Oaktopia come to mind as relatively recent high points. But even if Hailey's had seen better days, no one will dwell on the down times. It's the good ones that will and should stick in most people's memory. (Nobody remembers Marlon Brando as the overweight star of Christopher Columbus: The Discovery).
The venue, by most accounts, had a hell of a run in the 2000's. I moved to Denton in 2008, and caught the very tail end of the so-called glory days. Some of my most cherished live music memories include a Neon Indian show at Hailey's circa the end of that era, and longtime '80s Night DJ Yeahdef's deployment of the Pokémon theme song that same night. (I think it was the same night, but in the spirit of full disclosure, this was my go-to beverage at the time, and my recollection is hazy). Even when Hailey's was in clear decline by the time I moved away at the beginning of 2013, there was something to be said for the scuzzy dance floor*, the unrepentant smoking, and the nights your friends' bands booked a show. I'm metaphorically pouring out a Steel Reserve 40 oz. to the memory of Denton's soon-to-be-late, great Hailey's Club.

A bit of HTML has already been devoted to the club's autopsy, and former owner Ray Gil Jr. chimed in with his take on the downfall of Hailey's over here in the comments at We Denton Do It. Figuring out what went wrong is interesting and — depending on your definition of important — important because it gets at the heart of another question that seems to crop up, in various forms, with some regularity. Does Denton need another music venue?
There is certainly no shortage of places for bands to play in Denton.
Dan's Silverleaf is an institution that will, God willing, be around for the next 100 years. Places like (the always fantastic) Rubber Gloves and J&J's Pizza do a killer job hosting local bands, and there's always the city's house show circuit, even if that did just get a little smaller. Rubber Gloves, in particular, brings in a steady diet of touring acts, while Rockin Rodeo continues to land the occasional Toadies appearance along with a full schedule of fairly big-name country and hip-hop artists. Meanwhile, the new-ish Harvest House was hailed by the Observer as "the concert venue Denton needs" when it opened earlier this year. It's a lovely joint, although I feel like it's still a little early to tell what kind of venue it wants to be.
What kind of concert venue does Denton need? Does this little music town need a venue to pick up the torch Hailey's dropped somewhere near the start of the decade? Another venue to weave itself into the fabric of the city's music community? A place to book those hip national bands that will otherwise drive another hour south to play Club Dada or Trees in a resurgent Deep Ellum? Does it need an even bigger space?
I have no idea. But as Denton says goodbye to one of its more storied venues, it seems like an opportune time to consider what could take its place in the city's music community.