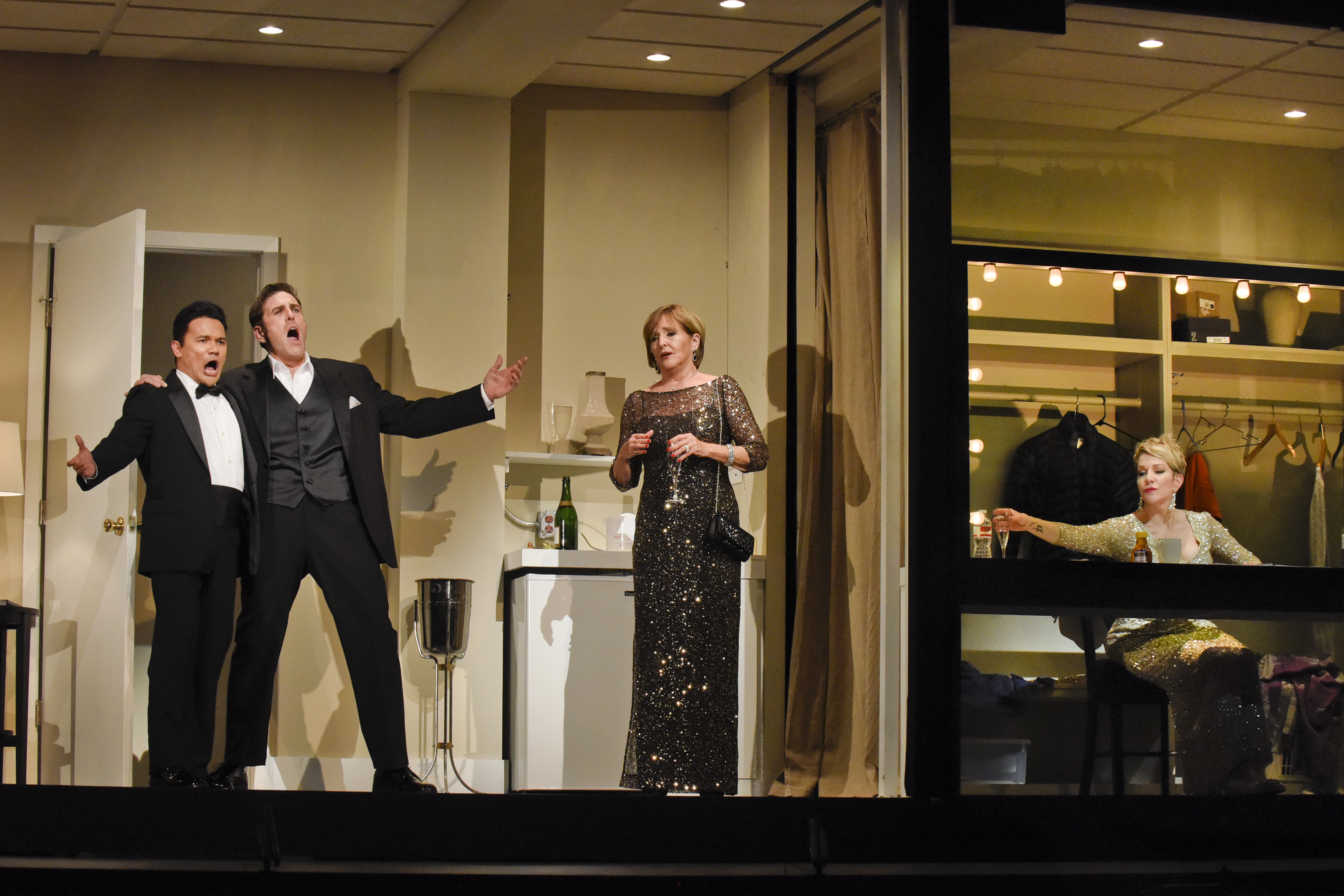 Fall In Love With Opera All Over Again With Great Scott
If you've yet to experience your own personal operatic "ah-ha moment," you just might find it in Great Scott.
Why do you love the opera? The theater? Music? What line or melody or voice (or combination of the three) first captured your imagination?
If you have an answer to those questions (or even if you don't), do not miss Great Scott, the new opera by composer Jake Heggie and librettist Terrence McNally that premiered at The Dallas Opera over the weekend and has been described by mezzo-soprano Joyce DiDonato as "a generous, melodic love letter to the world of opera and art. . . ."
In addition to generous and melodic, this love letter is smart, funny, touching and endlessly entertaining. With Great Scott, Heggie and McNally are reveling in operatic bliss, celebrating everything they (and all opera fans) love about the genre: the drama, the absurd plotlines, the divas, the virtuosity and, most indulgently, the voices.
And oh, those voices! Great Scott is, first and foremost, a showcase for Joyce DiDonato's singular talent (the title role was crafted specifically with her in mind). In this opera, DiDonato, an all-American, down to earth diva from Kansas with mesmerizingly nimble vocal technique plays Arden Scott, an all-American, down to earth diva with a stunning voice and a superstar career. In real life, DiDonato is a master of bel canto style singing. In Great Scott, her character has discovered a long-lost bel canto opera and has returned to her hometown (an unnamed American city that will feel strikingly familiar to Dallas audiences) to star in its world premiere.
Heggie must have had a blast crafting DiDonato's parts for Rosa Dolorosa, Figlia de Pompei, the fictional bel canto opera-within-this-opera. The music Heggie composed for this imagined masterpiece proves that, like his muse, he is a master of the bel canto style. The choral sections and ensembles of Rosa Dolorosa do such a good job of evoking the musical landscapes of Rossini, Bellini and Donizetti that they almost sound familiar the first time you hear them. But Heggie's melodic lines, while always nodding to the past, never resort to cheap parody, and his own distinctly contemporary voice is always apparent. The bel canto arias he composed for DiDonato here are gorgeous and memorable, especially an aria she sings, quite exquisitely, as a prayer to Vesuvius before it erupts.
Hearing Joyce DiDonato sing such thoughtfully composed, virtuosic bel canto style music in her prime is worth the price of your ticket. What makes this production so exceptional is the strength of the cast that joins her on stage. Soprano Ailyn Pérez nearly steals the show-within-this-show as the young, overly ambitious Tatyana Bakst, a self-proclaimed "hard-working soprano with a green card, a small dog [named] Lucia di Lammermoor, and a modest gift from God." Pérez sings the word "modest" with rapid trills and turns and more than a little irony as she pushes and shoves her way to the front of the stage whenever possible. Her voice is everything you'd want from a rising young soprano: powerful, clear and capable of landing all the high notes. Her dramatic portrayal of Bakst, a social media obsessed diva with a thick Russian accent, is spot-on and hilarious.
DiDonato and Pérez are joined by tenor Rodell Rosel and baritone Michael Mayes as Anthony Candolino and Wendell Swann respectively. Rosel has a gorgeous, strong tone and clearly has fun parodying tenor stereotypes in this role. Mayes is memorable as the loveable meathead Swann, always ready for a break from rehearsal and eager to show off his svelte physique. Together, Rosel and Swann provide playful, gratuitous virtuosity and more than a few laughs.
If there is a voice more impressive than DiDonato's on this stage, it is Anthony Roth Costanzo's. The startlingly talented countertenor is fabulous as Roane Heckle, the reliable, sometimes overlooked stage manager who keeps the crew on track and eventually reveals a bit of his own soul. Kevin Burdette is solid as both Maestro Eric Gold and the Ghost of Bazzetti, and Nathan Gunn is charming as Sid Taylor, Arden Scott's handsome, smooth-singing love interest.
DiDonato and Gunn have more than ample chemistry as Arden Scott and Sid Taylor, but my favorite "love story" in this opera is more platonic. The great Frederica von Stade, now semi-retired, is mesmerizing as Winnie Flato, Arden's once-teacher and the donor who is funding the fictional opera company's production of Rosa Dolorosa. For me, seeing von Stade and DiDonato on stage together in these roles was a particularly magical operatic moment. Von Stade's voice is still remarkably clear and flexible, and her musicality is unmatched.
Von Stadt and DiDonato's scenes together are among the most moving moments in Great Scott. In Act I, they sit side by side at the piano in a rehearsal hall as mentor and mentee, reminiscing about their own love of music and the great divas they listened to together ("Remember listening to the opera broadcasts together? Leontyne Price! Beverly Sills!"), as well as frankly discussing career choices and love lives.
In another memorable scene, the two mezzo-sopranos make a curtain call together at the conclusion of Rosa Dolorosa. "My heart is too full to express all I mean," von Stadt sings as Winnie Flato, addressing both a fictional and real audience at once. "We of privilege in this magical room. We live in a world of beauty and grace. We will share that world, increase and multiply it. Like the beautiful young woman next to me has done all her life." As they look at each other, the respect and love these two women have for each other as Flato and Scott (or, in real life, as von Stadt and DiDonato) is palpable.
That scene is one of many that are impeccably staged by Jack O'Brien, who toggles the action brilliantly back and forth between backstage and front. His direction brings characters like Tatiana Bakst and Sid Taylor vividly to life (of course your old boyfriend would tromp through your dressing room with bravado to use your private toilet!). Throughout Act II in particular, O'Brien maneuvers the characters around Bob Crowley's simple but effective set masterfully.
Terrance McNally's libretto is packed with zingy one-liners ("This shit is hard," DiDonato bemoans during a rehearsal of Rosa Dolorosa). He is adept at writing material that is accessible and smart, appealing simultaneously to opera aficionados and newcomers. His portrayal of opera rehearsals, dressing room trysts and backstage drama is one part realistic, one part campy fun for theater geeks, and quite clearly drawn from the theater's long, successful tradition of plays-about-putting-on-plays.
If you've yet to experience your own personal operatic "ah-ha moment," you just might find it in Great Scott.
McNally's characters tweet and text, take selfies and check social media on tablets and cellphones (for which Heggie supplies smartly orchestrated ringtones). As a librettist, McNally knows exactly how to provide Heggie with just the right material for a hit (the charming "alphabet song" in Act. I is a superb example), and he knows when to tug at heartstrings by having characters ask the universal questions of life (Am I good enough? What if I'm not? Who am I? What's the point? Why do we do this? Does it all matter?).
If there is a flaw in McNally's original story, it is that he seeks to tackle too many of these big questions in one work. The big themes of Great Scott could benefit from editing. Is this an opera about a diva's mid-life, mid-career crisis? Is it a self-referential work that makes a statement about the state of contemporary American opera? Is it a love story? Is it the story of a mentor/mentee relationship? Is it a story about coming home or about embracing or letting go of one's past? Is it about confronting one's ghosts (both real and imagined)? Is it pure, playful pastiche? Is it about the lives of the people backstage, the ones who often feel unseen but who, in Roane's words, "make this opera shit happen?"
The answer is yes. It is all of these things and more. This is, after all, also an opera about football: Winnie Flato is married to the owner of the city's professional football team, which happens to be playing in the Super Bowl the same night that Rosa Dolorosa opens ("Who schedules these things?" the cast asks repeatedly). While all of these elements work individually, as a whole the opera ends up feeling thematically bloated.
Regardless, the dramatic performances in this production are entertaining, the witty references plentiful, the characters strong and the voices beautiful. The Dallas Opera's orchestra supports the action on stage throughout with bright, energetic playing under Patrick Summers' baton. As a whole, this is a very contemporary reminder that opera, new and old, will always be relevant because great vocal and dramatic performances of beautifully composed music never go out of style. It will make you laugh, cry, and fall in love with opera all over again. Or, if you've yet to experience your own personal operatic "ah-ha moment," you just might find it in Great Scott.