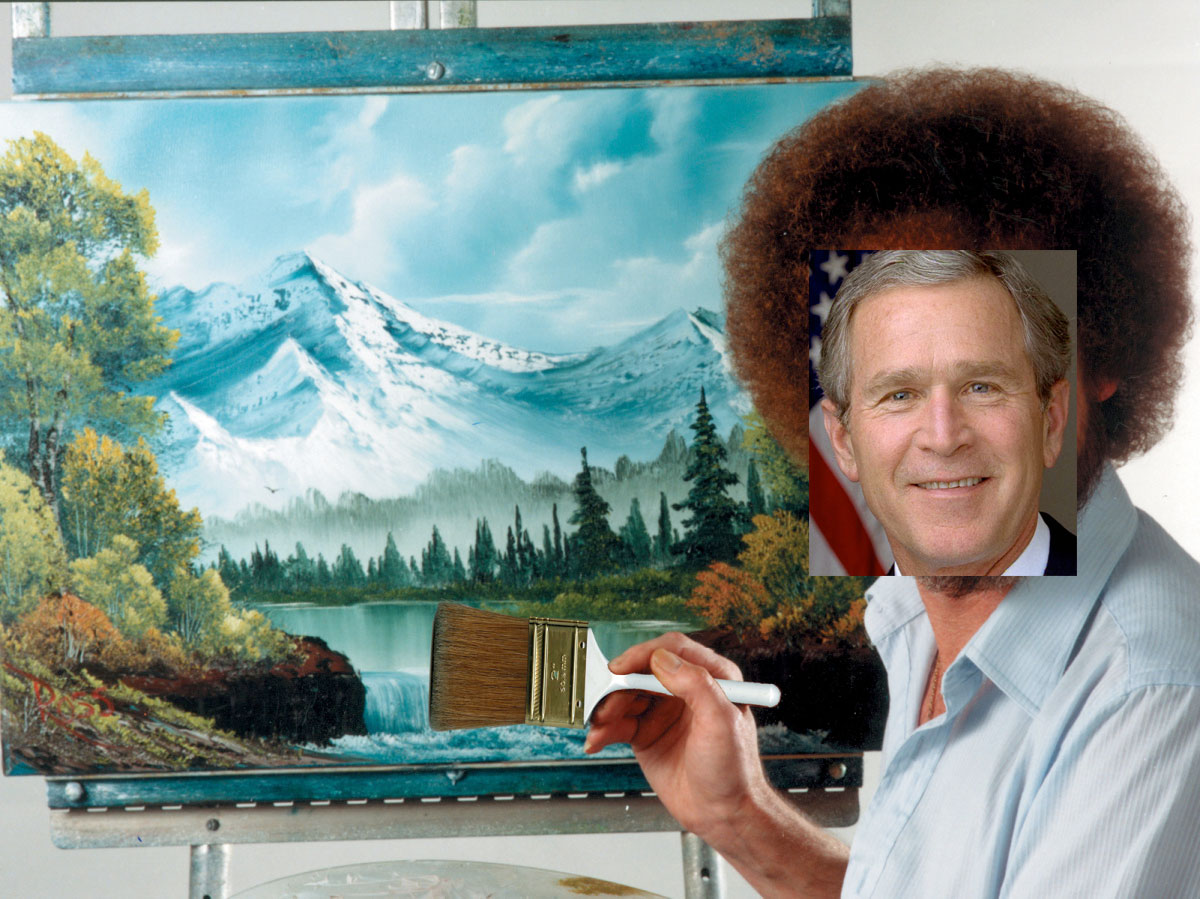 5 Reality TV Shows We'd Rather Watch Than Real Housewives of Dallas
Elevator pitches for The Joy of Painting With George W. Bush, Monkeying Around With Dallas Bryant, and more.
As you may have heard by now, it's happening. The time is nigh: A day we have long dreaded and feared, a day of infamy, a day when The Real Housewives of Dallas is a real thing that really exists. It will be on your television and everything.
Details remain vague ahead of the show's premiere on Bravo some time "later next year," although that hasn't stopped local media outlets from speculating about the cast. I'm not here to pile on to the gossip mill. We don't need to familiarize ourselves with the names, hobbies, and allergies of our high-heeled Horsewomen of the Apocalypse before they arrive to spread pestilence and death. We'll know the form of the Destructor soon enough.
I'm here instead to speculate about what could have been and about what could be, because reality TV can be a great thing when it's done right. Dallas has no shortage of outlandish characters, big personalities, and wild storylines — This city was full of reality TV shows waiting to happen long before Real Housewives swooped in. With that in mind, here are elevator pitches for five North Texas-based programs we'd rather see on air.
The Joy of Painting With George W. Bush
No. 43 indulges his post-Presidential artistic pursuits and encourages the audience to follow along à la the late, great Bob Ross. Bush has shown more of an aptitude for portraits — his Putin is really something else — than the landscapes and "happy little trees" of Ross' oeuvre, and the former governor of Texas may not have the instructional experience of PBS' permed art teacher. (For what it's worth, critics have mostly been dismissive of both artists). But that's the fun of The Joy of Painting with George W. Bush. Now that he's just a "guy you'd have a beer with" and not "a guy with the nuclear codes," we can learn about art together, make mistakes together, be proud of our iffy dog paintings together. The show would be filmed at the George W. Bush Presidential Center at SMU, or in a Preston Hollow studio designed to look like the Oval Office.

Monkeying Around With Dallas, or: Dallas Goes Bananas

A camera crew follows around Dallas Bryant, pet monkey of Dallas Cowboys wide receiver Dez Bryant. Opening credits for each episode feature Dallas Bryant throwing up the X. Maybe orchestrate a re-creation of this catch with a banana instead of a football. Have Dallas befriend Tony Romo's chinchilla, Cowboy. If Tony Romo does not have a chinchilla named Cowboy, get Tony Romo a chinchilla named Cowboy. Sky's the limit. We'd also just settle for another Cowboys Hard Knocks.
Locked Up With Anonymous: The Barrett Brown Review of Arts and Letters and Jail LIVE!

Live from the Federal Correctional Institution in Three Rivers, TX, a late-night talk show hosted by former (alleged) Anonymous spokesman and current federal inmate Barrett Brown. The D Magazine profile subject turned D Magazine prison correspondent (turned columnist for Glenn Greenwald's Intercept) interviews prisoners of note, gives his take on the hot button issues of the day, and reviews varieties of hooch in this 30-minute broadcast.
Come Go Fishin' With Dwaine
Hear the pitch from the man himself on this June edition of the podcast: A fishing show with former Dallas City Councilman and current Dallas County Commissioners Court candidate Dwaine Caraway.
#WalkerWatchingWalker
Inspired by Shia LaBeouf's recent performance art piece #AllMyMovies, in which the star of the Even Stevens Movie and several Transformers films watched his complete filmography in one three-day session at New York's Angelika Film Center, Chuck Norris decides to watch all 201 episodes of Walker, Texas Ranger at Dallas' Angelika Film Center. The 75-year-old Norris will dress as the iconic lawman for the duration of the marathon, which, by my calculations, would take roughly seven-and-a-half days. The live web stream of Norris' seat in the theater will be accompanied by a social media push under the hashtag #WalkerWatchingWalker. When #WalkerWatchingWalker is complete, Netflix will begin streaming a split-screen program that synchronizes the recorded #WalkerWatchingWalker experience with the entirety of Walker, Texas Ranger, for the ultimate binge-watching experience.
Television executives and industry bigwigs can reach me at [email protected] Thank you for your consideration.