On Friday, the Arts District hosts
Aurora
, the biannual event that invites video, sound, performance, and light artists to illuminate downtown Dallas with their works. The result is a stunning visual and aural scene that encompasses the length of Flora Street and fills the otherwise empty corridor with people eager to engage in what is arguably the Arts District's most successful event. But the downtown district isn't the only setting for Aurora this year. A few miles away, in a neighborhood untouched by
Rem Koolhaas
, the event takes center stage for a second night.
In the Cedars, tucked away from the construction of "luxury" apartments and a new Alamo Drafthouse, just down from the Quonset huts, and past a pride of stray cats are three buildings that once housed a Ford dealership. Today, they sit empty. However, come Saturday, they will serve as the backdrop for Aurora's wrap party featuring installations by Emilio Muniz, Jeff Gibbons and Gregory Ruppe, Letitia Huckaby, and Jeremy McKane. And in a year or so, they will be transformed into the epicenter of a new arts district flagshipped by the
McKinney Avenue Contemporary
.
The buildings are part of a larger compound that straddles Gano Street between Ervay and Durant. The largest will be the new home of the MAC. The gallery recently shuttered its location in Uptown after more than 20 years to forge a new path south of downtown. Extending beyond the footprint of the old Ford dealership, the development will contain residential, retail, and restaurant space. Pastime Tavern on Ervay, which sits just beyond the wall surrounding the compound, will be incorporated into the grounds. An undeveloped courtyard alongside Gano, which will be blocked off to traffic, will be spruced up to become a small park and common area. It's here where the MAC will hold its 21
st
Annual Membership Show,
Weatherproof
, which runs in conjunction with the Aurora wrap party on Saturday.
The MAC, though, isn't the only gallery relocating to the new development in the Cedars. Ro2 Gallery, which is currently located on Akard in downtown between Elm and Main, will also move into the complex. The MAC will take up the majority, about 4,500 sq. ft., of the bottom floor of the main building with Ro2 occupying the rest. Inside the MAC, the area will be divided into three gallery spaces. Two of them will be media-specific, with one dedicated to new media and the other to photography. The third will feature rotating exhibits of any discipline. A focus on exhibiting local artists in context with nationally and internationally renowned artists, which the MAC is known for, will remain. There's even talk of creating a small black box theater, but it's just an idea at this point, according to Rachel Rogerson, the MAC's new director.
Above the gallery space will be residential units. There's discussion that the space could possibly be used for artist studios as well. In fact, it's that idea that is the driving force behind the move to the Cedars rather than the Design District or elsewhere. They want artists to move in.
"This brands itself as being another cultural district," Rogerson says. "We're working with Dallas Heritage Village, Cedars Union, the Ambassador [Hotel], and the Gulf Cone Building. We're kind of all working together. They want to have artist studios and lofts. We're working together to make this something where artists want to live and then somewhere where they have opportunities as well. We're actually providing opportunities for local artists, which I think could really be something great."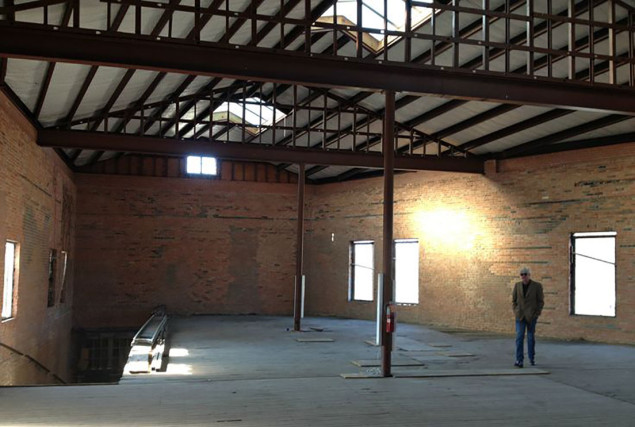 The locals seem to agree with that sentiment. The MAC has been diligent in reaching out to their new neighbors, working with them whenever possible. As a result, MAC members now receive discounts at a number of Cedars businesses. But connections in the neighborhood go beyond discounts. While the MAC won't open until late 2016, it's still hosting art talks, and it's Rogerson's intent to have a larger focus on education.
"I think the Cedars is a great place for [an educational focus] for things like Cedars Open Studios. It's really easy to work with them." she says. "You have this established group of artists that you can just approach and say, 'Hey, help us out. Offer something for some students and we'll provide the venue.'" And that cooperation is already taking place. The MAC will allow artists to show their work in its space if participants don't want to invite the public into their homes during Cedars Open Studios.
The emphasis on community outreach and engagement is intentional. With plans for residential units, restaurants, and more, the goal is to create an inclusive space open to everyone. "So, you have the Dallas Arts District, which obviously is a cultural mecca and amazing. And nothing against that. But I think that this is more approachable," Rogerson says. "I think that it presents itself as being something, not only where people who live here can participate, but also keep outsiders who come in. It's just more welcoming."
In her efforts to make the MAC more inclusive, Rogerson says it needs to be more dynamic. For this to happen, she feels that collaboration with local artists and arts organizations is important, if not wholly advantageous. "Whenever we've collaborated with another organization it's like the power of two. It makes it so much better," she says. "We do better audience numbers, more donations, you know, everything. It's a lot more successful. I'm up for doing collaborations consistently. I can't say [it will happen with] every single exhibit, but I want to make sure that it's something we're doing multiple times a year."
"…I want to make sure that all voices are represented.

MAC Director Rachel Rogerson
The inaugural opening likely won't be collaborative, however. Rogerson has it all planned out in her head. It will take some time before the details can be hammered out. With that said, she's quite cognizant of the
gender and racial disparities
that persist in the art world. "I really want to provide a voice for what's happening locally and further abroad. And I want to make sure that all voices are represented. I think that is something that is definitely missing … I hate to say that it's a focus, because good art is always the focus. It would never be like 'We need a female artist in this slot because we have to show that we're diverse' or whatever. It ghettoizes it. It turns it into this thing where you don't actually like the art. You're just doing it because you feel like you're filling some void. I definitely want to fill that void, but I want to focus on providing the best voice for it."
Rogerson isn't new to Dallas' arts scene. In fact, this isn't even her first stint with the MAC. Some years ago she interned with them. She never saw herself working at a nonprofit gallery, though.
"I thought that the commercial gallery thing was what I wanted," she says. "I started working at Kirk Hopper right after the internship at the MAC. I really liked it. I enjoyed working with Kirk. And then I got into the master's program at Saint Andrews and went away there. I think after doing museum studies for my master's and researching museums and researching what museums provide to the public: how you engage with the public, providing equal opportunities — All of that I think really inspired me to work at a nonprofit." Working for a nonprofit, she says, allows her to show the work of artists whose work she enjoys without constantly focusing on sales.
The undertaking of opening a new gallery is daunting in itself. Combining that with the premise of creating a new cultural destination and the task becomes almost Herculean. Rogerson, though, doesn't flinch at the notion despite being the only fulltime employee with the MAC. If everything goes as planned, the MAC could find itself at the heart of a burgeoning arts district and artist community. Mayor Mike Rawlings would consider this a boon for the city's "cultural capital." In reality, it represents the drive of underrepresented voices taking matters into their own hands. However it's spun, Dallas is better for it.
Get the FrontRow Newsletter
Get a front row seat to the best shows, arts, and things to do across North Texas. Never miss a beat.