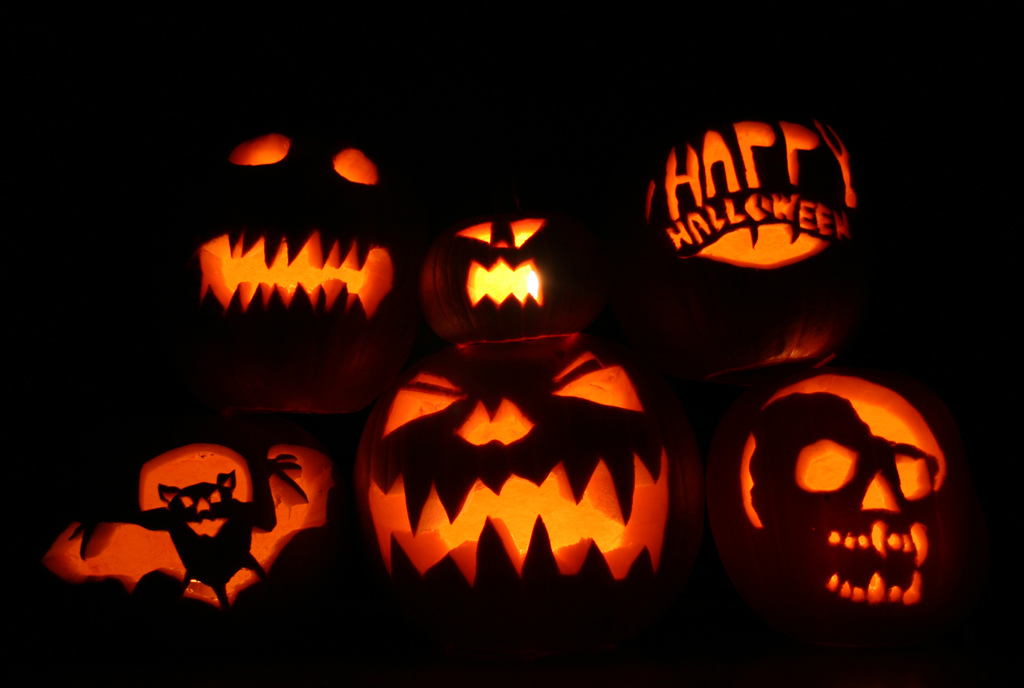 25 Things To Do In Dallas For Halloween
Trick or treat.
Update: If you're here looking for things to do for Halloween in 2016, please head over to our updated list.
Oct. 31 falls on a Saturday this year, but the Halloween fun starts way before then. There are lots of tricks and treats to be had in Dallas, from massive costumed block parties to classic horror flicks. So stock up on candy, stitch up that costume, and get ready to celebrate the most absurd and absurdly enjoyable holiday of all.
Haunted Attractions
"Haunted house" doesn't really do justice in a time when you can find post-apocalyptic zombie safaris, spooky circuses, and more for your Halloween frights. North Texas is full of such frightening haunts, to the point that we prepared a separate guide to the area's best haunted attractions. If we could recommend one paranormal thrill ride this year, though, it would be Thrillvania, out in Terrell. A 50-acre park with four distinct haunted houses, the attraction also hosts the ghost of its visionary creator and a cast whose acting skills are scary good.
Parties (For the Grown-Ups)
Almost every club, bar, and broadly defined "joint" in town is going to be throwing some kind of party and/or costume contest on Halloween weekend–The combination of costumes and alcohol is great for doing away with inhibitions and bloating your bar tab. So feel free to visit any of your favorite local haunts. We have, however, highlighted a few standout shindigs.
The biggest, and probably the best, Halloween party (or any party) you'll find in Dallas this year (or any year, for that matter) is the customary Oak Lawn Block Party. It's a week before Halloween on Oct. 24, so hopefully your costume is already prepared. Dress up and head to the 3900 block of Cedar Springs that Saturday for one of the city's more bonkers celebrations. Entry into the cordoned-off street is free. Food and drinks will be available at booths throughout the area, with a DJ and several other performers providing the music. Check out the specially designated costume promenade, but everyone will likely be wearing their Halloween best. If you make the ill-advised decision to drive and park here, head out early. Go here for more info.
The Bomb Factory hosts the "Forbidden Kingdom Halloween Charity Event," a fantasy-themed (I'm imagining zombie hobbit costumes and haunted castles) party and costume ball that showcases body art, plenty of DJs, and charity–proceeds go toward Boys and Girls Club, ArtLoveMagic Kids Workshops and Christmas Cops. Live shows include the naming of the 2015 "Dragon Goddess." Go here for more info on the event, which is set for Oct. 24.
The Cedars Union is hosting a Day of the Dead party featuring free beer, live music, free beer, a goblet design contest, and free beer. That's on Oct. 30.
It's an educational happy hour at Lee Harvey's on Oct. 28, when staff from Dallas Heritage Village will be sharing some historic local ghost stories at the watering hole.
Carve pumpkins and have a beer at the Old Monk.
You'll laugh so hard it's scary at the comedy night at the Kessler.
Family-Friendly Events
Go here for a full guide to family-friendly Halloween events in Dallas.
The Perot's new exhibit opens on Halloween day and is pretty spooky. "Creatures of Light" is a look at bio-luminescent animals in nature. If you've ever seen a picture of an anglerfish, then you will believe me when I say the organisms swimming at the bottom of the ocean are scarier than any ghosts or ghouls.
Head to the Latino Cultural Center on Oct. 24 for the Dia De Los Muertos Festival for traditional music, dance, and arts and crafts celebrating the Mexican holiday.
Denton's own Day of the Dead Festival on Oct. 24 features coffin races, live performances, and other family-friendly activities. The rain-or-shine event starts at 11 am out at Hickory and Industrial streets.
Halloween-themed activities and trick-or-treating make Boo at the Zoo a special occasion to visit the Fort Worth Zoo from Oct. 23-25.
Coordinate costumes with the family dog for the Spooky Pooch Halloween Festival in Main Street Garden on Oct. 31. Canine costume contests, live shows, and kid-oriented activities run from 11 am to 6 pm.
Catch a hay ride at downtown McKinney's Scare on the Square.
Go trick-or-treating early down Lowest Greenville, where Greenville Ave. Pizza Co. will be dishing out free slices of its desert pizza and other local businesses will be slinging sweets. This starts at about 11 am on Oct. 31.
Scary Movies
Our favorite Dallas movie theater is hosting a number of horror-themed screenings through the end of the month. It starts Oct. 23, when the Texas Theatre will show the 1931 Frankenstein in all its 35 mm glory. Presented by CineWilde, the LGBTQ film series, the event will include a talk with local queer professors of film and literature. After the movie, stay tuned and bring your best scary stories for "Behind The Scream," an open mic occasion to share your best horror tales, s'more in hand, around a campfire.
Next up at the Texas Theatre on Oct. 28, a screening of the classic silent vampire film Nosferatu will be accompanied by the performance of a new score from the Invincible Czars, an adventurous Austin outfit worth giving a listen. On Oct. 30, a screening of Return of the Living Dead will be followed by a "punk rock zombie party," which is all the impetus you need to try on that "decaying Sid Vicious" costume you've thinking about. On Halloween night (Oct. 31), the Evil Queen of Burlesque Drag Show takes over the theater's stage. Get tickets and more information for that one here.
Los Bastardos present showings of the Rocky Horror Picture Show on Oct. 30 and Oct. 31 at the Inwood. The shows/parties include a costume contest and a super-sized version of the shenanigans that come with screenings of the cult classic film.
Alamo Drafthouse will show the so-bad-it's-good Halloween III on Oct. 30 before throwing a family-friendly carnival at 4 pm on Halloween itself. Grab a babysitter and stick around for a screening of the cult classic Trick 'R Treat later that night on Oct. 31. The "Dismember the Alamo" horror movie marathon is on Oct. 24.
The Granada Theater will show Hitchock's Psycho and The Birds in a double feature on Oct. 22. If that's not enough Hitchcock for you, the Angelika in Plano has been celebrating "Hitchcocktober" by showing movies by the master of suspense every Thursday. Rope is on Oct. 22, with Psycho closing it out on Oct. 29.
Concerts
Go here for a full rundown of Halloween weekend concerts in Dallas.
This punk bill headlined by the Coathangers (also playing an earlier free show at the Foundry) and NoBunny is fantastic. The show's at 10 pm at Pariah Arts on Halloween night.
Marilyn Manson is an appropriately scary headliner for the Freakers' Ball concert at Verizon Theatre on Oct. 30.
The Bomb Factory's got a strong weekend booked with Future topping the Rageville Music Festival on Oct. 30 and Ghostland Observatory coming in the next night.
Healthy Halloween
You maniacs who shun candy and other delicious treats may be intrigued by Spooky Cross Country, a 5K near Dallas Heritage Village the morning of Oct. 31.
For more things to do this Halloween, go here.