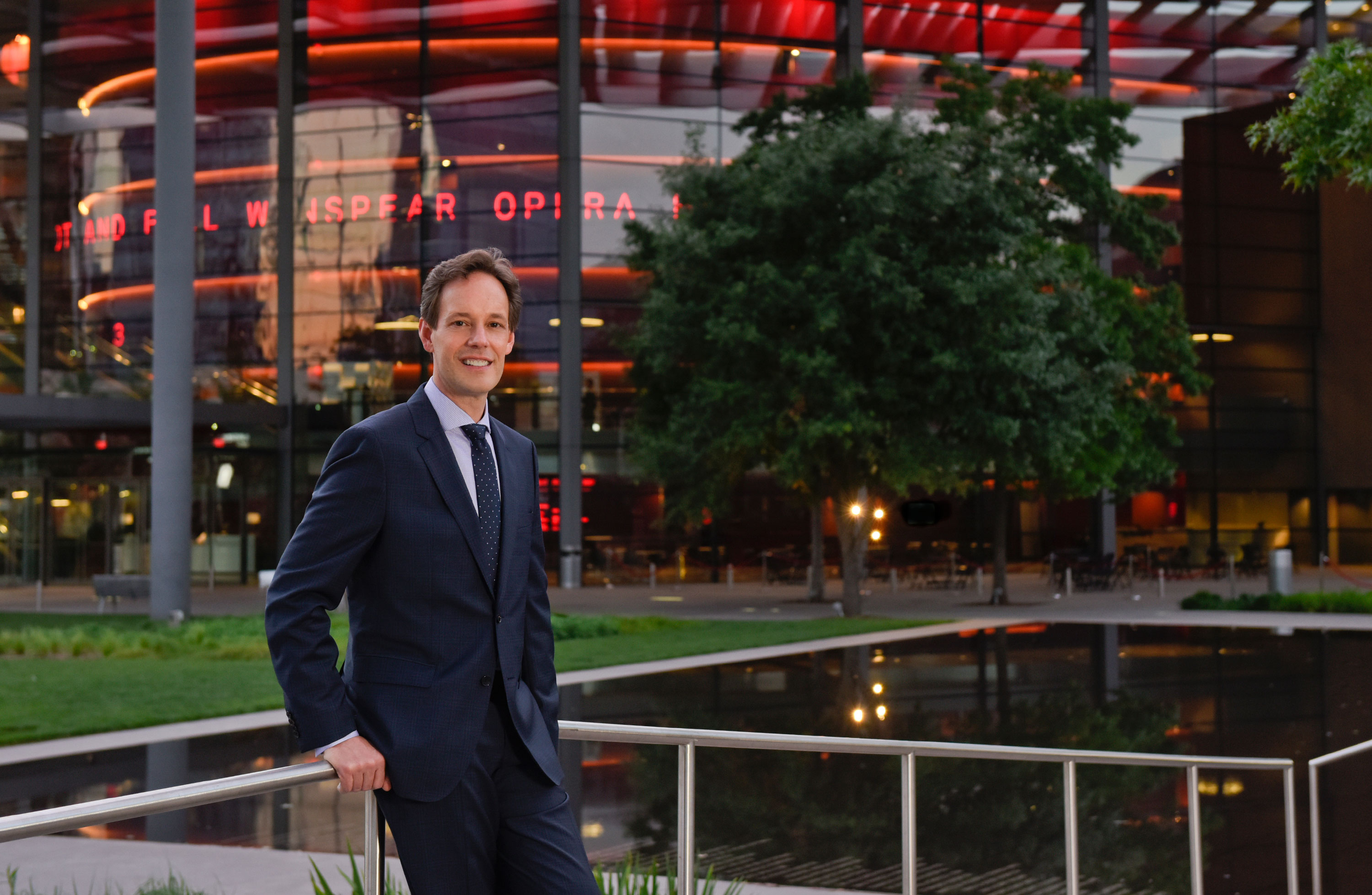 The Dallas Opera Banks on the Most Successful Living American Composer with Great Scott
Critics don't much care for him, but Jake Heggie's new work has opera-as-accessible-blockbuster written all over it
By the 2010 Dallas debut of his opera Moby-Dick, composer Jake Heggie was already one of the most recognizable names in contemporary American opera. In an art form in which repeat performances of new work are rare, his breakout hit, Dead Man Walking, has racked up approximately 50 productions since its 2000 debut. Moby-Dick seemed to propel Heggie into new territory. Since its debut, the opera has been performed in Calgary, San Diego, San Francisco, Washington, D.C., and Australia, and in the next two years the curtain will rise on Moby-Dick in Los Angeles and Cincinnati.
And Jake Heggie commissions keep pouring in—song cycles, short operas. The Dallas Opera has co-commissioned along with the San Diego Opera another full-scale, brand-new opera called Great Scott, written with Dead Man Walking librettist Terrence McNally, which will have its world premiere at the Winspear Opera House on October 30. And in 2016, the Houston Opera will premiere Heggie's adaptation of It's a Wonderful Life. A cover story about Heggie in the July issue of Opera News proclaims him the most successful living American composer. It's difficult to argue with that assessment.
And yet, despite his popularity—maybe even because of it—Heggie is not one of the most critically beloved composers. His compositions have been called "pleasantly entertaining" and "conservative and controlled." When the New York Times' critics came up with a list of the most significant recent operas, composers like John Adams, Philip Glass, and Thomas Adès made the list. But not Heggie.
"One of the things I get praised for and cut down for is that the public understands my scores," Heggie says on the phone from his home in San Francisco. "The word 'accessible' is used in a good context and in a negative context."
Heggie's contested status within the world of music speaks, in part, to the status of classical music itself, and opera in particular. Opera's notoriously impossible finances and aging audiences have spelled ruin for some opera companies in recent years. The New York City Opera went bankrupt in 2013; in 2014, the San Diego Opera almost followed suit. The Dallas Opera navigated its own troubled waters after being forced to trim its performance schedule in 2012. Amid this crisis, opera companies are desperate to reach new audiences. One way to do that is with new commissions, which can make the stuffy, old opera house feel more like the setting of a civic event. And when opera houses go looking for new work that can excite audiences, Heggie is often the guy who washes up on their shores.
What is it about Heggie that entrances audiences and opera company directors alike? Perhaps the answer is not as simple as proclaiming Heggie our most accessible contemporary composer. Rather, it is bound up in what drew Heggie into the world of opera in the first place.
Born in 1961, Heggie studied piano and composition at UCLA, and after school, he toured with his mentor—and future wife—the acclaimed pianist and composer Johana Harris. But Heggie's concert career was cut short by a neurological condition that left him unable to play piano. It was a personal crisis: he was married to a woman 48 years his senior who knew he was gay, and he had dedicated his life to music but was left without the ability to pursue it as a career. Then Harris died in 1995. Heggie wanted to stay close to music, and he landed in the public relations department of the San Francisco Opera. In the mid-1990s, his condition improved, and he began to write and play music again.
Composing music outside the tutelage of his mentor and without the pressures of an academic environment left Heggie free to pursue music that spoke most directly to his own sensibilities and passion. "I didn't write for almost five years," he says. "And when I started writing again, I was going to write what I wanted to write about, and not to impress a professor. I grew up loving musical theater, so that's a huge influence. So are films. Then I found chamber music and symphonic, and then I found my home in the opera house. And while I appreciate everything that academia has done for me, that is not the real world."
Heggie passed his songs to some of the divas he met at the San Francisco Opera, people like Renée Fleming and Frederica von Stade, who responded to the music and began programming it into their recital repertoire. That led to the creation of a composer-in-residence job for Heggie. Dead Man Walking was his first opera, and it was a home run, perhaps making Heggie the only composer in music history to rise up through an opera company's marketing department.
Heggie once told the Washington Post that he used to think opera was "kind of stupid." He spoke to me about not wanting his work to get stuck in the "new music ghetto." That attitude has made Heggie the opera world's populist iconoclast. And the composer has been happy honing his craft far away from the noted centers of European and American opera, working repeatedly with the San Francisco, Houston, and Dallas opera companies.
"Opera was at risk of becoming a museum art form because of the way it was treated."
Heggie and McNally's Great Scott takes this tension about opera's uneasy position in contemporary culture and turns it into drama. The opera is about a famed soprano who returns to her hometown, an unnamed American city that sounds more than a bit like Dallas, with the score of a long-lost bel canto opera. She hopes the debut will help revive the city's struggling opera company, but opening night coincides with the Super Bowl, and the city's team is in the game. In an operatic stretch of a plot twist, the opera company and the football team are owned by the same family­—think Jerry Jones' cultural patronage—and if the football team loses, the owner won't be able to afford to keep the opera company afloat any longer.
You can anticipate the dramatic and musical appeal of the opera's plot from the perspective of both the composer and the commissioning artistic director. Great Scott presents a storyline in which the relevance of an opera company to its community becomes central to the thematic thrust of the drama. Plus, Great Scott offers female opera fans a hook to lure in reluctant male partners: "Look, it's an opera about football!" As for the music, the plot serves up the perfect context for nostalgic sojourns down the historical back alleys of bel canto opera and rousing band music. In short, Great Scott has opera-as-accessible-blockbuster written all over it.
Heggie admits that it is all part of the secret to the success of new opera. Like the fictional opera in Great Scott, the Dallas Opera's commissioning of a new-old great work is part of the company's attempt to drum up enthusiasm around its art form, thrusting opera into the popular conversation in a way that another revival of La Bohéme or La Traviata cannot. And it is not the first time the Dallas Opera has put music and football together. It launched a successful AT&T Stadium simulcast in 2012 that draws tens of thousands of people to the arena to watch opera on the massive screen above the Cowboys star.
"It makes opera newsworthy," Heggie says. "Any time you do a new piece, you will draw in a new audience and capture media attention in a new way."
A cynic might read too much of Heggie's PR background into his comment, but he is talking about more than publicity. Heggie's own transformation from opera skeptic to opera composer reveals an attitude that he shares with his Dallas Opera benefactors, a belief in what opera can do if it can just find the opportunity to reach new ears.
"Opera was at risk of becoming a museum art form because of the way it was treated," Heggie says. "If art isn't alive, it dies on the vine. But if audiences are responding to opera, something is going on. There is a relevance, accessibility, and openness, as well as drama and truth."
A version of this column appears in the October issue of D Magazine.