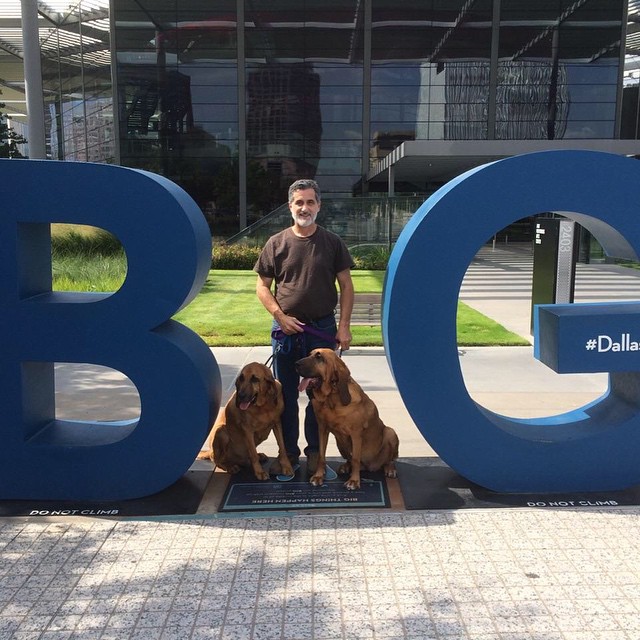 Meet the Canine Stars of Dallas Theater Center's Moonshine: That Hee Haw Musical
How two bloodhounds made it from a North Carolina animal shelter to the Broadway stage.
The Dallas Theater Center has gotten the Broadway treatment this season. Moonshine: That Hee Haw Musical has brought some of New York's finest to Dallas for the show's world premiere. Director Gary Griffin, choreographer Denis Jones, book writer Robert Horn, and scenic designer John Lee Beatty are just a few of the members of the creative team boasting Broadway credits and Tony awards. Broadway actors Rose Hemingway and Justin Guarini are in the the cast, and Grammy nominees Brandy Clark and Shane McAnally wrote the musical.
With such a star-studded cast and creative team, audiences might not realize that the biggest Broadway veteran in the house is completely behind the scenes. Broadway's go-to animal trainer, Bill Berloni, has brought Pete and Lily, two bloodhounds, to play the role of "Beauregard" in the musical.
Pete and Lily have their own dressing room at the Wyly Theatre, but they haven't always had the good life. The pair was abandoned and left tied to a tree in North Carolina. Berloni rescued Pete and Lily from the Alberta, Ontario Bloodhound Rescue after no American shelters would take them in. He estimates the dogs are about 8 years old, but their relationship to one another isn't clear.
"Lily is the larger of the two and she's definitely in charge," Berloni says. "They could be brother and sister, or she might be his mother. We just don't know."
Berloni didn't always want to be an animal trainer. After high school he was accepted to both the Yale and New York University schools of drama, but was unable to afford either. He took an apprenticeship with the Goodspeed Opera House in Connecticut in 1975, hoping to save money for college. The Goodspeed was producing the world premiere of Annie that year and desperately needed a dog to play Sandy. Berloni was offered the a role in the production in exchange for finding a dog and training it himself.
"I found him for $7 at a local shelter," he says. "The show bombed and we took off for New York together. When Annie came to Broadway two years later I got a call to reprise my role as dog trainer. After doing the job again I realized this was something I might be more interested in than being an actor."
Berloni, by then an NYU student, dropped out of school. Some 25 Broadway shows, and many film and TV roles later, Berloni is the biggest name in theatrical animals. His dogs have been seen on numerous stages, including many, many Wizard of Oz and Annie productions. His latest Sandy appeared in the 2014 Annie remake starring Jamie Foxx and Cameron Diaz.
Berloni believes that training a dog, cat, horse, or mouse involves getting them excited about doing the work.
"If they feel the same way about carrying a bouquet of flowers on stage as they do about getting a cookie then they will want to do the job," he says.
Carrying flowers is something Moonshine audiences will see Pete and Lily perform in one of their many scenes as Beauregard, as well as maybe drinking a little "moonshine."
"Bloodhounds are one of the hardest dogs to train," Berloni says. "They sleep a lot, they pass gas a lot, and they drool a lot. And their brains are wired mostly to find a scent. I told them 'Good luck.'"
When the animal trainer originally brought in to work on Moonshine left the project only three weeks before previews started, the musical's creative team called Berloni. He agreed to bring Pete and Lily down to Dallas, and the trio hopped in his van along with an assistant handler. Despite the quick turnaround the dogs are getting along famously. Berloni is modest about his ability to train a bloodhound; both Pete and Lily are smart and loving, each rolling over and twisting around until someone gives them a belly scratch. They love people and having an audience.
"They are used to an orchestra. They don't mind the noise," Berloni says.
The dogs spend their time off-stage stage being doted on by the cast and crew of Moonshine — in between naps, at least. "Dogs need 16 to 18 hours of sleep a day. They can get like overtired children if they don't get it," Berloni says. Like most actors, they don't like all-day tech rehearsals very much.
As we sit on the floor rubbing Lily's belly and asking her not to knock over a large trashcan, Berloni muses, "I always want interviewers to see the dogs in person. They sometimes don't believe how smart they are, how capable they are of doing a job. When we don't exploit and abuse animals we realize they are sentient beings. My job keeps my blood pressure very low."
The dogs lazily paw at each other and eventually fall asleep next to each other in a pile of floppy ears and droopy fur. They've come a long way to this Dallas stage from a lonely tree in North Carolina.
Moonshine: That Hee Haw Musical runs through Oct. 11 at the Wyly Theatre.
Bill Berloni is featured on Discovery Family Channel's "From Wags to Riches."