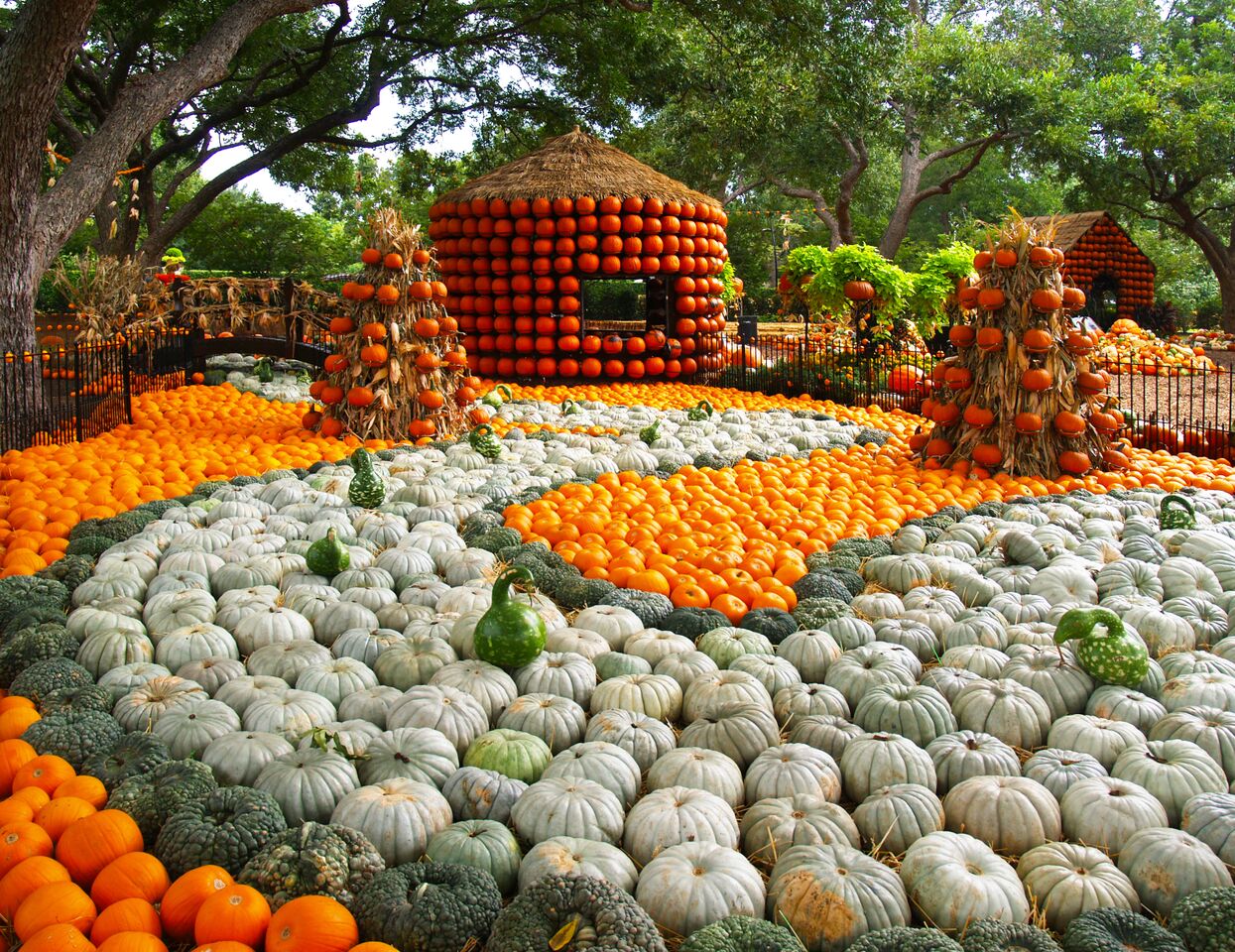 8 Reasons to Love North Texas in the Fall
We've rounded up some of the most awesome autumn activities North Texas has to offer.
Grab a pumpkin spiced latte and throw on your coziest sweater because fall is nearly here. And even though it's still scorching outside, we'd like to pretend Dallas really does have all four seasons. Here, we've rounded up some of the most awesome autumn activities North Texas has to offer.
Fall means football. This weekend, the Dallas Cowboys kick off the season with a home game against the New York Giants. This will be one of seven home games for the Cowboys, including the Thanksgiving game against the Carolina Panthers.
But don't forget about what game really matters each fall: the good old Red River Rivalry, for which the Texas Longhorns and OU Sooners take over the entire city in their head-to-toe burnt orange and maroon. Or what I liked to call mar-orange, if you're part of a house divided. The game's October 10th this year—so plan accordingly to either leave the city or pick a side.
The State Fair of Texas: Fall means fried food, Big Tex, carnival rides and so much more. The biggest event in North Texas kicks off September 24 and runs through October 18.
Bier, Bier, Bier. If you couldn't guess, that's German for "beer." This fall, you can join 70,000 festivalgoers for folk dancing, live music, and beer after beer at the Addison Oktoberfest. September 17-20. Lederhosen optional.
Make your way through a corn maze, then hop on a hale bale ride. Hall's Pumpkin Farm (located in Grapevine) is a great option for hay bale rides, corn mazes, and of course, pumpkin patching. The Dallas Arboretum will have more than 75,000 pumpkins, gourds, and squash in its Pumpkin Village when "Autumn at the Arboretum" begins Sept. 19.
If you're up for a trip, the Yesterland Farm of Canton, Texas is one family-friendly outing your kids won't want to miss this autumn. From carnival rides and petting zoos to hayrides and a three-acre corn maze (which is open well past daylight for those in search of a more chilling adventure), this farm is brimming with attractions for all ages. And while you're there, you can stop by the pumpkin patch and pick out a child-size pumpkin to decorate with your pumpkin-sized child.
Go apple picking. Henrietta Creek Orchard, which is just about an hour outside of Dallas, shows you all aspects of the orchard life, from botany to bee preservation, and even lets you pick your own bunch of apples. The orchard will be open for apple picking from mid-September through mid-October, making it the perfect fall outing.
Get some fresh air. Now that the thermometer displays less than three digits, it's the perfect time to play like you're outdoorsy. Check out this list of the best hiking trails in the area to get started.
Survive a Haunted House. The Cutting Edge Haunted House opens in two days, meaning you can practice getting scared silly weeks before Halloween. But enter at your own risk… this Guinness World Record-setting haunted house doesn't play around. Situated in a real 100-year old abandoned meatpacking factory in the part of Fort Worth known as "Hell's Half Acre," the Cutting Edge Haunted House will take you through a multi-level tour of a "human meatpacking factory," complete with live actors and insane special effects. How disturbingly intriguing. If human meatpacking doesn't have enough scare factor for you, this website has loads of fright nights lined up for all the braver souls of North Texas.
If you're feeling a short road trip, think Austin and think music. Austin City Limits, which will be held October 2-11, will feature a huge number of artists, including Ben Howard, Echosmith, Of Monsters and Men, The Strokes, Walk The Moon, and dozens of others. If you can't make it out to ACL, check out Fun Fun Fun, another Austin music festival, which will be held November 6-8. Closer to home, Oaktopia or Untapped should be able to scratch that music festival itch.