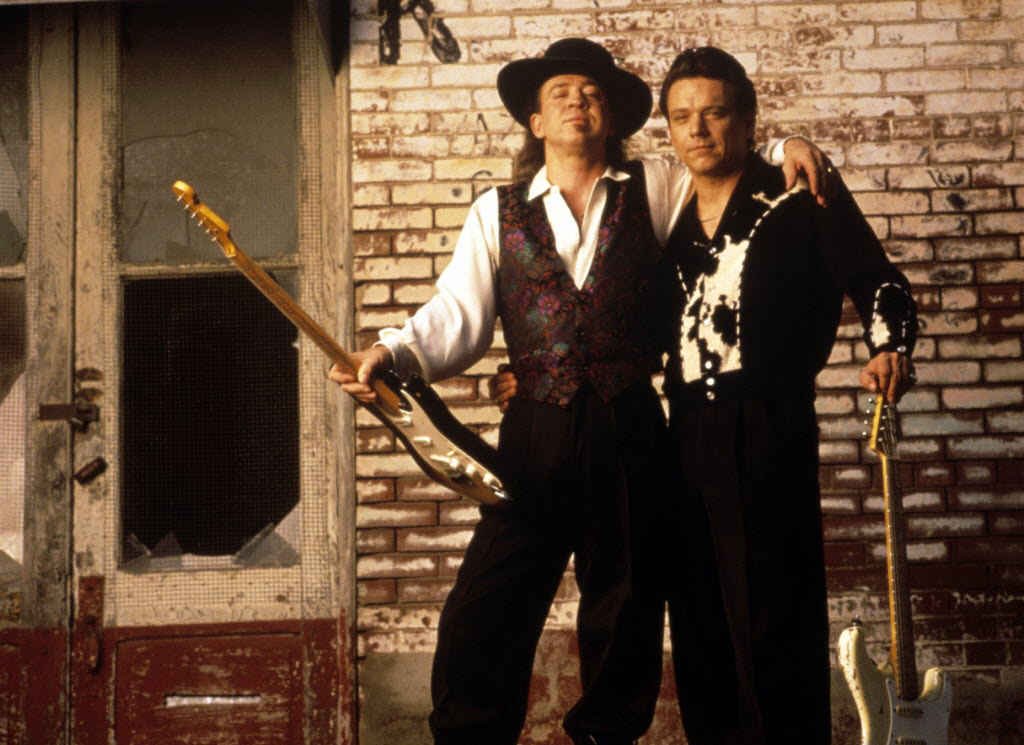 Why Dallas Needs a Public Artwork Honoring the Vaughan Brothers in Oak Cliff
The ongoing effort to 'Make Dallas Cool Again.'
More than a year before the city of Dallas approved Kirby Warnock's proposal for a public artwork in Oak Cliff honoring Jimmie and Stevie Ray Vaughan, Warnock sought the blessing of the elder Vaughan brother. Jimmie gave the project his OK on one condition, Warnock says: "Don't make me look weird."
Whatever the piece winds up looking like — the city will put out a call for artists once funding is met — a tribute to the two blues guitarists is closer than ever to becoming a reality at Kiest Park, not far from where the Vaughan brothers grew up. (Stevie Ray Vaughan, who died in 1990, is buried in Dallas' Laurel Land Cemetery).
Warnock, the filmmaker behind the 2013 documentary When Dallas Rocked and an Oak Cliff Foundation board member, led the effort to convince Dallas to sign off on the idea. Now that the city is chipping in for the project, Warnock is working to raise the rest of the $68,000 still needed, mostly to pay for maintenance costs for the artwork over the next 20 years.
The Kessler Theater will host a fundraising concert on Sept. 3, with performances by Smokin' Joe Kubek, Jim Suhler, and Carolyn Wonderland. Tickets are $75 apiece, or $250 for VIP seats. Two guitars, one autographed by Steve Miller, the other by Eric Clapton, will be auctioned off. You can also donate to the cause right here.
And you should donate. Not only to stick it to Austin, which has had its own Stevie Ray Vaughan statue for years, but to help Dallas — as Warnock puts it — claim its own music history. The Vaughan brothers, two homegrown guitar legends who got started here before moving to pursue their now-legendary careers in the self-proclaimed "live music capital of the world," are in many ways emblematic both of Dallas' rich creative culture and its failures to celebrate that culture.
"We have a very hard time honoring the creative class in Dallas," Warnock says. "It's always politicians and oilmen."
He sees the proposed Vaughan brothers artwork (and other projects like the revival of 508 Park, where Robert Johnson recorded many of his songs) as the start of a broader movement to enshrine the arts in North Texas. There's an element of baby boomer nostalgia at work — Warnock's documentary about Dallas rock n' roll and its past heyday is described as a "history lesson for the MTV generation who never knew the Big D was once considered cool."
But Warnock's also mindful of the effect the piece could have on the future. Celebrating the city's cultural heritage — with public art, for example — shows the value Dallas can, or should, place on its artists and musicians. In a way, the Vaughan Brothers Art Project is part of an ongoing effort to Make Dallas Cool Again.
Also, Stevie Ray Vaughan deserves a better-looking memorial than this. At least we know the new artwork won't make anybody look weird.