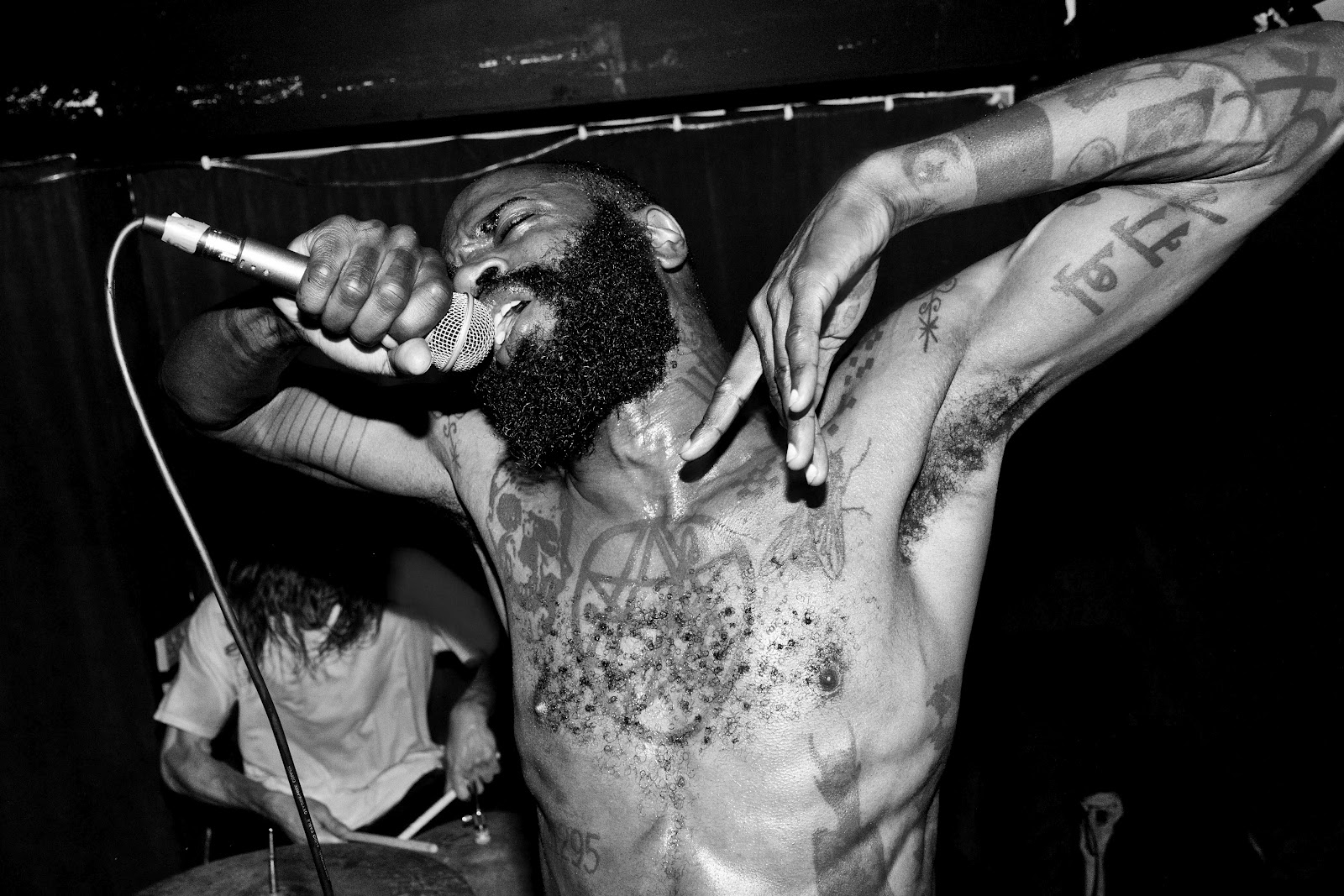 Death Grips Controls Its Chaos at Electrifying Dallas Show
The unpredictable noise rap group played to a packed house at Trees.
As a live act that's spent much of the last five years building an unpredictable reputation for no-shows and cancelled tours, it feels like the most radical thing Death Grips can do now is actually perform on time.
The self-described "conceptual art exhibition anchored by sound and vision" did just that Sunday night at Trees, showing up as scheduled (early, even) and firing off a 90-minute blast of tightly orchestrated chaos to a sold-out house. There's nothing particularly novel about the group's brand of industrial hip-hop — B L A C K I E has been doing eardrum-shattering noise rap since 2005, and he shows up to his gigs — but Death Grips' cyber-thrash doom music still rattles harder than most bands at their absolute wildest.
Live, Death Grips has more in common with hardcore punk acts than any of the group's hip-hop forebears. Drummer Zach Hill, a Tasmanian devil who cut his teeth playing in the fiercely technical rock band Hella, attacks the kit like he wants to break it, and rapper MC Ride moves like a man who touched the wrong part of an electric fence. Ride's inscrutable lyrics are delivered in a full-throated roar. Even producer Andy Morin, standing behind the keyboards, bangs his head like he's conducting the guitar solos on "Raining Blood." Ride and Hill, who both went shirtless for the duration of the show, sent sweat flinging into the air with every cymbal crash and microphone flip. The rowdier parts of the crowd — the powder keg front and center never exploded into something unmanageable, but Death Grips' Dallas fans were plenty enthusiastic — had the B.O. and jostling elbows you associate with a friendly, low-key mosh pit.
Death Grips cherry-picked songs from throughout its discography: "Get Got" and the riotous Salt-N-Pepa hijack "I've Seen Footage" from their (only) major label release, 2012's The Money Store, got big responses, as did the breakthrough "Guillotine." But the new songs off of this year's The Powers That B had just as many people rapping (shouting?) along.
The production was minimal: Blood-red lights and some smoke. There was no opener. There was no on-stage banter. There was no encore. There was no nonsense. Death Grips got on stage at 9 pm, and left the stage shortly before 10:30. It was a fantastic show.
It was especially not bad for a band that just last year announced it was breaking up, then proceeded to release a new album and schedule a summer tour without any further explanation.
Death Grips' fabled extracurricular activities have always reeked more of art school hijinks than plain old irresponsibility: Cancelling a tour could be chalked up to laziness, mismanagement or the all-encompassing excuse of "exhaustion." But blowing off a show in order to display a blown-up suicide note at a venue packed full of disappointed fans is clearly a statement, no matter how asinine that statement may be. A band that torpedoes its major label deal by leaking its own album with a (very literally) phallic cover is interested in more than the standard professional musician routine of record-promote-release-tour-record. Most bands' stunts aren't quite so self-destructive — Gaga can't handle this, as Ride says on "Hacker" — but Death Grips isn't the first band to frustrate or confound its fans' expectations for the sake of its art.
If we're going to view Death Grips as the group itself wants to be viewed — "a conceptual art exhibition anchored by sound and vision" — then all these stunts are part of the bargain. This tour, however, has been refreshingly free of the shenanigans that have come to be closely associated with the band, which maintains an unpredictable mystique regardless. There has been nothing to dilute the visceral thrill of the music. (Cynics could note that a band that apparently blew its major label advance on a two-month stay at the ritzy Chateau Marmont might need to actually play a few shows to make some money.)
Subtract all the nonsense, as Death Grips did Sunday night, and the music speaks for itself. It speaks pretty loudly, in fact.