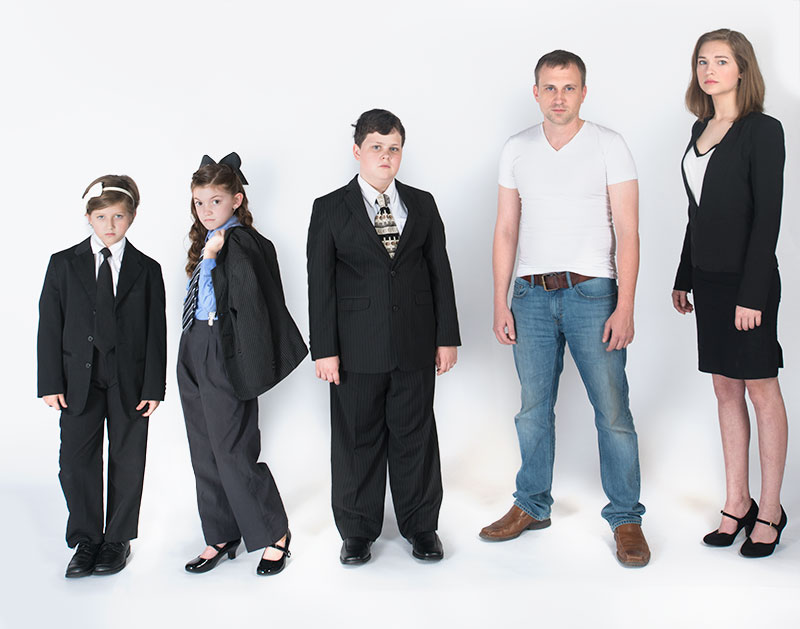 How Fun House Theatre Trains the Next Best Actors in Dallas
Fun House, an entertainment-oriented arts education organization, has distinguished itself by teaching children, ages 6 to 17, performance with adult playwrights.
Four years ago, Jeff Swearingen almost quit teaching acting to kids, something he's done for more than 10 years. Bren Rapp, his Fun House co-founder, had a proposal: a program with all of the stuff Swearingen liked about teaching, and none of the stuff he didn't.
Fun House, an entertainment-oriented arts education organization, has distinguished itself by teaching children, ages 6 to 17, performance with adult playwrights like David Mamet and Edward Albee. When necessary, Swearingen adapts the work himself. Daffodil Girls, inspired by Mamet's Glengarry Glen Ross, racked up three honors from the 2013 DFW Critics Forum Awards; one of Swearingen's original plays, Stiff, was praised last year.
No other children's theater in town is reviewed so consistently, let alone so well. This month, Fun House will put on Sam Shepard's True West just as it was written, starring a real-life pair of brothers, alongside Speed-the-Plow, another Mamet play. Swearingen will also star in a solo show that he wrote, and play Mercutio in Shakespeare Dallas' Romeo and Juliet. Mercutio might be a role he's always wanted, he says, but his favorite thing to do is make his charges laugh.
How is Fun House different from other children's theaters?
Fun House is for kids who dream of being an actor one day and making a program that doesn't dumb it down for them, that constantly makes them accountable. I think there are other programs out there that shy away from accountability. They don't want to trample on a kid's creativity. But teaching a kid to be accountable for and to their creativity is not bad. It doesn't damage it in any way. It actually strengthens it in every bid.
Have you ever taught adults?
I've barely ever taught adults. My heart part likes to help a little kid more so than an adult. I guess if they paid me a great amount of money, my heart would grow a few sizes.
Kids are more fun?
I like 'em. Kids tend to trust me more, and they really want to learn from me. And there's so much you can do for their life. They're at such forks in the road, left and right every day. You can really help them.
You write and direct a lot of the shows at Fun House. They're all more adult than typical kids' fare. Why?
For Daffodil Girls, David Mamet has a lot of naturalism. I want to give kids access to learning very natural things as opposed to one of the Disney shows again. We did a whole thing about the Cold War, a whole series of holiday shows that surrounded the Cold War. You don't see that—political satires for children.
How did you get into acting? Did you have a teacher like you?
No, I didn't. I didn't really get into theater in high school. I was more into martial arts then. So when I first started trying to get out and learn, people weren't that encouraging to me. At all. A lot of people told me to give up, and that I would never be any good at it. And I eventually was like, "This is ridiculous. If I listen to these people, this will become my reality." And from martial arts, I know there's a complete set of different rules and different philosophy to approaching everything. Because a lot of my martial arts was kung fu.
I was going to ask what type of martial arts you did.
Kung fu is the symbol for energy and time; the word actually means "work master." Like, mastering your work. And it just means that anything you put energy into over time you can achieve a mastery in. And I was like, "I'll just apply the same thing I already know to acting." Another thing is, I felt the stuff I was being taught was making me worse. It was a whole lot of ceremony to get nowhere. So from that and the lack of encouragement, people being like, "You just don't have it, sorry," I'm like, "No, that's actually incorrect. That's factually incorrect." Someone can learn it. Someone can learn anything. It's like when people say some people are funny and some people aren't. No, it's just mathematical.
You have a show in the Dallas Solo Fest this month. It's called An American Asshole in France. Are you the American asshole?
Yes. I wrote it and lived it. I went to the south of France to meet some of my friends. And it was just horrible. It was all circumstance, and circumstances with me. It was absolutely a nightmare vacation. At one point I'm homeless, without my passport. So, yeah, I'm the American asshole. It's entirely, 100-percent true. I couldn't make this stuff up.
You were in Jailbait, which was very serious. You'll play Willy Loman in Death of a Salesman for Fun House in November. But you're a comedy guy. Which role do you prefer?
Doesn't matter. Being funny is fun. Being dramatic is fun as well. My favorite thing to do, period, is improvisation. Improv comedy is my favorite thing. I do it with two groups: Fun Grip, and I play regularly at the Pocket Sandwich Theater with a group called The Victims. That's one thing I would have loved as a kid, for someone to have been like, "Hey! I know you like improv. Let me show you something called long-form improv, that you're supposed to be too dumb to do. But you're not." My students are not. I would have loved it. To teach them, they're learning it at 8, 9, 10. Think about where they're going to be when they're my age. All of them will be better than me, I'm pretty sure. I'm pretty determined.
GO SEE IT
WHEN
Through June 6
Fun House Theatre and Film at Plano Children's Theater
1301 Custer Rd., Ste. 706, Plano.
Dallas Solo Fest
WHEN
June 4 to 14
Margo Jones Theatre
1121 First Ave.
A version of this article appears in the June issue of D Magazine.