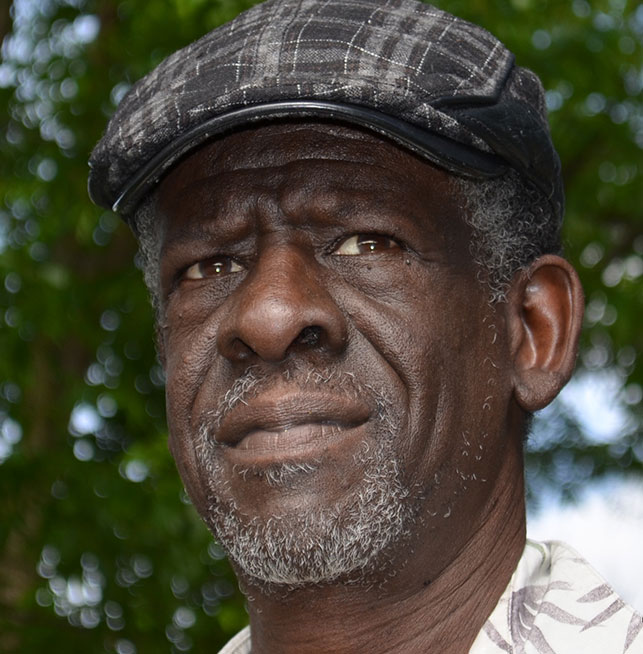 Dallas Playwright Explores Police, Race Relations in One-Act Plays
Rockne Ragsdale's 1979 play about the relationship between police and the black community is more relevant than ever.
Playwright Rockne Ragsdale has the most endearing laugh, but there's a gravity in his eyes that is hard to miss.
It's 1979, and Ragsdale is driving to work in a rainstorm. "A police officer and I had a traffic stop, and he ripped me out of my car and threw me in the gutter during a rainstorm. He handcuffed me, and made me lay in the gutter for 30 minutes while he stood over me," he says.
Ragsdale was infuriated. Something had hit a spark, so he did what any artist would do—he transferred the humiliation to paper, and sooner or later he had a play. Dealing directly with the fraught relationship between police and the black community, Guilty or Not Here I Come was Ragsdale's way of proving that his voice mattered. The play, which Ragsdale wrote as a student at Mountain View College, helped him earn a scholarship to Boston University. But until now, it has never been presented professionally.
"This is in your face, urban theater. This is not Cinderella," Ragsdale says.
Running as back-to-back one-act productions at the Eisemann Center in Richardson this weekend, Amiri Baraka's The Dutchman and Ragsdale's own Guilty or Not Here I Come reflect on race issues that feel newly relevant to North Texans — between the infamous McKinney pool party incident and national headlines about fatal police encounters in black communities.
"The system has always been in place. Now it's just getting more progressive," Ragsdale says. "Cell phones and the ability to record things on the fly have put [the issues] in the forefront. But I think it's always been there. It's just never believed by the mainstream. [Social media] has helped extremely. It's getting the word out about what's happening in the communities. It's getting the word out extremely well."
Ragsdale says he can contribute to the cause by directing his one-act play for the first time since its creation over 30 years ago along with Baraka's off-Broadway allegory The Dutchman, another social commentary on race relations in the U.S. Theater seems to run in the family. Two of his four children are Booker T. Washington graduates and currently pursuing careers in theater. Daughter Ashley choreographed a dance number for Guilty and Ragsdale's son, Darwin, will play the lead in Dutchman.
"I honestly believe I was living vicariously through [my kids] for awhile, not realizing I had slipped into that mode," Ragsdale says. Having studied theater at Boston University, Ragsdale went on to teach lighting and design at Booker T. Washington, and found that it was one of the best educational opportunities in the Dallas area. "I wish I had that schooling. It's an incredible school. I said to myself, if I have kids, they will go here. So that was the initial push" toward the theater world.
Although Ragsdale succeeded in launching his children's theater careers, he was met with a bit of resistance from the then-teenagers. "I was looking at myself in the mirror practicing my 'do what your dad says' speech, about 'you need to do what you need to do,' and I noticed that I was pointing at myself. I thought to myself, what are you doing? You're standing here in the past, and you're pointing your daughter down a path—a path I've never even been down. It was like an epiphany. I said, you're sitting on all these plays, you're doing nothing with them, and you're trying to tell her what to do? You should be showing her the way, quit pointing the way. So I took my plays out."
Having kept six completed plays in a tucked away box for more than three decades, Ragsdale sifted through them one by one, and noticed one script in particular nagged at him. "PT was calling for my attention," says Ragsdale, referring to Guilty's protagonist. After the shooting of Michael Brown in Ferguson, Mo., "I picked up Guilty and never looked back. It's been its own accelerator. Society's picked it up."
In reference to the play's setting, Ragsdale says he doesn't "give the audience anything." It could be set in 1979 or 2015.
"I've upgraded [one prop] from a walkie-talkie to a cell phone. That's the only upgrade I've done. It's pretty much the same. I've taken some curse words out. I'm not as angry as I used to be," he laughs.
Even without all those original angry words, the play will loudly echo the emotions Ragsdale felt that day in the rainstorm. "Writing takes so much of your soul," he says. "Directing is a way of interpreting—I enjoy that. It's the intellectual side of theater, whereas writing comes to me as pure emotion."
The Dutchman was written in 1964, Guilty in 1979.
"Now it's 2015, and I can show you the exact same systematic oppression that was going on then, going on now," Ragsdale says. "So, the way I end my play—both plays—is: the black man dies. We should not be in a society where the only conclusion is death."
While the two one-act plays have different plots, the themes are the same: dignity and injustice. "Dutchman is a passage play. A young man must go through trials and tribulations to become an old man. He must make the right decisions. And as a black man he must never get angry. In our society, an angry black man is simply a threat; he's not an angry person. He's a threat. As long as I, as a black man, never lose my cool, I can progress and become an older black man."
I ask Ragsdale why he thinks this is, when humans are humans and are bound to be angry, make mistakes, and lose their cool. Why does race still matter even when it shouldn't?
He takes awhile to think. "My generation is now running things. And my generation still remembers. I remember black and white water fountains. I remember segregation. People of my age remember, and there is still some resentment."
Ragsdale laments that some people are still living in that world.
"I still have my prejudices. I still have my filter I look through and must wear daily. And my kids have less, thank God. And their kids will have less. Until I'm long gone, sad to say, it's going to continue."
Ragsdale seems to have a solution to the barriers, be they between law enforcement and the black community, social classes, or different generations.
"I want my audience to be, firstly, the law enforcement in the area," he says. "I would like for them to come out—I would like for them to come out in droves, actually. Uniform, or off duty, we invite them to come. I want a complete mix of our society in the audience: the blacks, whites, affluent whites, affluent blacks. We all need to be in the room and discuss what's going on from an even keel—not from a racial bias or a name calling bias, or justification bias. It needs to be in a non-threatening environment. Theater can provide that."
Guilty or Not Here I Come and The Dutchman will be produced by RatRace Productions. Performances run from June 25-28 at the Eisemann Center (Bank of America Theater).