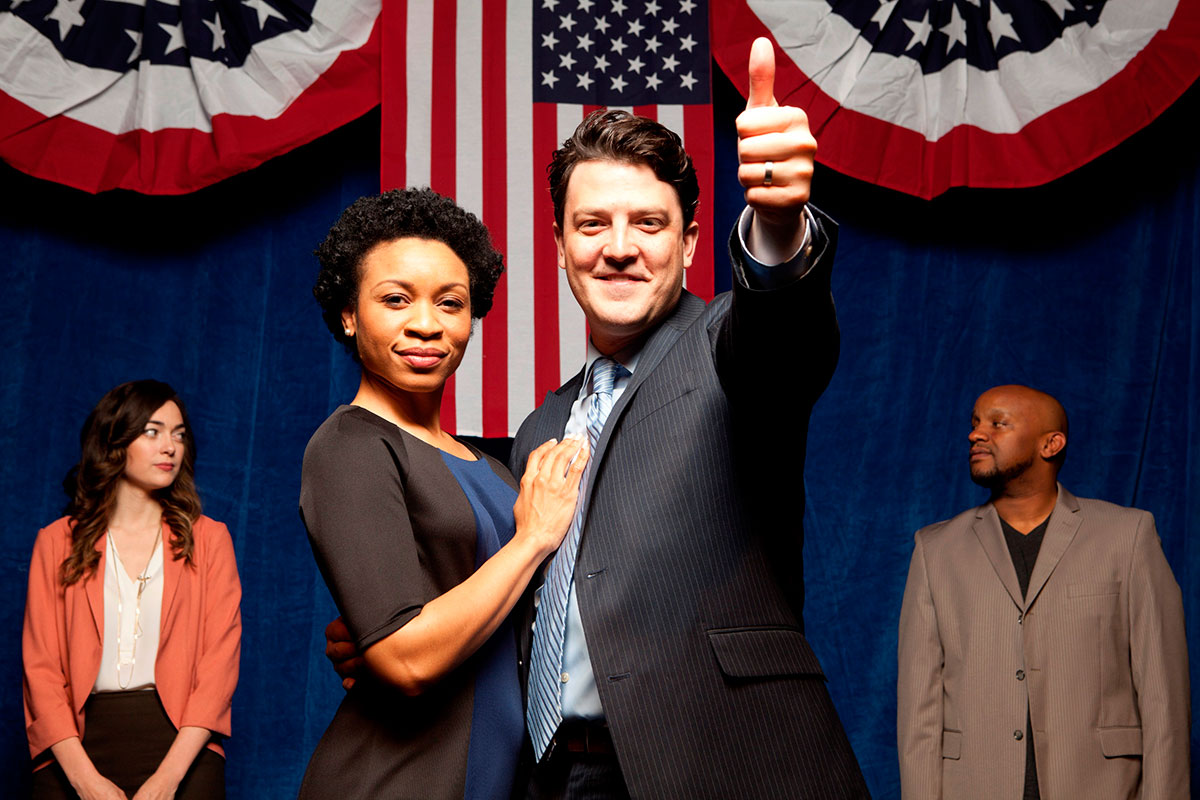 A Firestorm Rages in Kitchen Dog Theater's Racially Charged Political Drama
Kitchen Dog's production is the first part of a rolling world premiere for the play.
In Kitchen Dog Theater's world premiere of playwright Meridith Friedman's The Firestorm, a white gubernatorial candidate and his black wife confront an almost-forgotten incident from the past — one that threatens to set fire to his political hopes and their untested marriage. Vivid and immediate, this feels like a news story we're just hearing, about a couple we'd like to know.
Kenneisha Thompson is Gaby, an antitrust lawyer with an Ivy League background. She's cool and gorgeous, and clearly in love with the quietly hunky Patrick (Cameron Cobb), campaigning to become the governor of Ohio. Patrick is a regular guy with Midwestern roots, picky about donations, wary of lobbyists—one of the good guys, it seems.
These two have a lively, flirty relationship tinged with the eroticism of early marriage. They joke comfortably about issues of race and family. Can Patrick claim to be "black by association?" Must Gaby become a clone of Michelle Obama? Was it wise to invite both sets of parents — his are "simple," hers are "snobs" — for Thanksgiving? Yet we sense how easily their teasing could flame up into something hotter and more damaging.
We wonder how well they know each other. Patrick laughs about Gaby's pampered upbringing, but Gaby's memories of her private school aren't happy: She recalls white girls constantly touching her hair, offering to straighten it, making her feel different and alone.
The Firestorm has a touch of The Good Wife in its DNA, but also something of the spirit of Shakespeare's late comedies (yes, that Shakespeare) — the "problem" ones in which a happy, or at least happy-ish, story is hijacked by unexpected events and sent spinning off in a darker direction. In Firestorm, the revelation of a racially-offensive fraternity prank puts Gaby and Patrick to the test, forcing them to make choices that will, better than words, tell us who they are, and what they will — or won't — do for love. Will the firestorm make them stronger, or burn them alive? Can their world be put back in order?
Hovering around the couple is Leslie (Janielle Kastner), Patrick's young, pretty, and insanely focused assistant — the only one of his campaign staff we see onstage. An early scene where Leslie meets Gaby for drinks is a classic, filled with awkward pauses and false starts. "Tell me everything," chirps Leslie, who insists she isn't trying to get Gaby to lie about her life. She wants to "re-frame" Gaby, to find "common ground" between this childless, dog-less, uber-reserved East Coaster and Ohio's white suburban moms. Gaby isn't much help. She's on high alert, expecting trouble, fixing Leslie with long, silent looks. How many hot buttons can two women push in a five-minute conversation? Thank goodness, they finally bond over something: a shared puzzlement about girlfriends who seem to grab a guy just for his "handy skills" — fixing the car, assembling the Ikea.
Director Tina Parker keeps the energy high in this fast-moving and episodic piece (it's played in just over 90 minutes with no intermission) and her cast has a way with Friedman's bright, polished dialogue, giving it a crisp, fresh, and very real vibe.
Kitchen Dog's production is the first part of a "rolling world premiere" for The Firestorm, part of the National New Play Network's ongoing effort to give new works wide exposure through a "core" of member theaters across the country. Audience response to a 2014 staged reading of the play was so strong, says co-artistic director Parker, she knew it had to be added to the current season's mainstage lineup. Playwright Friedman was in Dallas for rehearsals and re-writes in the month before Firestorm opened, and (among other changes) wrote a new ending for the play.
Where can this story go? Friedman keeps us guessing, with a conclusion that comes so quickly we're left a bit puzzled, and then lifted on a tide of something like hope. What can be said without hesitation is that the actors — including a fourth, Jamal Gibran Sterling, who comes in for the final scene — give performances that are self-aware, memorable and surprising.
Without letting her characters off easily, Friedman comes down on the side of compassion, and with a recognition that we choose the people we love for reasons both known and unknown.
"If I love you," wrote the African-American writer James Baldwin, "I have to make you conscious of the things you don't see." Gaby and Patrick, at play's end, are less sure of themselves than when we started. But we have a feeling that both of them may be ready to talk, to learn, to dig deep…and to accept what they find.
It's a beginning.