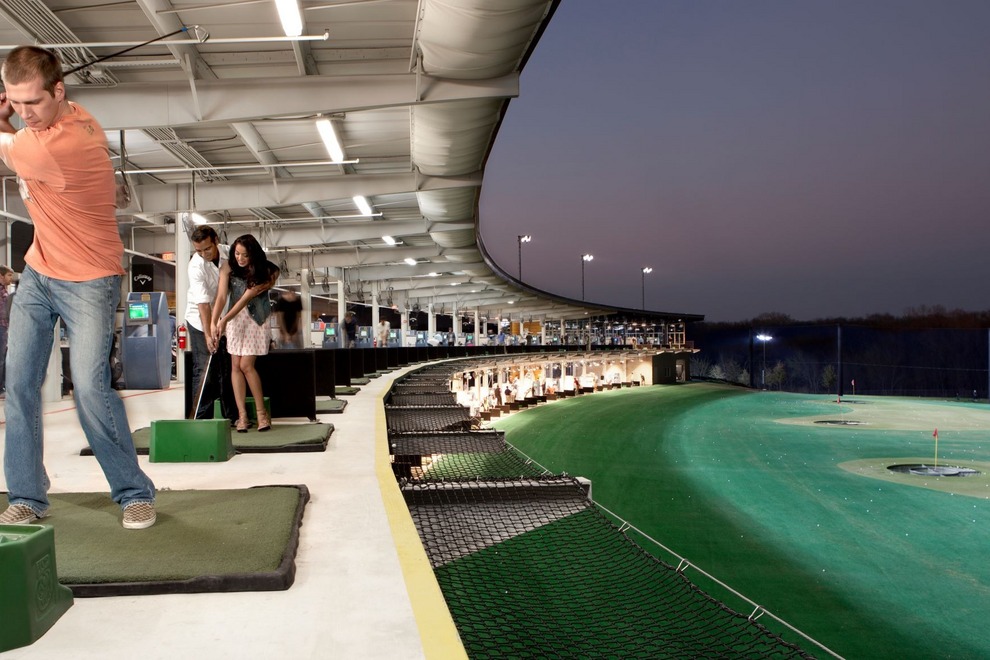 8 Things To Do in Dallas for Father's Day
Where to take Dad in Dallas on Sunday.
Coming up with an original Father's Day plan year after year can be tricky, especially when you can't just give them flowers and unlimited hug coupons like you could on a certain other parental holiday. Luckily, we have a great list of ideas that will get you and the World's Greatest Dad out and about and feeling adventurous.
1. Bring the entire family along for a ride through the Fossil Rim Wildlife Center. You can explore the grounds in your own car, sign up for a guided safari tour, or bike the behind-the-scenes trails among the animals. The center also offers a Father's Day Sunset Safari, which is steeper in price than the regular guided tours, but would no doubt be one for the books. Note that guided tours must be made at least three days in advance, so all of you last minute planners are better off exploring in your own car. Trust us, getting giraffe slobber and animal feed all over your leather interior is worth it.
2. If your dad is a cowboy at heart, Marshall Creek Ranch is the perfect Father's Day activity. Lake Grapevine and 12,000 acres of nature and wildlife make the ideal backdrop for a day of horseback riding and family fun. Don't worry if it's your first time on the saddle — beginners are welcome, and children under six years old are eligible for "ride-alongs" with experienced wranglers. Horse rentals are $50 per person, or $70 if you want to upgrade to a private tour. Be sure to call ahead for reservations—the ranch sells out almost daily.
For the cowboys closer to Fort Worth, check out the Fort Worth Stockyards Stables, which offers horseback rides along the Chisholm Trail. This is a solid option for those of you who forgot to make Father's Day plans; the stable won't take reservations, and only accepts walkups. Prices range from $20 to $60, depending on how long you want to ride.
3. Elm Fork Shotgun Sports is a good Dad-friendly option for the manly, hunter types. The range offers shotgun, rifle, or handgun rentals for skeet shooting and target practice on their 467 acres of property.
4. If you think he'll appreciate a more relaxing Father's Day, give him an afternoon on the water. White Rock Paddle Co offers kayaks, canoes, and Stand Up Paddles for rental. Single kayaks cost $15 per hour, but for those who want some serious bonding time, tandem kayaks, canoes, and SUPs are just $5 more and can fit two to three people.
5. For the dad who is more like a kid at heart, we have a few ideas:
Dallas has tons of awesome water parks, including NRH20, Hawaiian Falls Waterpark, and Bahama Beach, and now that the heat is reaching the mid-90s, a Sunday at a waterpark just feels right.
For the father-son duos, Fort Worth's Fun on the Run Paintball Park offers an afternoon of messy merriment.
Skyline Trapeze lets you swing with a view of the Dallas skyline. Beginners are welcome and encouraged, and the staff will work with you individually based on your skill level.
With a 1,400 mile-per-hour vertical wind machine, iFly Indoor Skydiving allows you to experience the thrill of skydiving without the whole jumping out of a plane thing. Although this would definitely be an action-packed day that dad would love, all ages are welcome to fly—from toddlers to great-grandparents!
6. If you're feeling sporty, catch a Texas Rangers' game. Unfortunately, Father's Day (Sunday) is an away game, but we're sure Dad wouldn't mind posting up somewhere fun to cheer on the Rangers against the White Sox. Or, choose to celebrate a little early and catch one of this week's home games against the Dodgers.
7. TopGolf should be the face of father's day. Each golf ball has a microchip that analyzes accuracy and amps up the game to another level. Different games offer a wide range of challenges at various levels of difficulties. TopGolf is all about friendly competition, and we have a feeling Dad will love that.
8. Families with little ones that are looking for some educational entertainment this Father's Day should check out the Dallas World Aquarium for an up close look at monkeys and cockatoos, or learn about the universe at the Perot Museum.