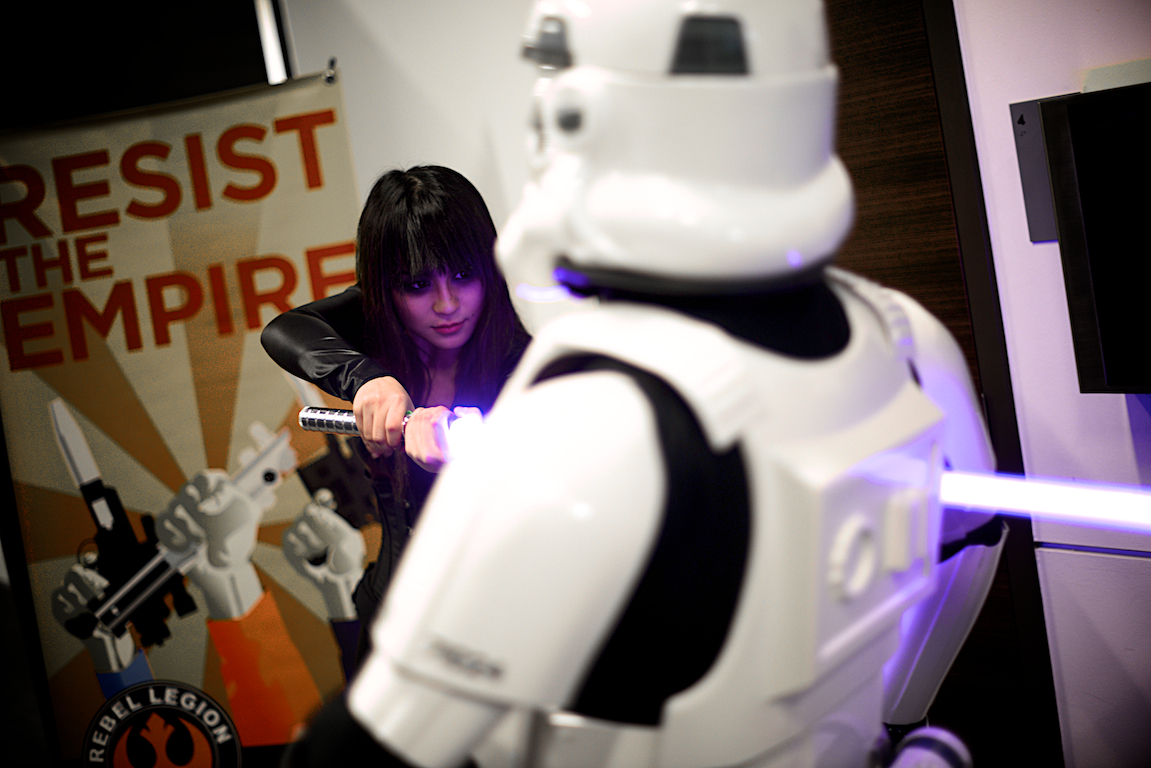 Why You Don't Need to Be a Nerd to Enjoy Dallas Comic Con
The 5 things we're most excited about at this weekend's Comic Con.
It's never been cooler to be a nerd. In a world where superhero movies makes hundreds of millions of dollars and every comic seems ripe for big screen adaptation, the word "nerd" doesn't even seem to hold much weight. This weekend, the cool kids of Dallas will put on their best cosplay and flock to the convention center downtown for three days of panels, photo ops, autograph opportunities, 200,000 square feet of comics and anime retailers, and classes on how to build your own lightsaber. OK, so Dallas Comic Con's Fan Expo is still a little nerdy.
The celebrity guests this year are impressive, with The X-Files' Gillian Anderson, Stan Lee, Carrie Fisher, and Nathan Fillion in the lineup. Stars from The Walking Dead and Breaking Bad (Giancarlo Esposito aka Gus) are set to appear. It's essentially a class reunion for comic book writers and artists around the country. It seems like a great place to enjoy some fellowship with like-minded nerds and maybe pick up some schwag.
The convention is probably the most accessible of all the great, nerdy events coming up in Dallas this summer. You don't need to speak Klingon or have a strong opinion on DC vs. Marvel to fit in or find something to enjoy at Dallas Comic Con.
But here's where I need to make a confession: I have never been to this convention, or any similar convention, and will be going to Dallas Comic Con for the first time this weekend. I think I'll fit in OK. Although I am a relatively new convert to the world of comic books, I fall closer to Richie Cunningham than The Fonz on the nerd-cool continuum. I read Game of Thrones and the rest of A Song of Ice and Fire before it was a glimmer in HBO's eye, and went to a midnight release party to get a copy of A Dance With Dragons. Philip K. Dick is one of my favorite writers. I sometimes put on costumes on days that aren't Halloween.
No matter who you are, it seems like there's something to be interested in at this convention. Looking at the full schedule, here are the five things I'm most curious about. Let me know what I missed.
1. The 501st Legion: One of the world's most dedicated Star Wars fan groups, the 501st Legion rolls deep with a prop-filled booth and some spectacular cosplay, a full production for fans of the franchise. Most impressive.
2. Calen Is Groot: I hope Calen Hoffman isn't entering the cosplay contest, because I'm not sure much could compete. This is his Groot, from Guardians of the Galaxy:
Hoffman will divulge some of his 3D modeling and costuming secrets at 5 pm Friday.
3. The Screwattack Free Play Arcade: Classic arcade games. I'm in.
4. Carrie Fisher Q&A: Aside from the fact that she might spill the beans about Princess Leia's role in the upcoming Star Wars movie, Fisher seems pretty hilarious and definitely has plenty of stories to tell. This is Friday at 7 pm.
5. The Build-Your-Own Lightsaber Class: I've always wanted one of these things.