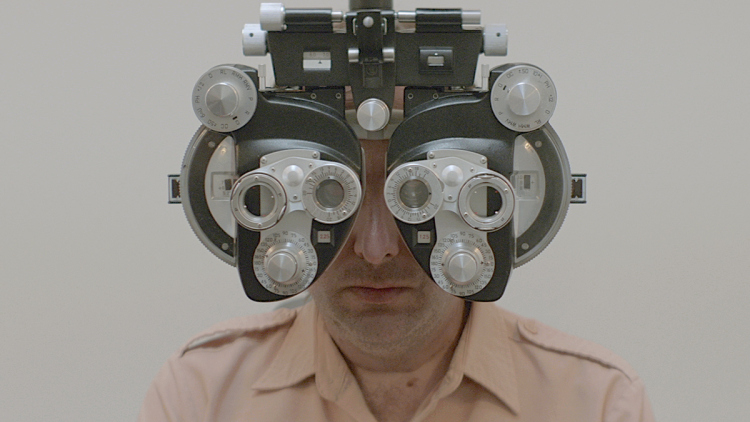 Oak Cliff Film Festival Announces 2015 Lineup
The fest runs from June 11-14 at venues throughout Oak Cliff.
The Oak Cliff Film Festival has revealed its full 2015 lineup and schedule. The fest has a handy film guide over at its website you can take a look at, or feel free to peruse the full list of screenings below.
Highlights include director Rick Alverson's Entertainment, featuring  Michael Cera and John C. Reilly. Alverson last directed The Comedy, which starred Tim Heidecker (of Tim and Eric fame) and won this fest back in 2013, despite its somewhat misleading title — the film, sort of a feature-length critique of ironic distance, was most definitely not a comedy. I didn't like it, but it was certainly something. I'd also jot onto your personal schedule screenings of Tangerine, which was apparently shot almost entirely with iPhones, and Hard to be a God, which sounds completely insane.
Be sure to take a break from movie-watching to catch the legendary garage rock band The Sonics, who perform as part of the festival June 13 at the Texas Theatre. The fest runs from June 11-14 at venues throughout Oak Cliff, including the Texas Theatre, the Kessler, and the Bishop Arts Theater Center.
Here's the full list of screenings, copied from the press release:
OPENING NIGHT, JUNE 11 at 8:00 P.M. at the TEXAS THEATRE
Tangerine (Director: Sean Baker)
Making its Texas premier at the festival, "Tangerine" was a favorite at the Sundance Film Festival. The film was shot completely on an iPhone, and features the antics of two trans women who set out to find a cheating boyfriend.


CLOSING NIGHT, JUNE 14 at 7:45 P.M. at the TEXAS THEATRE
Men Go To Battle (Director: Zachary Treitz)
In the midst of the Civil War, two brothers struggle to keep their farm operating. Under the pressure, a small scuffle goes too far. The two separate with each coping with war on their own.
SPOTLIGHT FEATURES
Station to Station (Director: Doug Aitken)
June 12 at 7:00 p.m. at the Texas Theatre
Over 24 days and 4,000 miles, 61 1-minute profiles capturing unforgettable moments are shot before, during and after a bi-coastal train ride from the Atlantic to the Pacific.
Entertainment (Director: Rick Alverson)
June 12 at 9:15 p.m. at the Texas Theatre
A follow up to the OCFF 2013 award winning film "The Comedy," Gregg Turkington depicts Neil Hamburger as a damaged performer who takes refuge in the shadow of his surreal on-stage persona. Following the screening, Neil Hamburger will take the stage of the Texas Theatre for a special live performance.
Body (Directors: Dan Berk and Robert Olsen)
June 12 at 9:30 p.m. at the Bishop Arts Theatre Center
A trio of college girls head home for the holidays to a friend's supposed family home only to fall into trouble when they accidentally kill a groundskeeper and concoct an elaborate cover-up scheme.
Catch Me Daddy (Director: Daniel Wolfe)
June 13 at 12:30 p.m. at the Texas Theatre
Laila, a girl on the run from her family is hiding out in the cinematic  badlands of West Yorkshire with her drifter boyfriend Aaron. When her brother arrives in town with a gang of bounty hunters in tow, she is forced to flee for her life and faces her darkest night.
Unexpected (Director: Kris Swanberg)
June 13 at 9:00 p.m. at the Jefferson Tower Rooftop
Kris Swanberg's third feature, starring Cobie Smulders ("How I Met Your Mother" and "The Avengers) tells the story of a unique bond that forms between an inner-city high school student and her student as they face their unexpected pregnancies together. The film will screen rooftop at Jefferson Tower.
The Theory of Obscurity: A Film About The Residents (Director: Don Hardy)
June 13 at 3:30 p.m. at The Kessler
This documentary explores the fame of the anonymous band that gained subculture popularity for their experimental multi-media art.

Hard to be a God (Director: Aleksey German)
June 14 at noon at the Texas Theatre
A group of scientists set out to planet Arkanar with a mission of helping the native civilization evolve beyond its Medieval-like stage of human progress. They cannot intervene with violence, but are tested when a group of local intellectuals face prosecution.
The Midnight Swim (Director: Sara Adina Smith)
June 14 at 3:30 p.m. at the Texas Theatre
After their mother's death, three daughters come together in their childhood home, but mysterious clues keep beckoning the sisters to the lake that's shrouded in local folklore and raises questions about the mother's life and death.
NARRATIVE FEATURE COMPETITION
Christmas, Again (Director: Charles Poekel)
June 13 at 3:30 p.m. at the Bishop Arts Theatre Center
A disenchanted New York City Christmas tree vendor saves a mysterious women passed out on a park bench. His unexpected connection with her and others give him hope to pull him back from the brink of despair.
God Bless the Child (Directors: Robert Machoian and Rodrigo Ojeda-Beck)
June 13 at 5:30 p.m. at the Bishop Arts Theatre Center
Real-life siblings portray children left to their own devises by their depressed, widowed mother. Unsupervised, the children test the boundaries while the oldest child assumes the role of caretaker as she fears their mother won't return.
Uncle Kent 2 (Directors: Todd Rohal and Joe Swanberg)
June 13 at 9:45 p.m. at the Bishop Arts Theatre Center
Picking up with Uncle Kent left off, the comedy pushes the boundaries of absurdity when a typist adopts a man-eating tortoise that he must keep from eating his nephew.
Stinking Heaven (Director: Nathan Silver)
June 14 at 12:30 p.m. at the Bishop Arts Theatre Center
The fragile peace of a commune for former addicts is challenged when an ex-girlfriend arrives, personalities clash, and tension escalates.

Edén (Director: Elise Durant)
June 14 at 5:15 p.m. at the Bishop Arts Theatre Center
Inspired by the writer/Director's own childhood, Alma returns home to Mexico after her father's death to confront the man responsible for their forced emigration, and discovers secrets her father took to his grave are revealed.
Funny Bunny (Director: Allison Bagnal-Standefer)
June 14 at 7:30 p.m. at the Bishop Arts Theatre Center
Gene fills his days canvassing on childhood obesity when he meets Titty, a 19-year-old who has an online relationship with a beautiful, reclusive animal activist, Ginger. The two men bond as they embark on a mission to mission meet her, and both being drawn to her, find that she needs rescue.
DOCUMENTARY FEATURE COMPETITION
20 Years of Madness (Director: Jeremy Royce)
June 13 at 1:00 p.m. at The Kessler
Two high school friends do the unthinkable—create a brilliant, funny show on Detroit public access TV called "Thirty Minutes of Madness." Twenty years after the group broke up, they get back together to make one, last episode while reconciling their teenage dreams with reality.
Danny Says (Director: Brendan Toller)
June 13 at 2:45 p.m. at the Texas Theatre
Named after a song by the Ramones, the documentary covers the extraordinary life and times of Danny Fields, who has been a tastemaker for music and culture since 1966.
Beaver Trilogy Part IV (Director: Brad Besser)
June 13 at 7:45 p.m. at the Bishop Arts Theatre Center
The meta-documentary about a 1980's trilogy of no-budget short films, later dubbed the "Beaver Trilogy." The film reveals a common thread between Crispin Glover, Sean Penn and Olivia Newton John. There will also be a special pre-OCFF screening of the original Beaver Trilogy to screen at the Texas Theatre on June 6th.
Made in Japan (Director: Josh Bishop)
June 14 at 3:30 p.m. at The Kessler
The first female, Japanese country music star who made seven albums and received the only standing ovation of the evening at the Grand Ole Opry, even having performed after Johnny Cash, joins her husband to set out on a journey to perform at the Opry one more time.
SHORT FILM PROGRAMS
NARRATIVE SHORTS ONE
June 13 at 1:00 p.m. at the Bishop Arts Theatre Center
Stop (Director: Reinaldo Marcus Greene)
A young man's livelihood is put to the test when he is stopped by the police on his way home.
Nugget (Director: Sarah Salovaara)
A food conscious shut-in has a pesky neighbor who needs a ride to the locksmith.
SKUNK (Director: Annie Silverstein)
When her pit bull is stolen by an amateur dog fighter, 14-year old Leila is forced to stand up for herself, at the cost of her own innocence.
Little Moths (Director: Bart Van Bemmel)
A man's reality becomes blurred as he struggles to convince himself that his dead daughter's favorite bedtime story is in fact real.
Think Ink (Director: Wally Chung)
A young coffee stain dreams of becoming a professional inkblot for psychological testing.
Ohio (Director: Andy DeYoung)
A young woman visits the sprawling metropolis of Los Angeles alone where she tries to make friends with complete strangers.
Raise a Good Man (Director: Dylan Pasture)
Two people in an unfamiliar city at night look for a place to sleep.
Sugarless Tea (Director: Sai Selvarajan)
Fifty four years of separation tethered together by a red string of fate and 10 years of humble restraint.
NARRATIVE SHORTS TWO (explicit content)
June 14 at 3:00 p.m. at the Bishop Arts Theatre Center
Son (Director: Judd Myers)
A sheltered kid cons his way into a sick day. Left alone for the first time, he stumbles upon a sinister family secret.
Muck (Director: Bruce Smolanoff)
Mel, a young female open mic comedian who lives with her tabloid-obsessed mother in Queens, misguidedly seeks companionship with a misogynistic male comedian.
Greenland (Director: Oren Gerner)
Part documentary and part fiction, Greenland finds its main character, Oren, also in a place that is in between.
Woman of the World (Director: Allison Cook)
On a visit to Los Angeles, Rachel has an encounter with a celebrity that reminds her she is right where she belongs.
Bad at Dancing (Director: Joanna Arrow)
A perpetual third wheel and awkward outsider, Joanna increasingly inserts herself into the relationship of her more charismatic roommate Isabel. The two women test each other's sexual and emotional boundaries in this surreal dark comedy.
Blissful Banquet (Director: Harrison Atkins)
Ronnie and Darnell have an intimate friendship. But will a broken heart tear them apart?
The Samaritans (Director: John Bryant)
A salesman faces the most difficult and important negotiation of his life.
DOCUMENTARY SHORTS (Explicit Content)
June 14 at 1:00 p.m. at The Kessler
Unmappable (Director: Diane Hodson and Jasmine Luoma)
A contemplative portrait of the life and work of iconoclastic psychogeographer and convicted sex offender, Denis Wood.
Calls to Okies: The Park Grubbs Story (Directors: Ben Steinbauer and Bradley Beesley)
In the early 1980s, before the Jerky Boys brought prank phone calls to a mainstream audience, a group of Oklahoma teenagers were conducting strange backwoods experiments with their landline telephone. These underground prank calls gained infamy, and became known as Park Grubbs,
American Renaissance (Directors: Ryan Scafuro and Jarred Alterman)
Explore the fantastic world of Elizabethan England in a small town in upstate New York.
Dolphin Lover (Director: Kareem Tabsch)
Dolphin Lover is a short documentary on the incredible true story of Malcolm Brenner and his summer long love affair with Dolly the dolphin.
The Bad Boy of Bowling (Director: Bryan Storkel)
Tells the story of Pete Weber, the self-declared "bad boy of bowling" and the first rock star of the sport. As one writer put it, "He's the greatest show in bowling. Or, depending on how you judge him, he's a giant black eye on a sport constantly searching for respect."
CINEMA 16 SHORTS
June 13 at 5:30 p.m. at El Sibil
(Warning: contains strobing imagery)
Blue Movie (Director: Mike Morris)
Blue Movie is a poetic ode to Dallas' first-lady, Candy Barr, star of the infamous stag film "Smart Alec"
The Dollhouse (Director: Chad Galloway and Heather Benning)
The Dollhouse documents the decommissioning of Heather Benning's artwork, 'The Dollhouse'.
Paintings 2009-11 (Director: Nick Zedd)
A film documenting Nick Zedd's entities painted in oil, exhibited at the Microscope Gallery, NYC.
Signals: Where Do We Go From Here (Director: Shayna Connelly Dire)
Our daily rituals are haunted by absence and signals: where do we go from here? The film imagines our private ghosts interrupting those routines. Do we hear their signals or are we too absorbed in the monotony of motion to notice?
Pattern for Survival (Director: Kelly Sears)
As you read the rest of this manual, keep in mind the need for a survival pattern.
Collinsville Trade Day, 1988 (Director: Charles Keener and Jason LaRay Keener)
In 1988, Charles Keener took a video camera to Collinsville, AL to document the town's outdoor market for his young grandson. 26 years later, this newly discovered footage has been edited by the grandson into a short documentary.
Prospector (Director: Talena Sanders)
19th century acculturation of two groups living thousands of miles apart, but sharing the same name, depending on who you talk to and what language you say it in. Parallel histories of invasion, assimilation, aspirations, valuation, and re-evaluation. Prospectors, colonists, and tourists searching future sites of luxury resources and romance.
Ham Over Rice (Director: Ying Liu)
Rapidly moving through a series of associative images, visual puns and plays on words, HAM OVER RICE combines live action, animation, pictorial text, narration and sound to play off of the Chinese myth of the god Houyi, an archer who saves the world but loses his immortality.
Las observaciones realizadas con un camara oculta a lo largo del malecón de La Habana, Cuba (Director: Travis Barnes)
Observations made with a hidden camera along the Malecon in Havana, Cuba.
Relay (Director: Steve Cossman)
A moving image document of the visual environment created by artist Ei Wada (Sony Music, Japan).
STUDENT SHORTS
June 12 at 7:30 p.m. at the Bishop Arts Theatre Center
Kers (Director: Alexia Salingaros)
Due to the negative connotations associated with street art, graffiti artists find it challenging to communicate their art form in public. In this documentary, Catherine has the added difficulty of being female in a man's world, as even members of her own art community look down upon her because of her gender.
Leaves on Tress (Director: Nathan Duncan)
Navigating a new neighborhood, new peers, and a new set of prescription glasses, Ira struggles to find his own.
OstrichLand (Director: David McCracken)
Two estranged brothers drive across the country in a truck full of their dead dad's UFO memorabilia.
The Bottom Rung (Director: Ron Lecher)
In the world of stand-up comedy, there is a whole unexplored level. Amateur comics at the lowest level can be brilliantly funny and talented, but don't get any recognition. In a small town in North Texas where exposure just doesn't exist, these fledgling comics try to make people laugh.
Shotgun of Faith (Director: Brittney Shepherd)
A portrait of an ailing Texas cowboy pastor, Barry Chinn. As the number of literal cowboys in Texas dwindles, can he grow a church based on a way of life that hardly exists anymore?
Fog City (Director: Liam Brady)
A quiet member of an amateur hardball team confronts an invisible past while striving to maintain his focus on the tenuous present.

REPERTORY
In concert with the No-Wave theme, the festival will feature classic films that influenced the genre.

Arrebato (Director: Ivan Zulueta)
June 12 at 9:30 p.m. at The Wild Detectives
A free outdoor screening of 1979 Spanish art house film is open to the community.
Rock 'n' Roll High School (Directors: Allan Arkush and Joe Dante)
June 13 at 5:15 p.m. at the Texas Theatre
A group of rock-loving high school students are joined by The Ramones to take over the school to fight the oppression of the administration.
Permanent Vacation (Director: Jim Jarmusch)
June 14 at 5:45 p.m. at the Texas Theater
This screening honors the 35th anniversary of Jarmusch's first feature film, and tells the story of a slacker who wanders around New York City in search of meaning.
"The Sinema of Nick Zedd"
June 13 at 9:30 p.m. at El Sibil Studio
A rare retrospective and live appearance from No-Wave film pioneer Nick Zedd, whose "Cinema of Transgression Manifesto" paved the way for many underground filmmakers in the early 1980's. Jim Jarmusch said, "Nick Zedd's films are legendary – he is a truly seminal figure in the New York underground."