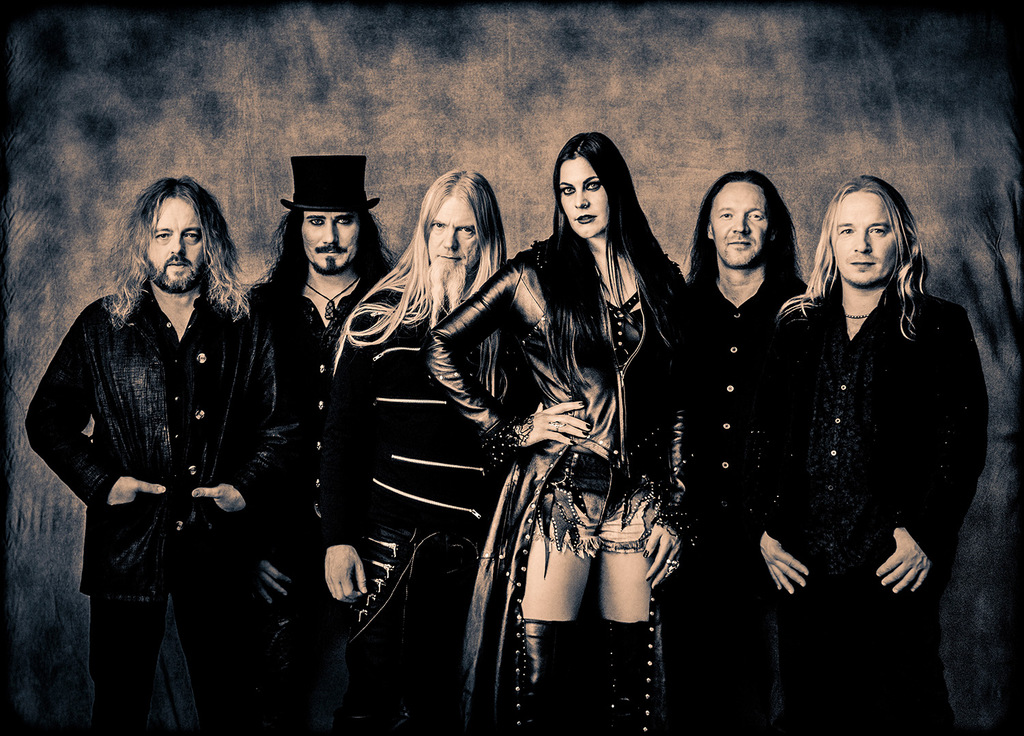 'Demented Metal Texans' Fill The Bomb Factory for Intense Nightwish Show
The world's best-selling Finnish band played for nearly two sweaty hours in Dallas.
Tuomas Holopainen is a fickle, fickle man. Since Finnish symphonic metal band Nightwish's 1996 inception, he's discarded two frontwomen and is currently on his third.
Fans have mixed feelings about this. It's hard to forget Nightwish's first vocalist, the ethereal and operatic Tarja Turunen. After Tarja's dramatic dismissal in 2005, Anette Olzon joined the band. Anette's enthusiasm was infectious, but she couldn't match Tarja in range or emotion (something repeatedly pointed out in YouTube comments sections). Now comes Floor Jansen, a Dutch soprano known for versatility and power. She's been fronting metal bands since she was 16. When she hit the Bomb Factory on Tuesday night in sparkling shorts and a studded leather jacket, dark hair slinging violently, it was hard to recall anyone else.
The show opened with Dutch symphonic band Delain and Swedish powerhouse Sabaton (I learned more war-related history from this band than I ever did in school). It's difficult to describe the seriously bad-ass way that Sabaton thrashed while constantly smiling and giving thumbs-ups to the crowd.
Nightwish played for nearly two sweaty hours. Much like the show itself, Nightwish's musical journey has been intense. The group is the best-selling Finnish band worldwide, and their albums evoke wonder and hope and longing. It occasionally feels like main songwriter and Nightwish founder Tuomas is on the brink of some kind of epic breakdown. Nightwish's latest album Endless Forms Most Beautiful (Floor's first with the band) is no exception. The title is taken from Charles Darwin's The Origin of Species, and the last song on the album is a 24-minute power track featuring a Richard Dawkins spoken-word portion.
Last night's concert featured a tidy assortment of songs from Endless Forms Most Beautiful, including the powerful title track and "My Walden," which opens with lines in Welsh. It was introduced by pipe-player Troy Donockley, who referred to the crowd as "demented metal Texans." Another song ended with Floor inviting the crowd to yell out the final lines: "We are here!"
If the crowd at Bomb Factory had come to hear the old jams too, Nightwish did not disappoint. Bassist Marco Hietala busted out a double-headed axe and gave a soaring rendition of "The Islander." Floor hit operatic high notes during old Tarja-era songs like "She Is My Sin" and "Sleeping Sun." After an exciting performance of the near-15-minute "Poet and the Pendulum" (a song from the Anette days), Floor told the crowd in a delicate reference to the band's lineup mix-up: "That's only our second time to do that song in our current formation."
Lights flashed, horns were thrown, and metalheads left the show hoarse. It didn't hurt that the recently reopened Bomb Factory is an awesome venue: its expansive floor was packed with a black-clad crowd that included plenty of young lovers who used the time between songs to make out, a couple dressed like they'd come from a Renaissance festival, stringy-haired dudes in shirts for European bands you've never heard of, and at least one small child clinging to her mother. From the balcony, fans dangled a shiny banner reading "Ever Dream."
At the end of the night, the crowd roared its approval for a great performance, an awesome new album, and Nightwish's latest bad-ass vocalist. And who can blame them – Floor Jansen looks like a metal-studded Xena: Warrior Princess and sings like an angel (though she's not shy about unleashing death-growls!). Fingers crossed that this time, Tuomas has found his forever frontwoman.