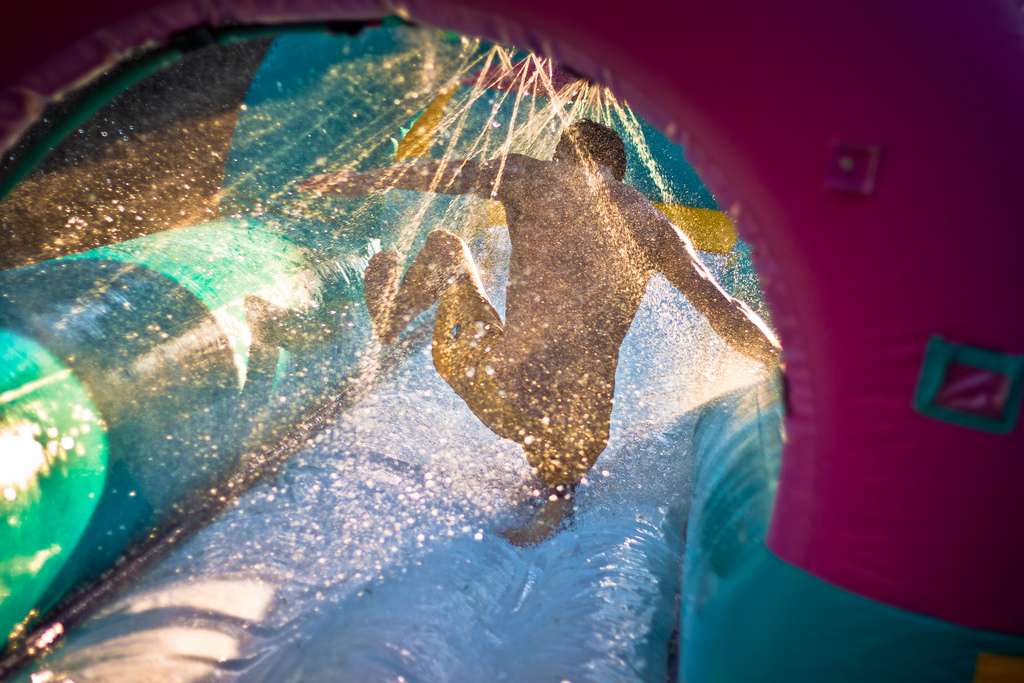 9 Ways to Start Your Summer in Dallas
You won't have time to be bored (or remember how hot it is) in Dallas this summer.
Even with its scorching temperatures, Dallas offers loads of events to keep your calendar full this summer. Between outdoor movie screenings, plays, film festivals, and hundreds of concerts, you won't have time to be bored (or remember how hot it is.) Check out some of our top picks for keeping your summer jam packed with the best (and sometimes free) events.
Another music festival? Yes, but this one has a massive slip n' slide.
Fort Worth's PantherFest, which will be held June 6, is a great way to see live music for free this summer. But the highlight of the city's birthday celebration will no doubt be the 2,000 foot water slide across North Main Street. The festival itself is free, anyone wanting to ride the slide must purchase a ticket. Make sure to get yours in advance, as it will definitely sell out quickly.
Rockin' The River Summer Concert Series
Every Thursday beginning on June 6, Fort Worth's Panther Island Pavilion hosts you and your inner tube to chill out in the Trinity River while listening to two awesome bands. This free summer event begins at 4:30, and the music starts at 6:30. Don't forget your flotation device, and plan to stick around after the concert for fireworks.
Shakespeare in the Park
Want some culture? Head over to the Samuell-Grand Amphitheatre for an outdoor performance of Romeo and Juliet. Ticket prices range from an affordable $10 to $15, depending on which day of the week you choose. The show runs from June 24 through the end of July.
Barefoot at the Belmont
Showcasing both local and national musicians, KXT's summer concert series is sure to have something for everyone. As if a concert ticket under $25 wasn't good enough, add in the view of the Dallas skyline from the famous Belmont hotel and you've got yourself a perfect outdoor concert. Make sure to get your tickets online fast—each event is expected to sell out. You can check the lineup here.
Cool off at a water park

Whether you are a daredevil or more of the lazy river type, one of Dallas' many water parks can help you beat the heat this summer. Hurricane Harbor is sure to be a crowd pleaser, but don't discount other great options such as Hawaiian Falls, NRH20, or Bahama Beach.
Go old school with an outdoor movie
Sundown at Granada is a great place to frequent if you're in search of an outdoor movie night. Rooftop screenings are held every Wednesday at 8:30, along with half-priced whiskey. Whiskey Wednesday, anyone?
If you're closer to the Fort Worth area, make sure to check out Coyote Drive-In. This venue provides the classic drive-in experience with a wide selection of the summer's the top movies, including Pitch Perfect 2, Cinderella, and Avengers.
Support a good cause and attend the Byron Nelson
All proceeds from the golf tournament benefit the Momentous Institute, the Salesmanship Club of Dallas' nonprofit that serves over six thousand children in the Dallas area with education and health programs. It's a great place to socialize—with plenty of alcohol, as well as free concerts Friday and Saturday evenings—even if you aren't that into golf.
Check out the Oak Cliff Film Festival; June 11-14
Purchase a ticket for an individual screening or a VIP pass to see everything from documentaries to student shorts, and even a film shot entirely on an iPhone. Screenings are held in various venues throughout the Oak Cliff area, including The Bishop Arts Theater Center, the Kessler, and the Texas Theatre.
Run a marathon
Light up the Trinity with the Moonlight Madness Half Marathon and 10k. Starting late into the evening Saturday, May 30, this marathon is guaranteed be unlike any other. Each runner gets four glow sticks along with their marathon shirt, and headlamps are encouraged.
The Hottest Half and 10k later this summer is another opportunity for Dallas marathoners. Although it will use the same course as Moonlight Madness, this marathon starts bright and early in the morning.