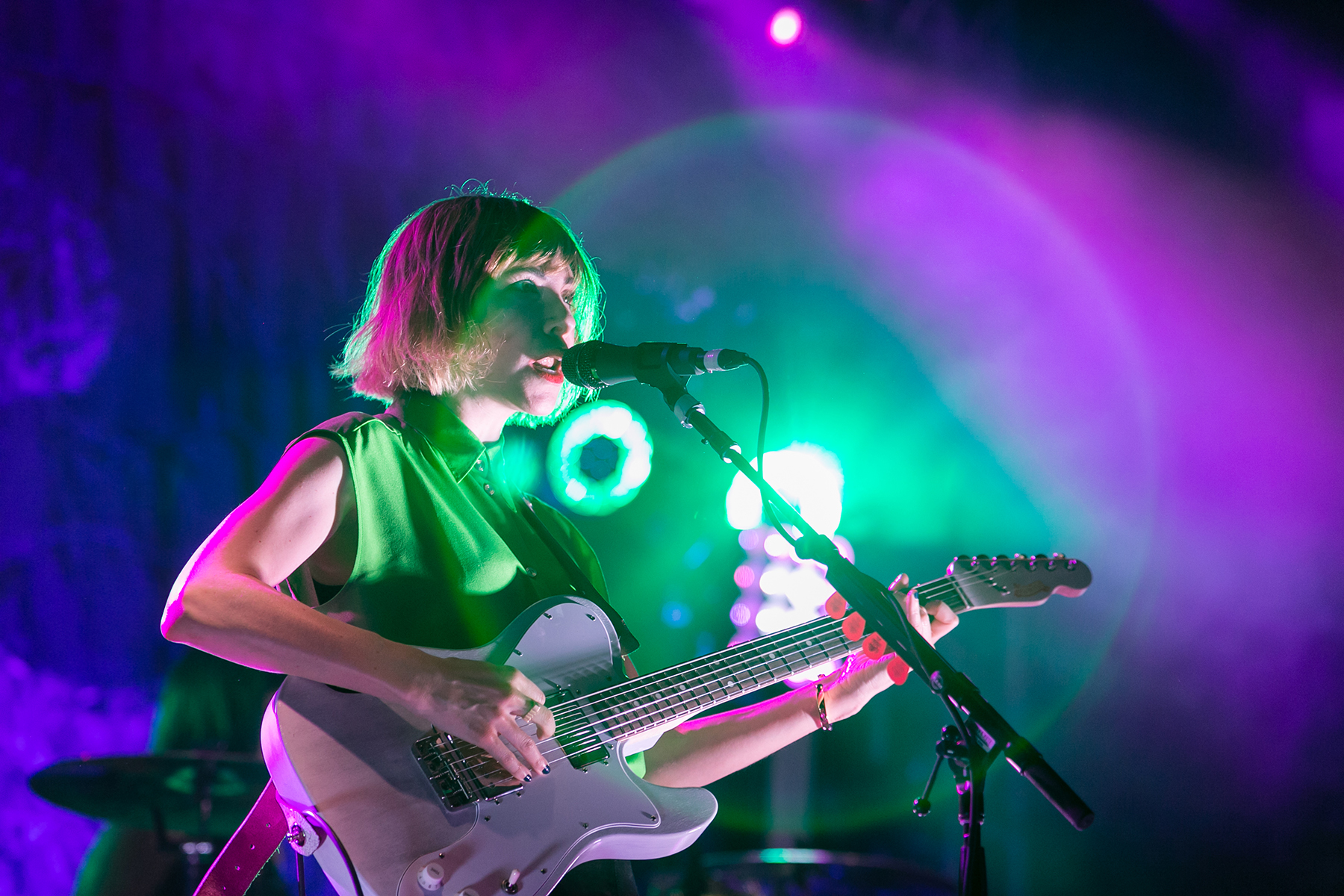 Sleater-Kinney Redefines the Rock Show in Dallas
Photos from Sleater-Kinney's scorched-earth set in Dallas.
Sleater-Kinney is a band that's always played music both intensely personal and political. Corin Tucker, Carrie Brownstein, and Janet Weiss recognize there's not much of a separation between the two.
It's why a devastating breakup song like "One More Hour" works as an anthem, a rallying cry. It's why "Jumpers," a song about suicide, works as a blistering, righteous, life-affirming stomper. It's why it was perfectly fitting that Thursday night at the Granada Theater, Tucker, sans guitar, introduced the band's encore by repping for reproductive rights before giving a shout-out to Planned Parenthood and launching into "Gimme Love." (A Planned Parenthood information booth has been a regular feature at most of Sleater-Kinney's tour dates this year, as it was in Dallas.)
The message and the medium are inextricable for Sleater-Kinney. The group's convictions have never wavered–the patriarchy-smashing ethos of the riot grrrl movement that birthed Sleater-Kinney remains intact, and if anything, is fiercer and more relevant than it was when Tucker and Brownstein first started trading guitar licks more than 20 years ago. But around the time Weiss, a powerhouse drummer who makes classic rock heroes like Keith Moon sound as if they were playing with feathers and bongos, joined the band, Sleater-Kinney began to transcend whatever subgenre you tried to lump them into.
This is a rock band, first and foremost, but you can't absorb the music–in all its tangled, propulsive glory–without hearing what the band has to say. Fortunately, Sleater-Kinney has a lot to say, and says it better than any rock band currently operating.
Sleater-Kinney shows could both blow the doors off the DIY house venue down the street and singe nosehairs in the bleachers at a packed stadium. After the band ripped through 23 songs at the Granada on Thursday, kicking off the second leg of their first tour in 10 years, I felt like I'd just endured a rock and roll artillery barrage.
The setlist drew heavily from No Cities to Love, the excellent new album that broke years of radio silence from a band that was hailed for its legendary live shows as much as its consistently great recorded output. (Weiss has always been in about 12 other bands, while Tucker and Brownstein dabbled with musical side projects and Brownstein became a star in her own right on the IFC comedy show Portlandia during the hiatus).
The trio (with fourth touring member Katie Harkin coming off the bench) didn't miss a beat. Any suspicions I had that Sleater-Kinney might show some signs of rust or fatigue evaporated within the first notes of "Price Tag." The band seemed happy to be playing together again, and the sold-out Dallas crowd was certainly happy to see them. The new songs and anything off of 2005's The Woods got the most enthusiastic response, but there was a palpable energy in the room that never flagged.
A reunion tour would have been one thing, but Sleater-Kinney is as hungry as ever. When they closed the main set with "Entertain," a tooth-rattling volcano of a song about the perils of making art stuck in the past, it seemed almost like a promise: Sleater-Kinney is never going to be a nostalgia act.
Some of the new tunes had more teeth than they do on record, particularly "Bury Our Friends" and "A New Wave," which Brownstein dedicated to cartoon character, music video star, and feminist icon Tina Belcher. The older songs, which were already seared permanently into every synapse I have crammed into my head, sounded just as fresh.
A jammy take on "Let's Call It Love" during the lengthy encore let Brownstein make the case that she's one of the best guitarists of her generation, and Tucker's vocals on closer "Dig Me Out" are still a goosebump-inducing howl from the pit of her heart. By then, they had already made their point.
When Sleater-Kinney left off 10 years ago, they were the most vital rock band in the world. They still are.
SETLIST
Price Tag
Fangless
All Hands on the Bad One
Start Together
One More Hour
What's Mine Is Yours
A New Wave
Get Up
Surface Envy
No Anthems
The End of You
Little Babies
Youth Decay
No Cities to Love
Bury Our Friends
One Beat
Jumpers
Entertain
ENCORE
Gimme Love
Oh!
Let's Call It Love
Modern Girl
Dig Me Out
Sleater-Kinney recorded an episode of Austin City Limits the night before their Dallas show. That performance is embedded below.