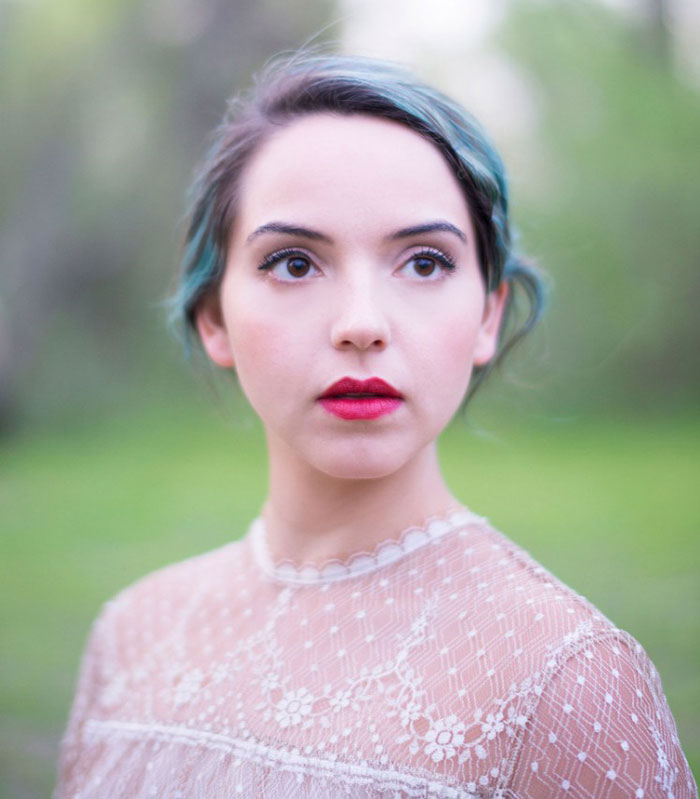 How Sudie's Big Break Came From a Panic Attack in the Middle of the Night
The Dallas song bird on Björk, living abroad, and why she decided against a career in opera.
Sudie Abernathy doesn't really have a band yet. She says she is still learning how to produce her music though trial and error. She records in her bathroom when she's not working as a waitress at The Old Monk. But Sudie—the 23-year-old only uses her first name professionally—is also one of the most promising young talents on the Dallas music scene. Her sound sets sultry, jazz-steeped melodies adrift in layered and ethereal compositions. She writes theatrical songs with dabs of samba, house, and other eclectic influences.
Last year, Sudie was one of 20 musicians chosen to participate in the Red Bull Music Academy Bass Camp at the Bonnaroo Music and Arts Festival in Tennessee. The latest milestone came when the video for her new song "Heartattack"—from her self-titled EP, released on rapper-producer Black Milk's Computer Ugly label—debuted on the website Jezebel in March. A couple of days before playing to a sold-out crowd at Three Links later that month, she sat down to talk about her new song and the evolution of her sound.
There's an amazing story behind your "Heartattack." How did you write that song?
I suffer from anxiety. It is really, really bad. I have panic attacks. I get tunnel vision. My heart rate goes up. One time in the middle of the night, I woke up and I thought I was having a heart attack. And I was like, "I'm so young. This can't be happening to me already. This is going to be the end of me." I really thought I was dying. I keep a pen and paper with me at all times, in my purse or next to my bed, and I got my pen and paper and just wrote it down. It just came out.
Do a lot of your songs just come out like that?
Actually, most of the songs on the EP happened that way. After I wrote "Heartattack," I fell asleep. The next day, my mom called me and told me that that night my grandfather had a heart attack. And I had already written the lyrics that had talked about it.
What do you make of that?
I think it was just a crazy thing that happened. Coincidence is very strange. Sometimes I feel like something was meant to happen, and sometimes I feel like it was just coincidence. It is still hard for me to process, and I think that is why I write music.
What do you mean?
I think that producing the music that I do, and writing the music that I do, and putting it out there is kind of my way of dealing with it. Writing down a sentence or two that could have two or three or more meanings—you can take it in different ways. Music is me-time to process things and put it out there in a different medium from speaking about it.
You've described your sound as a cross between Billie Holiday and Björk, which I thought was pretty spot on, especially in terms of how you approach production.
Björk, she was a huge influence on me growing up. She was really the first artist that I heard. Her orchestrations—she is a composer, 100 percent. And that's why I wanted to study classical music, because she studied classical music from a very young age, and she took that and ran with it.
You had an interesting childhood. Your father was a pilot. You lived all over the world. There's a sophistication to your sound that seems to reflect broad musical influence. Is that a stretch?
Living abroad exposed me to so many different types of music but also different ways that people listen to music. For example, I was living in Dubai, and every day, five times a day, the call for prayer goes on. And there are mosques on every corner, so you hear five or six at a time, and most of the time, when they are not yelling scripture, they are singing scripture. And they don't have sheet music that they learn or anything—it comes out of them. And that's so powerful to hear that.
But then you studied music formally, at SMU.
In Dubai I had a vocal teacher, mainly in classical. I made my decision to study operatic voice and classical. That kind of training, knowing how to do that healthily, is really, really great training, and I feel like I can do anything now with singing.
Did you ever think you would pursue a career in opera?
Definitely not. I don't want to be stuck in a box. You have to sing every note exactly how it is written, and I don't want to do that. But when I was about to graduate college, I was so terrified. I wasn't sure what I was going to do. I realized that I had to get myself together and start going for what I love. I called a friend and asked her to manage me for a little bit. And that's when I started getting into producing. I cannot rely on anyone but myself to get things done.
A version of this Q&A appears in the May issue of D Magazine.