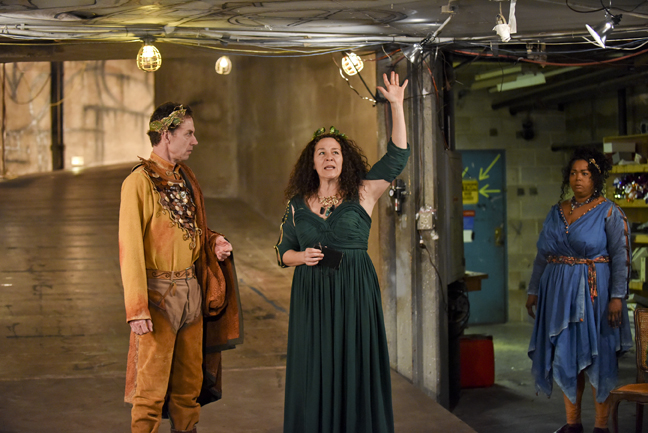 The Tender Madness of the Dallas Theater Center's Medea
'Passions grow into monsters' in this staging of the bloody Greek classic, and the equally disturbing farce The School For Wives.
We are told in Medea that "great passions grow into monsters," and there is no doubt that Sally Nystuen Vahle's terrifying mother and scorned wife is fueled by passion. Her keening wails and raging screams echo off the cold concrete in the basement of the Kalita Humphreys Theater; she's like an animal backed into a corner that's forced to attack its way out. But Vahle also finds the tenderness in her madness, offering moments of such raw, riveting honesty that she cannot be seen simply as an evil, murderous monster.
Those horrific murders in Euripides' Greek tragedy are the explosion at the end of 90 taut minutes, beginning when servant Liz Mikel explains that her mistress Medea is mourning the loss of her husband, the arrogant solider Jason (Chris Hury), who has cast her aside to marry the young daughter of the ruler of Corinth. Wishing to kill herself, Medea is instead banished with her two young sons. But, not one to take this injustice lying down, Medea devises a bloody revenge scheme that's as shocking as it is disgusting.
Before the audience even reaches the small, industrial playing space in the bowels of the theater, they are separated and seated by gender, with the women placed in the front rows. By the time the men enter, the women are intoning about "the violence of love" in a chant led by Christie Vela, who embodies the chorus of Corinthian women. It's a creepy moment to start out with, made even creepier when it becomes clear that the female audience can't help but act as Medea's ally. It's a clever bit of staging by director Kevin Moriarty: When Medea scoffs "I am past loving Jason," the knowing chuckles and murmurs that ripple through the front seats help define Medea as still more relatable human than detestable fiend.
---
As an antidote to the blood and deceit below, the same cast is drenched in whipped cream and silliness for Molière's French farce The School for Wives up on the mainstage. Not one of Molière's most famous plays, Wives has a plot that relies heavily on mistaken identities, misunderstandings, and missed connections. The stylish lighting by Paul Toben and sexy French songs courtesy of sound designer Brian McDonald are the highlight of this slapstick show—unfortunately, those moments occur only during scene changes.
During the actual scenes, the action is less engrossing. Chamblee Ferguson leads as a bachelor looking to marry the pretty young ward he's been "training" to be his wife. Kept locked in an apartment and watched over by two buffoonish servants (Hury and Mikel, entertaining if sometimes forced), the wide-eyed Agnès (Morgan Lauré) is as trusting as she is simple. She's so trusting that she invites the dashing Horace (Daniel Duque-Estrada) up to her room for some canoodling, and together they plot her escape from her impending marriage.
Those who catch Hot Mikado at Theatre Three will instantly notice the story similarities. Without the sizzling swing dancing or jazzy songs of Hot Mikado, though, it's even more obvious how uncomfortable the plot of Wives actually is. In some ways, it's even more disturbing than Medea.
The School for Wives Rating: C