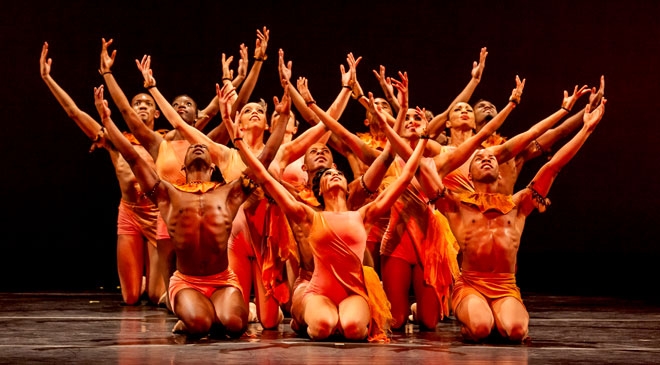 DBDT Spotlights Young Talent In Dancing Beyond Borders
The Dallas Black Dance Theatre wows with latest performance.
Over the years, one of the many pleasures of Dallas Black Dance Theatre (DBDT) has been watching their talented performers come through the ranks, and in the company's 38 year history, founder Ann Williams brought to the forefront some enormously gifted dancers such as Nycole Ray and Melissa Young, to name a few. This year, with new artistic director April Berry at the helm, that tradition continues.
The evening's performance, Dancing Beyond Borders, was presented at the Fort Worth W.E. Scott Theater and included five works: "A Boundless Journey" (2007 by Dianne McIntyre), "Memory of A Memory Lost" (2001 by Nycole Ray), "Mourner's Bench" (1947 byTalley Beatty), "Doll House (2015 by Sean J Smith),  "Lambarena (2002 by Troy Powell). Both DBDT and the apprentice company, DBDT II, performed.
"Boundless Journey" Music by: African American Folk Music
A tight cluster forms as dancers begin sculpting their movements in perfect unison, with particular attention to line, shape and form. The dance builds with intensity until one woman is left on the stage alone in her own small sphere of light. Beautifully executed by Omoniyi Obioha, the Solo, "Deep River" incorporated oscillating dramatic upper body movements juxtaposed with slow, controlled balances and what seemed like effortless adagio leg extensions. "On My Way" began with the men and quickly morphed into a tableaux of sensual bodyscapes and sculptural friezes with the ensemble of dancers fully encompassing the entire stage in soft asymmetric patterns.
"Memory of A Memory Lost" Music by: Johann Johansson & Olafur Arnalds
This beautifully haunting work was originally choreographed in 2011 by DBDT's former principal dancer, Nycole Ray. Baring their souls throughout Ray's dramatic work, the young dancers of DBDT II expressed deep aspects of themselves, inhabiting a risky state of vulnerability every time they stepped onto the stage. As the opening bars of music gently hum in your ear, bodies began rolling towards the audience on a dimly lit stage. Rolling forward until they reached an imperfect pool of light at the furthest downstage point before they might tumble off the edge. It was in that moment the intense tale of mourning became apparent. From there, subsequent solos, duets, and trios incorporating more and more upper body gestures of prayer and pleading until the movement had stretched these young dancer's bodies as far as humanly possible. Bravo!
"Mourner's Bench" Music: There is A Balm In Gilead, Traditional Spiritual
Probably the most technically difficult performance of the night, Keon K. Nickie brings a marked authenticity to this historical masterwork created in 1947 by Talley Beatty. The narrative suggests our soloist is attempting to get right with God as he begins his solo on a single pew-like bench set in the middle of the stage. His movements are careful, deliberate and meticulously executed by Nickie. There is one particular moment when after he completes full rotations on one leg while standing on the bench, it was such a fragile moment, so precarious, yet Nickie carried himself through it with such ease.
"Doll House" Premiere Music by: The Andrews Sisters & the Chordettes
A cute and playful narrative of five female dolls who come to life for a moment only to return to their original stoic state of being. From The Nutcracker to Coppellia, dance history is filled with masterworks exploring this very concept. Choreographer, Sean J. Smith, has a keen sense for dramatic timing and humor, but overall, the choreographic form, and vocabulary were limited in scope where he relied too much on literal translation of the song lyrics through gestures rather than movement itself. The DBDT II dancers are a seriously talented group capable of being pushed even further. I look forward to seeing this work develop over the years. Good foundation.
"Lambarena" With music by: J.S. Bach and John Passion
This seemingly unscripted virtuosic dancing illuminated the stage with bright costumes that emulated birds, produced brilliant moments from each dancer in the troupe. Their razor-sharp body lines and lyrical arm work was thrilling and articulate. Later, a furious trio, with legs like sabers increased the pace and breadth of movement to simulate behavior of a flock of birds. Troy Powell's choreography demands a great deal of technique, and the dancers supplied it all effortlessly with especially fluid movement and silent landings. Given the difficulty of the choreography, DBDT gave an outstanding performance.