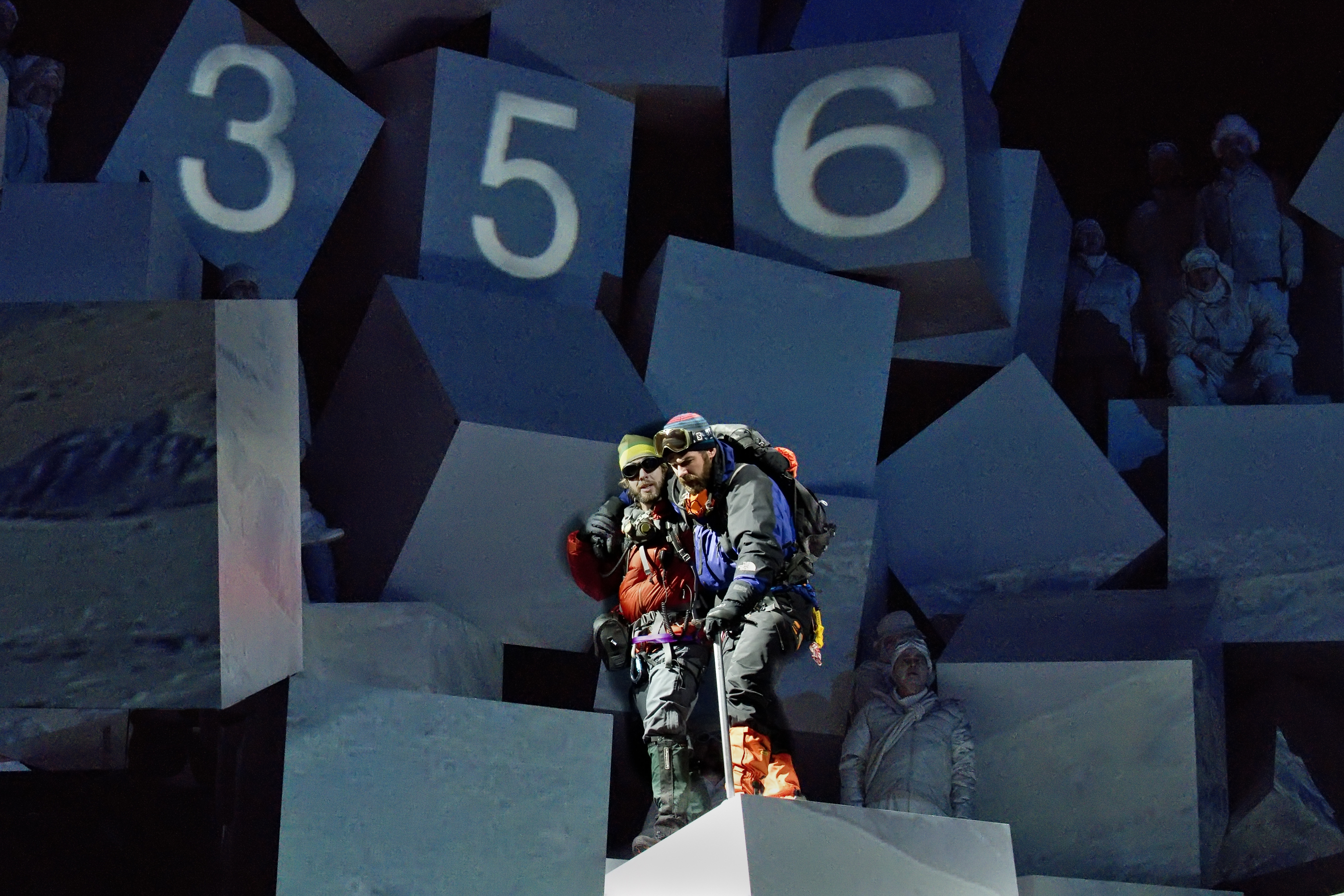 With Everest, The Dallas Opera Looks Forward
If you want to see where opera is headed in the 21st century, don't miss this production.
The Dallas Opera's world premiere production of Everest, a new opera by composer Joby Talbot and librettist Gene Scheer, has all the ingredients of a blockbuster. Gripping, edge-of-your-seat story-telling, stunning, innovative design, and poignant lyricism combine to create one of the more instantly appealing contemporary operas I've seen. If you want to see where opera is headed in the 21st-century, don't miss this production.
TDO is presenting Everest as part of a double bill that also includes an excerpt from Alfred Catalani's late 19th-century opera La Wally. La Wally is rarely performed and not particularly well-known. If you're familiar with it at all, it is likely because you know the aria "Ebben? Ne andrò lontana," a lovely, moving soprano showpiece that nearly every diva records. History has all but forgotten Catalani, whose light was significantly less bright than his contemporary, Puccini. But that song. That aria. It's such a beautiful, touching statement of resolve and regret, sorrow and solitude, that it has persisted over the years.
In this production, TDO has smartly abbreviated La Wally to one, concise act (the fourth and final act). It opens subtly, with a dark, romantic orchestral overture that on Friday night and Sunday was performed adeptly by the house orchestra. As the music plays, supertitles catch us up on the story. A "fiercely independent woman" has refused an arranged marriage and is banished to live in solitude in the treacherous Alpine mountains. In front of a dark, blue-lit curtain, a gorgeous soprano in a fanciful, glittering silver cape appears in a spotlight and sings her achingly beautiful song. "Ah well then! I shall go far away," she cries, "where hope is regret, is sorrow . . . alone and far amongst the clouds of gold."
From this subtle, captivating start, the scene, and the entire evening, gradually unfolds. The curtain rises and a beautifully draped and lit backdrop becomes a mountain range with the help of the brilliant projection designer Elaine J. McCarthy. In Catalani's Alpine world, overused romantic operatic tropes are plentiful: a tenor and a soprano belt out their love for one another from the mountain tops only to have an avalanche ruin their happiness. It's predictable, cheesy stuff, but here it is presented in just the right dose.
On opening night and again on Sunday afternoon, Mary Elizabeth Williams performed the role of Wally. Vocally and dramatically she does all the heavy lifting and single-handedly turns this half of the evening into a compelling experience. Her voice is incredibly powerful, but it has a rough edge to it that diminishes musicality. That being said, she's a stunning actress, and she was a great choice to replace Latonia Moore, who was originally cast in the role but withdrew due to pregnancy. Williams outshines her male costar, Rodrigo Garciarroyo, who is also a replacement for an original cast member who became ill (Carl Tanner). Garciarroyo has his own set of powerful pipes, but he tends to just face the audience and belt everything out without much variation or nuance. Williams, on the other hand, connects with her costars, inhabits her character, and tries to shape the music.
La Wally works as a tone-setter, drawing the audience into a tragic story set in a bleak mountainous world. But it also serves as a stark contrast to Everest. It is a reminder of where opera comes from and of what it used to be. Everest shows us where the genre is headed next. It is as if, after intermission, someone turns on the technicolor and suddenly we're not in Kansas anymore.
Dramatically, Everest is riveting. From the ominous, trippy start, to the tense ending, this true story of three, ill-fated climbers attempting to reach Everest's summit and survive its abundant dangers grabs your attention and holds it. From the start, the clock is quite literally ticking; "Everything counts," the chorus whispers, "everything's counted: seconds of sunlight, bottles of oxygen, every breath, every step…." The stress of the situation is palpable and inescapable. Even as characters drift in and out of reality, their back-stories revealed cleverly through hallucinations and dream-sequences, the dire reality of their situation is ever-present.
Scenic designer Robert Brill's stunning abstract set is both a dramatic and aesthetic hit. Giant white cubes become cliffs and peaks as easily as they also transform into a distant base camp or hallucinated backyard barbeque (thanks again to projection designer Elaine McCarthy's vivid imagery). Costume Designer David C. Woolard infuses the set with bright pops of primary colored climbing gear. He also helps clarify the storyline by dressing each character in a signature color and camouflaging the chorus in white snow gear that looks like it came straight from George Lucas's frozen planet of Hoth. Too often opera sets lag behind those of theater and Broadway stages when it comes to technology and aesthetic innovation. Everest keeps up and makes an impression.
Joby Talbot's orchestral score acts like the soundtrack to a movie, moving the plot along, setting scenes, enhancing moods, and providing sound effects. All of the melodic interest in this piece is relegated to the vocal realm. Talbot skillfully whittles out Scheer's most universal, heart-rending lyrics and highlights them vocally. Some of these moments are chilling. When Rob, the expedition's leader, calls down the mountain for help, he is advised to save himself and leave his companion, Doug, for dead. Rob, played by tenor Andrew Bidlack, responds in a crystalline tenor voice that floats across the opera house and nearly destroys you with its message and tone. "Doug can hear you," he cries.
Andrew Bidlack is, for me, the star of the entire production. His voice is clear, bright, pristine, and subtly strong. When he stands on Everest's summit and sings about being on top of the world, you want to join him. His duets with his wife, Jan, played by the powerful Sasha Cooke, are charming. "Ours forever," they sing, as they reminisce about their shared mountaintop experiences. That tune in particular is almost Broadway-esque. It is saccharine sweet, but effective, schmaltzy in a different, more modern way than La Wally's love songs. Both Cooke and Bidlack, by the way, are dealt a difficult hand in this piece in terms of range, but they find and execute a slew of extremely high notes with precision.
Bass Kevin Burdette, who plays Beck Weathers, makes his own memorable vocal stamp on the production. He sings with a swagger and a deep Texas drawl (his lyrics even include a "y'all" or two), but his accent never hinders his musicality. He's endearing, and he gets some of Talbot's best writing. Like when he explains his motivation for climbing. "There is a kind of bliss," he croons darkly, "found only when I push like this….This is where I long to be, exhaust erase the rest of me."
Throughout Everest, the chorus plays a significant role, perhaps most effectively at the story's beginning (when they whisper, almost invisibly from the cliffs and peaks), and at the climax (when they sing a heart-wrenching song of 'what-ifs'). "If the snows hadn't come," they ponder, "if the ice hadn't shifted…." When the music builds and their harmonies congeal they remind us that the 'what ifs' don't matter because "the snows did come and the ice did shift." Opera always ponders big questions. In Everest, the big questions are universal and contemporary. Who among us doesn't have a "what if" of our own? It's a modern echo of poor Wally's regret, with less focus on consequence and condemnation and more on the painful randomness of so many of life's tragedies.
Lyrics like these, culled by Scheer from interviews with the expedition's survivors, are at the heart of what makes this opera so compelling. But Talbot's musical aesthetic, which draws not just from the rich 400-year-old tradition of operatic story-telling, but also from the worlds of contemporary art, film, Broadway, and theater, makes its own mark. This is the kind of opera that 21st-century audiences might go to, not because they feel they should in order to be cultured, but because it is hugely entertaining and the music is gorgeous. There are only two more performances of Everest at The Dallas Opera (Feb. 4 and 7), so get your tickets soon.
Note: In the February 7th production of La Wally, Melissa Citro will sing the role of Wally and Arnold Rawls will join the cast in the role of Guiseppe, her love interest.