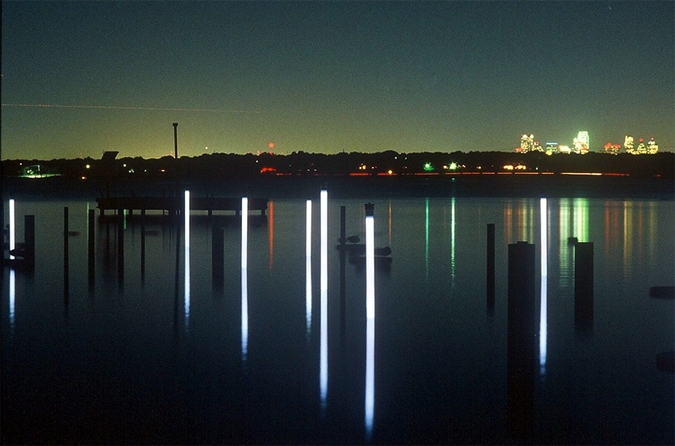 Why We Should Care About the Fate of the White Rock Water Theater
What is most troubling about the Water Theater isn't that it is being deaccessioned by the city; it's what it reveals about how Dallas values its role as a cultural steward.
Word came down last night that the City of Dallas Cultural Affairs Commission voted to de-access the White Rock Lake Wildlife Water Theater by artists Tom Orr and Frances Bagely. The deaccession was a long time coming. It was attempted last year, but stalled when the artists and their supporters drew enough attention to the issue to force the City of Dallas Office of Cultural Affairs to do what they should have done in the first place, that is, look more deeply at the costs and implications of trashing a work of art in their public art collection. That resulted in an engineering study which estimated that it would cost $200,000 (or almost half of the city's entire budget for public art) to restore the art. So a deal was struck with the artists. Orr and Bagley may receive another commission, but the Water Theater must go. The compromise was met with tepid resignation to the financial realities at play.
Why should we care about the fate of Water Theater? After all, as some people have commented, the piece has been deteriorating for some time. Many believed it had evolved from art piece to "eye sore," that it had simply outlived its useful life. Doesn't this new commission offer the kind of practical, realistic compromise that can set the matter to rest?
It shouldn't.
What is most troubling about the Water Theater isn't that it is being deaccessioned by the city; what is disturbing is what it reveals about this city, how it operates, and how it truly values its role as a cultural steward. Peel away all of the rhetoric about Dallas' supposed cultural ambition and desire to be considered a major art center, and the history of the Water Theater shows us that Dallas actually places very little value in nurturing and supporting art, artists, and artistic activity.
As it relates to public art, for example, we have a program that doesn't have any funds for renovation or restoration. We have a funding mechanism – the percent for art ordinance – that ensures a steady churning out of art work, but then we don't have a way to actually maintain these art works. This is like a museum with an acquisition fund but with no preparators, registrars, conservationists, or operating fund. The result is a program that restricts the breadth of artistic ideas and then scatters works of broad-ranging value and quality around the city. In reality, we don't have a public art program, we have a statuary fund.
In his column on Central Track this week, Darryl Ratcliff echoes some of these concerns, arguing that the city needs to invest more in the arts. He cites a SMU study that ranks Dallas County behind 157 other U.S. counties when it comes to supporting and investing in culture. That should embarrass anyone who ever mutters the words "world class" or "cultural capital" and "Dallas" in the same sentence.
Ratcliff is right that we should invest more in the arts, and he cites economic figures to help cajole the more financially minded into realizing that a robust cultural sector can equate to robust economic benefits. But I think that the Water Theater deaccession shows us that money is only part of the problem. It's not just that we don't have enough money dedicated to the arts. The funds that are available aren't spent wisely. The real question is how should we invest in the arts. What are the best ways to spend money, and how do ensure that our investments in culture actually result in seeding and sustaining real activity?
When you don't have money to spend, you might ask, why should you argue about how to spend it? I would argue that the reason we don't have money for the arts is precisely because we can't agree on how we should fund the arts.
I invite you sometime to visit the City of Dallas Office of Cultural Affairs. It is located not in city hall, but rather on the opposite side of downtown in the upper floors of the Majestic Theater. One summer a few years ago I paid the office a visit. It was blistering hot and the air conditioning was broken. As I climbed the stairwell to the third floor, portable fans were running to help circulate the air. Inside, the office looked like it had been sealed off for 60 years and suddenly reopened. It had a cluttered, vintage mid-century vibe that felt less Mad Men and more like a faded photograph of a Dallas post office from the time of the JFK assassination. When you bring up issues of funding to the OCA, when you gripe about the public art program, when you argue that there should be funds for maintaining public art, seeding artist projects, subsidizing work spaces, or whatever great idea you may have that would help this city's cultural scene, they will nod in agreement and then hold out their hands and show the bruises on their wrists from the political handcuffs.
The Office of Cultural Affairs has heard it all before, but as a city, we have made our bed and are lying in it. Cultural funds are tied up in the financing of our cultural facilities; hotel tax revenue is eaten up by the tourism industry. The city budget can hardly pay for fixing potholes, let alone supposed "luxuries" like stilt theaters for birds in White Rock Lake. We can't look at the problem of cultural funding in isolation. It relates directly to other endemic problems in this city: the inadequacy of many city services, the fact that we can build whole white steel bridges by famous Italian architects and yet can't extend sewer service throughout the southern sector.
All of these issues stem directly from a fundamental political disposition that prizes the rights of individual businesses and the virtues of individualized philanthropy over considerations of the collective social good. Culturally speaking, we are like a city on steroids. We don't nourish our cultural sphere, we introduce individual injections of extreme investment in certain sectors of our community, bulking-up institutions and the pet projects of individual donors, while other parts of the community lapse into atrophy. The result is the city-as-body-builder: a well-tanned, clean-shaven, stage-ready muscleman whose inner organs are rotting out.
We lack funds. That is clear. But I think our real poverty rests in the fact that we lack the language to adequately identify and advocate for change in the real underlying political and philosophical attitudes that have created the city as it exists today. I don't believe it is enough to argue that investment in culture breeds economic rewards; that is to repeat the attitude that has lured donors to make the kinds of strategic investments in the arts that have resulted in the current cultural landscape. Rather, just as with conversations we are having about urban design, transportation, and city planning, the advocates of art and culture need to find language that reveals how a well-nourished cultural sector is absolutely vital for a well-functioning city. It is not enough to prop up institutions for the sake of cultivating a cultural brand; real culture isn't a top-down investment, it must be seeded and nourished from the ground up. Our investments in the arts skew towards an emphasis on creating arenas for cultural consumption, whereas a truly healthy city sustains an ecosystem that allows for robust cultural production.
In the wake of the Water Theater deaccession, a new Facebook group has sprung-up with the intent of doing just this kind of language mining. Called the Dallas Public Art Foundation, its brief mission statement states that it wants to support the "thoughtful selection, support, and stewardship of public art in Dallas." In the first post to the page, it explains that the hope of the group is to begin to gather ideas with the intent of building a new agenda about public art in Dallas. It ends with a quote from Winston Churchill: "We shape our buildings [and cities] thereafter our buildings [and cities] shape us."
It's a deceivingly simple quote, but one that strikes right at the inherent value of public art in civic life. Our attitudes towards how to build a better Dallas is an extension of how the already-built Dallas informs our attitudes. Changing our city's civic disposition is synonymous with changing how we build the city.