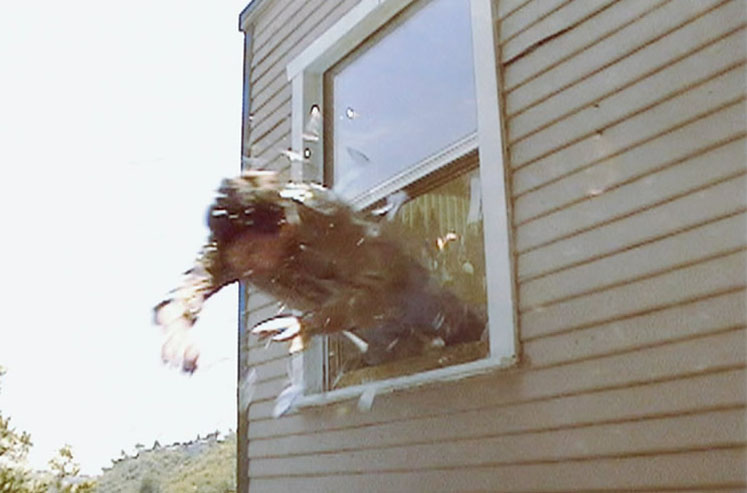 Even if You Can't Pronounce the Name, the Dallas Medianale Demands to Be Seen
The Dallas Medianale presents something unique and welcomed to the area's cultural mix.
Tonight, the Dallas Video Festival's inaugural Dallas Medianale picks up again with rigor at the McKinney Avenue Contemporary. Michael Morris, a Dallas-based artist who has curated numerous media and experimental film programs around town (including the Power Station's wonderful historical survey in 2012), will unveil a program of experimental film and video in the MAC's black box theater. Currently in the MAC's galleries two other locally based curators, Charles Dee Mitchell and Danielle Morgan, have organized a group show of video and film art. Last month, the Medianale launched with screenings in the MAC's black box, and it will wrap up later this month with a screening series curated by Carolyn Sortor.
In sum, the Dallas Medianale presents something unique and welcomed to the area's cultural mix. New media, video, experimental film, and other time-based visual art are generally underrepresented in our painting-heavy gallery scene (with the new Zhulong Gallery being the notable exception), and this kind of art has never been a major focus or strength of local museum programming. Over the years, The Dallas Video Festival worked to fill the void, launching at the DMA in the 1980s as a platform for exhibiting some of these then-emerging forms. The decision to break out video art and experimental cinema and combine them into a standalone festival expands on the Video Festival's previous The Program exhibitions and functions as a showcase for work that often felt lost in the context of the larger festival.
If the collaborative program put together by Mitchell and Morgan is an indication of what a large scale, biennial-style new media exhibition could look like in Dallas, then I hope the Medianale finds a way to expand further still in the coming years. The exhibition is a simple curatorial call-and-response. Mitchell chose works by four artists – Bruce Nauman, Joe Sola, John Boyle Singfield, and Francis Alÿs – and Morgan responded with an additional four, Gary Hill, Owen Kydd, and Tara Merenda Nelson and Gordon Nelson. The result is a rigorous, and coherent exhibition, with a focused group of artists who all explore just what happens to art when you use a camera to make it.
Bruce Nauman's Walking in an Exaggerated Manner Around the Perimeter of a Square (1967-1968) is a good jumping off point. In the 10 minute video shown in a loop, the artist walks along the line of a box drawn in masking tape on the floor of his studio. The fact the title of the piece perfectly describes the entirety of its content is part of the conceit. It is a film that is about nothing more than the literal act captured on film. Nauman subtracts stylistic and aesthetic content; the piece functions as pure, banal documentation. And yet, it is precisely through this subtraction that Nauman reveals something about the nature of the medium, that way the camera's presence dramatizes even the most inane act, predisposing the viewer towards finding meaning in what it presents. Here we are sensitized to Nauman presence in space and time, as well as our own.
As with Nauman's Walking in an Exaggerated Manner… Joe Sola's Studio Visit (2005) is shot with a single, static camera looking at the artist's studio at a similar angle, only here the presence of furniture and visitors – curators, artists, writers, and friends Sola has invited to his studio – as well as the second story windows looking out at sunny L.A. lend the shot the feel of a hidden, Candid Camera-style set-up. Sola appears to be discussing his work with his guests when he suddenly runs across the room and throws himself through the window.
It's a shocking, but hilarious scene. Sola trained with Hollywood stuntmen to perfect his leap, using the kind of shatter glass used in Hollywood action films. Sola's slapstick functions on a few levels. It captures something of the anxiety of artistic self-exposure; it is a parody of Hollywood cinema; it uses the presence of the camera and performance to turn a real setting into a kind of narrative fiction. I also love how Sola and Nauman's pieces work together. Both artists make us aware that filming is never a simple act, that even the most passive cinematic form is a constructive act. The implication is that the film and perception share an affinity for structuring reality as a narrative, blending fictions and non-fictions.
Two of Morgan's artist choices, Owen Kidd and Gary Hill, share this idea of the studio as a stage or arena of making, as well as an awareness of the way the mediation of video or film affects meaning. But unlike Nauman and Sola, Kidd and Hill are not dealing with cinematic conventions, but with a more painterly or sculptural concerns. Kidd's two videos (Composition, Warren Street Studio (On Green), 2012 and Warren Studio, Framing the Floor, (2012) present static shots of his studio floor, where the artist has laid out paint and plastic in painting-like abstractions. While the video subtracts something of the immediacy of these materials' tactile-ness and sensuality, by capturing their subtle movements, it lends them a mysterious sense of embodiment. Gary Hill's Meditations (Towards a remake of Soundings) 1979/1986 shows a close-cropped shot of a speaker cone that the artist drops sand onto as he speaks through a microphone. At first the particles bounce about as the speaker vibrates, and as it fills up, the image becomes more static. Hill's video is also a kind of minimalist kinetic sculpture, and like Kidd, it leverages the medium of video to introduce elements of time and ephemerality, as well as a self-reflexive awareness of the artwork's existence as a multi-layered act of technological mediation.
One problem with Hill's work as it is exhibited at The MAC is that it is difficult to hear the audio, which is drowned out by the newest piece in the exhibition, Tara Merenda Nelson and Gordon Nelson's End of Empire, 2014. No matter, as the Nelsons' piece is the highlight of the show. It consists of four projectors – a 16 mm, super 8 mm, video and slide projectors – each projecting on the wall a piece of an image of the Kodak headquarters in Rochester, New York. The result is a static image that is also a composite collage of mediums.
You don't need the reference in title to immediately think of Andy Warhol's film Empire. Like Warhol's work, the Nelsons' piece takes up questions implicit to the nature of film – the way filmic documentation transforms time into an abstraction, for instance – while also exposing the contingency of cinematic aesthetics on technology and economics. Ephemerality is built into the piece; the 16 mm and 8 mm celluloid will gradually deteriorate during the work's life and eventually there won't be any film stock being produced to restore or replace it. That active deterioration almost makes the projectors themselves feel like a kind of assemblage sculpture, while it is also directly relates the entire piece to the allegorical reference of Kodak's towering corporate headquarters. There's a wonderful irony here: the art work isn't merely presenting an image, but is participating in a temporality that is directly related to the ephemeral nature of economic power, the use-and-dispose capitalistic life cycle symbolized by the conglomerated image of architectural monumentality.
A good decision by the curators is the presentation of series of films by Mexico City-based artist Francis Alÿs in a separate gallery, cut off from the zingy inter-connected conversations that spin about between Nauman, Sola, Hill, Kydd, and the Nelsons. Alÿs' Children's Games series, which the artist has been working on for nearly a decade, are simple, endearing little short films, each merely depicting children engaged in some sort of game. Alÿs makes his videos during his travels around the world, and there are children's games represented here from Afghanistan, Paris, Mexico City, Tangier, and elsewhere. The videos present something of the innocence and delightfulness of play, and yet watching them it is impossible to avoid reading into each sociological, political, or anthropological inferences.
"To me Alÿs is the consummate artist," Mitchell said to me as we walked through the show. I agreed instinctively with the sentiment, but since seeing the show, I've been thinking about what that might actually mean. Perhaps, at least on one level, Mitchell means that Alÿs' work always seems to stem from an innate disposition in the world, a habit of being, that is available to the way simple experiences can open up and expose hidden meanings. Even more than some of Alÿs more orchestrated video pieces – videos that show him pushing blocks of ice through the streets of Mexico City or attempting to drive a beaten up car up an impossibly steep hill – these Children Games videos reveal that disposition: an artistic quality that consists of merely looking at the world well. Alÿs stumbles upon some overlooked goings-on, and he manages to draw out of it something beautiful and ponderous. Perhaps more directly than all the other artists in the show, who are all thinking about the way cameras produce this kind of meaningful extraction, Alÿs demonstrates that art is made simply by looking closely and pressing record.