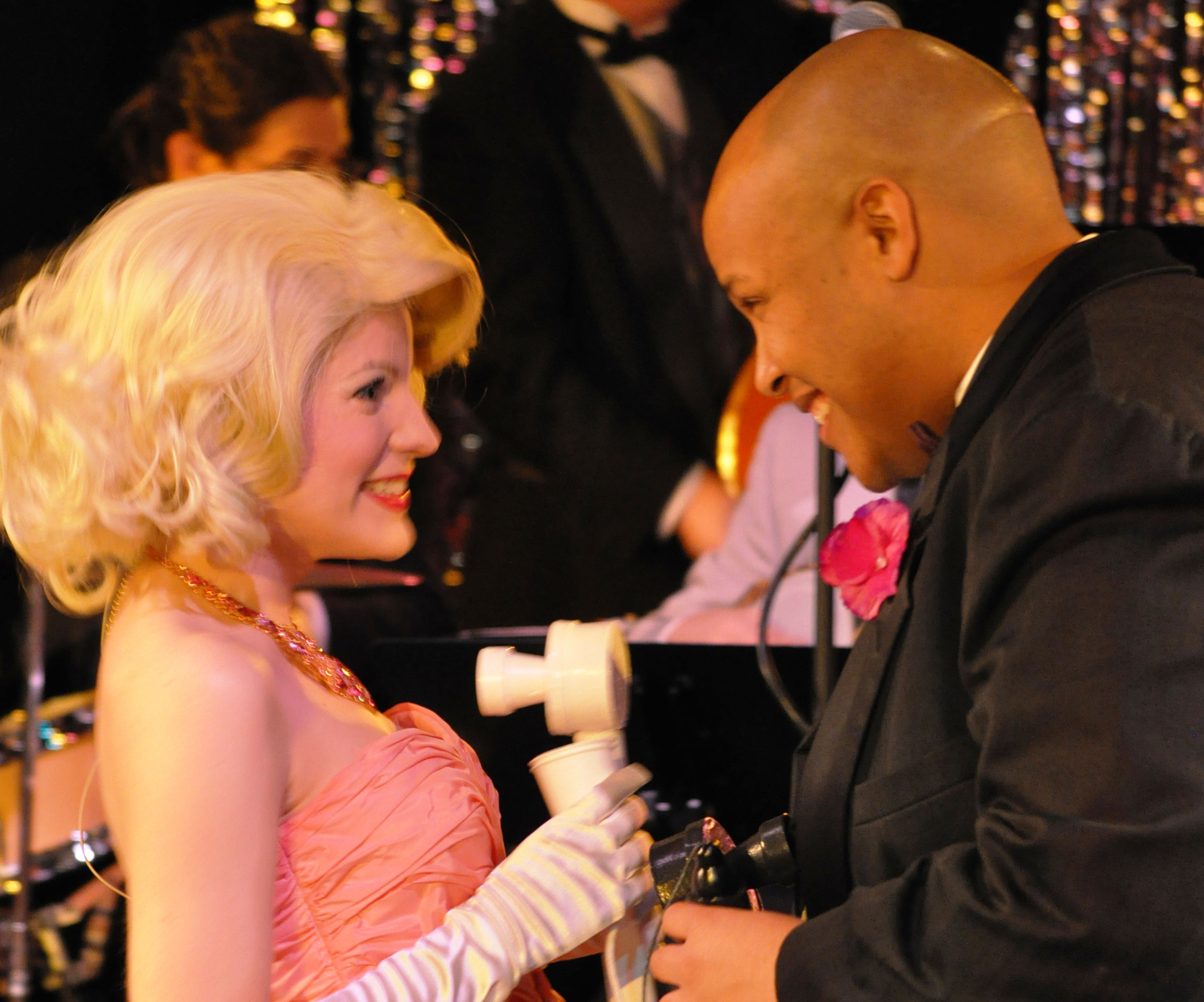 Echo Theatre's Her Song Woos With Bubbly Entertainment
Echo Theatre's "showmance" is back, tighter, snappier, and more focused.
There's a fine showmance going on at the Bath House Cultural Center, where Echo Theatre has once again transformed the black box space into a snazzy supper club for The Echo Room Presents: Her Song. The company debuted the immersive music and dance revue last February, and it proved so popular they brought it back this year—tighter, snappier, and more focused—for another round of bubbly entertainment.
Culling from the American songbook of female composers from the 1900s through to the 1940s, the bill includes such favorites as "You Oughta Be in Pictures," "I Won't Dance," and "The Way You Look Tonight," all backed by The Matt Tolentino Quintet and music directed by Scott A. Eckert. You might want to swig some of that champagne (there's a working bar as part of the set, plus nibbles on demand), since chances are high you'll be pulled up to participate. Swaying cheek to cheek with your sweetheart is also encouraged.
Most of the original singers have returned this year, making the most notably different element the dancing. Danielle Georgiou choreographed last year with two high-flying couples, which made sitting at the onstage cocktail tables a nail-biting experience. This year, dancer Stephanie Butler incorporates smaller, but no less impressive, movements for herself and two other dancers (the returning Stephen Raikes is especially fun to watch). The singers also do a little more shimmying this year, which helps make the company appear more cohesive.
This piece was conceived by several of Echo's board members and artistic company members, and the ensemble feel is evident. Cast members only leave the stage to change from one elegant Melissa Perkins costume to the next, often crooning backup from the bar or audience. Each performer is assigned a glamorous persona: Blanche Tate, Sweetheart of the Lake (Maranda Harrison); musical heartthrob Montague Love (Jonathan Garcia); Lulu Glaser, the Madcap Princess (Annie Benjamin)—you get the idea. Prepare to interact with these characters before and during the show.
Hopefully this charming revue becomes a yearly tradition for Echo, much like I Love You, You're Perfect, Now Change has for Theatre Three. Not only is it a welcome addition for Valentine's Day, but discovering more about these (often overlooked) female songwriters primes audiences for Women's History Month in March. A toast to these gals indeed.