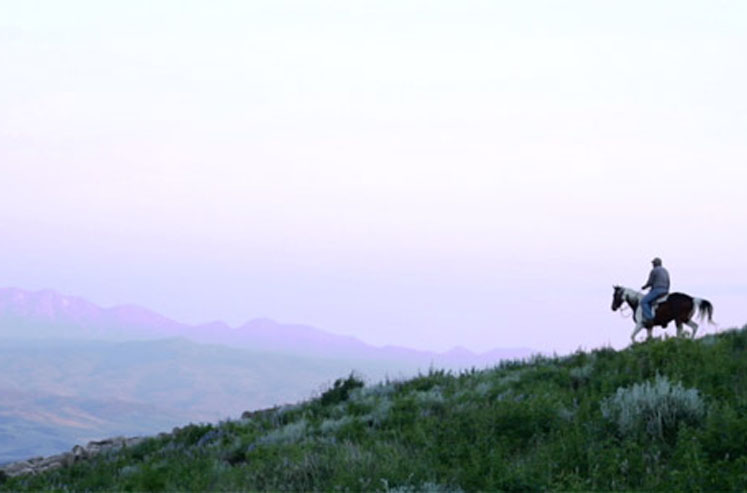 6 Short Docs to Look for at the Thin Line Film Festival
DFW's premiere doc-centric film festival kicks off tonight. Ahead of the fest, I deep-dived the short doc programs to see what films are worth catching.
In the past decade, The Thin Line Film Festival has grown from a small non-profit organization founded to support the needs of the film-loving and filmmaking community in Denton, TX to a full-fledged documentary film festival dedicated to exploring the fringes of the genre. The name derives from festival organizers' interest in the thin line that can exist between fact and fiction in the documentary form, though I always thought it resonated nicely with Errol Morris' The Thin Blue Line, a Dallas-set documentary that remains seminal in the genre. And, this being Denton, there's also a music component to the festival. For the full run-down on that, go here.
Looking over this year's schedule, a few films jumped out, including Limo Ride, a boozy, hilarious romp of a tale which exemplifies the idea of a doc that doubles as or blurs with fiction. What also jumped out at me was the broad offerings of documentary shorts. With four shorts programs as well as shorts paired with feature length films, there are more than 25 short docs at the fest. The breadth and variety of short-form documentaries is one of the things that sets Thin Line apart in the region's increasingly crowded film festival scene, and so, rather than review or rank the features at this year's festival, I thought I'd deep dive into the shorts they are bringing to the area. Here are six films to look for, and for a full film schedule and lineup, go here.
Blockbusted – February 21, 10 p.m. (Shorts Compilation 4)
Telling a story in 5 minutes is no easy task. Telling a story about the fall of a corporation and its resonance in the cultural history of nation in five minutes is damn near impossible. Blockbusted gets close with a rapid-fire doc short that feels, in parts, like the Blair Witch Project and a Michael Moore project. Shot on video as an homage to the medium that symbolizes the rise and fall of the corporation that once dominated the home movie distribution business, the film is a montage of moments from the closing day of a random Blockbuster video store. Comprised of interviews with customers, shots of employees, and candid images from inside the store and out in the parking lot, Blockbusted is simple and in many ways unremarkable film, but thoughtful directing and editorial self-control make for five minutes of footage that touches on broad themes.
Finding Faulkner – February 21, 12 p.m. (Shorts Compilation 3)
Sharie Vance's Finding Faulkner is a documentation of a failed investigation. Vance is curious about her famous last name, and travels with her father to Mississippi to try and track down family records that could prove her relation to the great southern author William Faulkner. She brings her father along for the ride. A retired trucker, Vance's father is a man of few words, often prickly, disinterested, introverted and frustratingly aloof. As the film unfolds, he becomes its central character, and Finding Faulkner unfolds as an attempt by a daughter to connect with her father and heal their strained relationship. The film gets a bit too didactic at times and spells things out where it could have let the images and actions speak for themselves. But ultimately Vance's father comes across as an intriguing paternal archetype – the closed-off man, the silently suffered soul – lending Finding Faulkner real emotional resonance.
The Bottom Rung – February 20, 5 p.m. (Shorts Compilation 2)
This film should play strongly with the local crowd up in Denton. It revolves around a close-knit circle of aspiring comics living in Denton, capturing their humor and banter, and inter-cutting moments of introspection and reflection about life at the lowest levels of the comedy circuit. The Bottom Rung shows that while we all dream of realizing greatness, life's circumstances – from talent to location – can work against the dreams and the drive. As a doc or a story, The Bottom Run doesn't break too much new ground, but it possesses sporadic moments of legitimate humor and its own, particular warmth.
Fishing For Unicorns – February 21, 10 p.m. (Shorts Compilation 4)
This may be my favorite short doc of the twenty or so I watched before the fest. It tells the story of Joe Everett, a bass fisherman living in Southern California who dreams of breaking the bass fishing world record, currently jointly held by a guy in Japan and someone who caught a huge "donkey" of a fish (as Everett refers to the big ones) way back in 1932. To achieve his end, Everett devotes himself totally. During the three months of the big fish season, he fishes for 10 hours a day and works at his job making surfboards for another 10 hours, living for months on just a few hours of sleep a night.
As we spend time with Everett, we begin to discover someone whose passion has morphed into a debilitating obsession, having contributed to his failed marriage and straining his health and mental well-being. Everett is a tricky character, equally endearing and identifiable and extreme and foreboding (I couldn't help but think of Grizzly Man's Timothy Treadwell, only with more hunter's blood lust). We all know what it is like to deeply desire something great for oneself, but this doc plays like an admonition. When you define your life by a singular goal, the cost of failing to achieve that goal looms like an abyss of potential meaninglessness.
Ghosts on the Mountain – February 19, 6 p.m. (Shorts Compilation 1)
Beautiful cinematography and a muted tone lend a sense of seriousness and profundity to this exploration of the human implications of immigration in an overlooked corner of the world. In the mountainous wilderness of Wyoming, Peruvian cowboys heard sheep through the dense underbrush and forests, living solitary, lonely lives away from home, country and family. Touching lightly on the social and political implications of illegal immigration, Ghosts on the Mountain functions best as an elegiac look at a cultural tradition as old and American as the American West: the worker in exile making his hard, lonely way in the world.
The Curse and the Symphony – February 20, 5 p.m. (Shorts Compilation 2)
David Schulte's doc plays like a video sample of a feature length film, like a Kickstarter promo. Perhaps the film would work better as a feature. Many of its characters feel too lightly sketched and its themes a bit rushed. Still, the raw material is all here. A punk rock musician from Austin, Nathan Felix, stumbles on a love for classical music and spends years teaching himself how to compose his own symphony. Finally, a conductor at a university in upstate New York offers him the opportunity of a lifetime: to produce and record his work. Arriving in the studio, Felix realizes how his amateurism creates frustration and problems, and he, his score editor, the conductor, and recording engineer scramble to bring the music to life. Watching The Curse and the Symphony feels like watching a film through a keyhole. I was left wanting more, but that I wanted it was a testament to the potential of the story Schulte has on his hands.