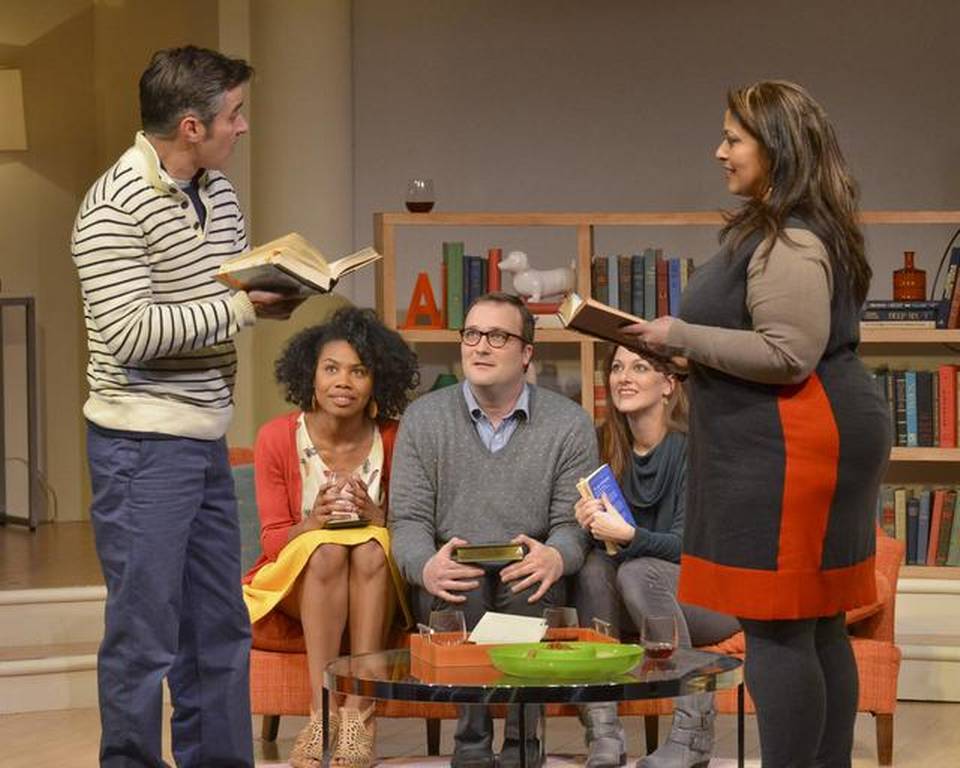 DTC's Book Club Play Will Make You Wish You'd Stayed Home With a Good Book
Karen Zacarias' work is lazy writing patched together with paper-thin characters and empty statements about "culture."
Shortly into Karen Zacarias' The Book Club Play, the members of Ana Smith's book club are discussing Moby-Dick when a giant whale bursts through the floorboards and swallows them all. No, sorry. That actually doesn't happen. But after only five minutes of watching these insufferable, offensive characters blather on, you'll be wishing it did.
Zacarias' play is lazy writing patched together with paper-thin characters and grand but empty statements about "culture." It's two hours of dull arguing by intolerable people, a tedious list of clichés that paints with such broad strokes that, by comparison, sitcoms look like thought-provoking documentaries.
It's a documentary that serves as the show's gimmick. For hazy reasons, a Danish director wants to plant a camera in Ana and Rob Smith's living room to record their biweekly book club meetings. Ana (Christie Vela) is flattered, Rob (Jeffrey Schmidt) is nonplussed, and the other members are mostly unsettled. "This could be a wonderful opportunity for our book club," Will (Steven Michael Walters) crows. "Why does our book club need an opportunity?" asks a bewildered Jen (Sarah Rutan). Good question.
Many of the show's unfunny jokes hinge on how everyone becomes stiff and unnatural when they remember the camera is recording. Why they don't resemble actual people throughout the rest of Dallas Theater Center's production is mystifying.
Vela, normally a strong supporting actor at DTC and in other companies, seems uncomfortable shouldering the play. Her Ana is patronizing, snobby, and sometimes downright cruel, yet she somehow continues to have friends. Former jock Rob admits early on that he's only into book club for the snacks, and Schmidt looks equally as excited to be onstage as Rob would be cracking open War and Peace.
Another running joke is that the crew only seems to read books written by dead white guys. This frustrates Lily (Tiana Kaye Johnson), Ana's sweet young coworker and the newest member of this close-minded crowd. So when it's Lily's turn to select the book, she chooses Twilight.
What makes Zacarias' play even more frustrating is that the characters only perk up when the talk turn to pop culture fads, like Twilight, 50 Shades of Grey, and The Da Vinci Code. Though Ana sniffs at the idea of junk lit, it's clear that Zacarias feels more at home with Bella and Edward than Ishmael and Captain Ahab.
Director Meredith McDonough steers the show with an odd rhythm, lingering too long during jokes and racing through plot advancement. The only person to transcend this herky-jerky pacing is Walters, reliable even when tasked with playing an offensive caricature. Rutan and Brandon Potter (the newest member of DTC's resident acting company) are indistinguishable from every other supporting gal pal and "kooky neighbor" in sitcom history.
Near the end, the group decides to read The Return of Tarzan, but alas, a lion does not wander onstage to maul them all. Shame.