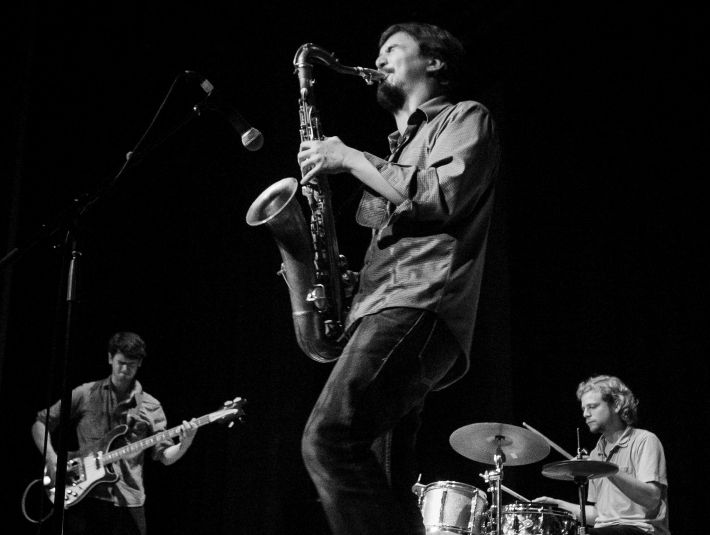 Dallas Concert News & Review: Barbara Ess | Leon Bridges | John Dikeman
One of the most significant major label signings of a local artist in recent memory happened over the holidays; a Dutch improviser comes to Lower Greenville.
News
Over the holidays, musician Leon Bridges signed a deal with Columbia Records, which probably makes it the most significant signing of a local artist to a major label in some time. That sort of thing is not exactly common around here. Bridges is represented by the same Dumbo, NY-based management company as Passion Pit, Real Estate, and Childish Gambino, so it seems that some festival appearances will likely play into the artist's near future. The artist has made a healthy amount of appearances in the Fort Worth press in particular for about a year now, and won a Fort Worth Weekly Music Award back in July. Congrats to Bridges for the deal and the music writers of Fort Worth for catching this rising young talent earlier than the rest of us.
Reviews
I got a crazy hunch after seeing an ad and heroically caught the last 20 minutes of the Urban Theater show at the Fort Worth Modern yesterday, before it closed forever. It was a major mistake of mine to not give the exhibition more time, and even though I had attended a lecture on the show previously, I hadn't really had a chance to spend an afternoon with the work itself.
One of the highlights was seeing an alternate piece of art relating to photographer/musician Barbara Ess and composer Glenn Branca's legendary editing job on an anthology than I'd seen previously in another Texas show, Just Another Asshole, which now reads as a who's who of the artists who would have a huge impact on the literary and visual arts communities in the years following. Those names include Kathy Acker, Kiki Smith, and Jenny Holzer. Barbara Ess had played in a group called Y Pants, which was one of the most unusual acts to come out of New York's no wave movement; they employed a toy piano in a way that it's never been used since. I hope you were lucky enough to catch this show while it was in town.
Concerts
"Post Punk Happy Hour" (The Crown and Harp): After perusing the playlists from this singular weekly event, I was surprised to see it's not nearly as dark and dreary as "Wardance," which is DJ Oliver Sheppard's other record-spinning event. Tracks from the pampas leave-torching, LA weirdos Savage Republic do time with R.E.M. and the disco-octave punk of the Mo-Dettes. The Crown and Harp is doubling their event real estate by taking these happy hours a little more seriously than everyone else on the block.
Also at Crown and Harp: I mentioned "Outward Bound Mixtape Sessions" on FrontBurner earlier today, and I now have some lineup details. Tonight's event will include Burnt Bridge Road, Viator, Peladini, and Yells at Eels. That last act will include guest saxophonist John Dikeman, who plays in the Dutch jazz trio, Cactus Truck. In an interview regarding his group's music the artist claims the group's MO is to "intentionally push too hard." That all checks out, and here is a completely wild video demonstrating Dikeman's intensity on his chosen instrument: