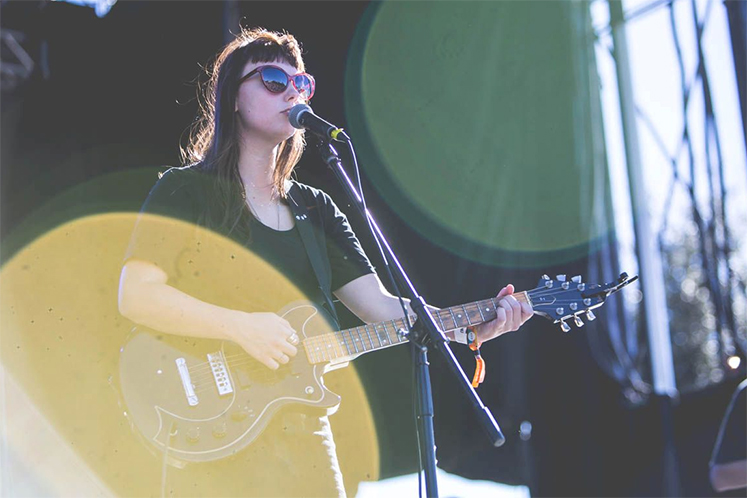 2014 in Review Part IV: FrontRow Critics on Music
Our final list includes input from our various music writers.
Eric Martinez
Favorite Records of 2014
Grouper – Ruins
Liz Harris recorded most of this devastating album in Portugal in 2011. She said that she left all sounds recorded as they were so that it would help bear a candid resemblance of what of the environment that she was in, the isolated sound of a microwave beep heard near the end of a song included. The album is a slow hike through the remains of a fragmented emotional past. On "Clearing", Harris sings, "Every time I see you / I have to pretend I don't"; before continuing, "What has been done / Can never be undone." The record never does shy away from being an honest account of seeing beauty in failed structures. I suggest pouring a glass of wine while playing this record after midnight. It will document remnants of love than cannot be undone as you sit atop the rubble.
Protomartyr – Under the Color of Official Right
Full of cold hooks that recall the stark grind of Pere Ubu and The Fall, this post-punk jewel from the Motor City rips along sinuously for twelve tracks for before reaching a brilliant couplet at the end: "Violent" and "I'll Take That Applause." The two songs are a yin and yang of sweeping melodies and a bold punishing onslaught, respectively, capturing the essence of the off-kilter hooks and punk impulse throughout the record. On the album's finale, lead singer Joe Casey shouts with a dry snarl, "I'll take that applause / Because I deserve it." It's an apt statement to cap off an album that reminded listeners of the bleak eccentricities that spurred the genre decades ago. Why would anyone listen to Interpol in 2014 when you could listen to Protomartyr?
Mitski – Bury Me at Makeout Creek
A splattered self-portrait of heartbreak and resolve, through breezy melodies and biting lyrics of vulnerability ("I want a love that falls as fast as a body from the balcony") amid whistling currents of distortion. I still cannot get over the level of power and emotion that resonates from "Drunk Walk Home", a song that ends in a series of cries from her and the guitar. My biggest CMJ regret was missing Mitski when I had the chance. The year 2014 belonged to Mitski.
LVL UP – Hoodwink'd
Of all the records released this year, I probably listened to this one the most. The album was hit after hit of 90's indie nostalgia without ever becoming phony. Sure, they often play with the same style as Malkmus and Mascis — and frankly "Ski Vacation" may be the only song that Stephin Merritt did not write. But even after considering this, they have a sharp knack for crafting lo-fi bedroom pop records that was just not the case for several other records this year.
Radiator Hospital – Torch Song
Upon its release, the essential beating heart of Radiator Hospital, Sam Cook-Parrot, described the album on his blog: "It's about how sometimes you find the Perfect Person and the circumstances of your lives keep you apart." He further noted how we continue to find ourselves in relationships, living blindly in a cyclical pattern of desire, rejection and heartbreak, failing to ever really learn from our missteps. An exposé of these heavy sentiments is never more revealing than on the album's poignant jewel, "Fireworks", one about a short-lived romance of unrequited love ("Did you feel them? / Feel the fireworks?"). In that same blog entry, Cook-Parrot suggested that the album posed the question: "What happens when you stop dreaming and start actually living your life?" Perhaps that's why the album does end with a tiny glimmer of light that aims to recognize a necessary need for a change ("I never cry / I never scream / I know I should"). More than any other record I listened to this year, this one chronicled the emotional pulse of the relationships you encounter throughout your life.
Ought – More Than Any Other Day
Anxious and exuberant angular rhythms from Montreal that are humbly indebted to the post-punk vanguard, most notably Verlaine and Byrne.
A Sunny Day in Glasgow – Sea When Absent
Dream pop shoegaze bliss. This is napping on halcyon clouds while riding prisms of light and all of that. I was really feeling this.
Alex G – DSU
The record was perhaps the most definitive example of the bedroom pop aesthetic we heard in 2014. He self-released his first two albums on Bandcamp before signing to the indie label, Orchid Tapes for his breakthrough record, DSU. He channels the likes of Elliott Smith and Built to Spill in off-kilter personal sketches that permeate throughout the album, never completely subscribing to any particular song structure makeup.
Angel Olsen – Burn Your Fire For No Witness
With intimate impressions of rejection and desire that highlight our depths of solitude, Angel Olsen crafted one of the more dynamic indie folk records of the year.
Viet Cong –"Cassette"
The beloved Calgary-based post-punk band, Women, ended in 2011 with the untimely death of one of their members. Born from the ashes of that outfit is Viet Cong's "Cassette." The record is a mixture of sublime ramshackle guitar pop melodies which are surprisingly ornate, shimmering through the overall opaque atmosphere of the record.
Favorite Songs of 2014
Grouper – "Clearing"
Dripping Wet – "Yearbook"
Radiator Hospital – "Fireworks"
Ariel Pink – "Dayzed Inn Daydreams"
Mitski – "Drunk Walk Home"
Viet Cong – "Unconscious Melody"
Alex G – "Hollow"
Ought – "Today More Than Any Other Day"
Favorite Shows of 2014
Radiator Hospital (Hotel Vegas, Austin)
Peaking Lights (Austin Psych Fest, Austin)
Tinariwen (Fun Fun Fun Fest, Austin)
Future Punx/Beth Israel (Silent Barn, Brooklyn, NY)
Celestial Shore (Union Pool, Brooklyn, NY)
Layer Cake farewell show (Rubber Gloves, Denton)
Dripping Wet/Free Cake For Every Creature (J&J's Pizza, Denton)
Favorite Local Records
Dripping Wet – "Everything Grows" / "Yearbook"
Blessin' – Do You EP
Layer Cake – Milk Jr. EP
Leon Bridges – "Coming Home"
moth face – "honest."
Michelle Ofiwe
Favorite Records of 2014; A Countdown
10. J.Cole – 2014 Forest Hills Drive
In 2013, J.Cole's sophomore album, Born Sinner, had plenty of company. Upon announcement of Kanye West's Yeezus release date, the much-buzzed North Carolina native very publicly rescheduled Born Sinner's release date, capturing that magical date of June 18th to rub elbows with the likes of Yeezus himself…and Mac Miller. The explanation, delivered succinctly via Cole's Twitter page, was simple enough: competition. "I'm a competitor by nature," Cole followed up later to Billboard. "It wasn't even a thought." Two weeks later, Born Sinner debuted at the #2 spot on Billboard's 200 chart, and moved to #1 after another week – effectively winning the Billboard battle but not so much the cultural war. In the end, much of what Cole feared had come to pass: Yeezus went on to grip national attention (and top spots on several end-of-the-year lists), while Born Sinner – still an impressive album by anyone's standards – earned Cole even more attention on the hip-hop circuit.
This year, 2014 Forest Hills Drive, was released quietly into dead space, prefaced only by a polite announcement from Cole himself. There's something to be said about an album that appears merely weeks before the industry's sales quarter bottoms out. Cole's release date mates (December 9th, 2014) included yet another Smashing Pumpkins album and R&B songstress K. Michelle's national debut, sending a clear message by omission: for once, the nation would belong to Cole.
But timing alone is not what makes 2014 Forest Hills Drive so captivating. No doubt you've already heard the buzz on Cole's comments re: the cultural appropriation of hip-hop music, which he follows-up on the album with "Fire Squad:" Same thing that my n*gga Elvis did with Rock n' Roll/Justin Timberlake, Eminem, and then Mackelmore/While silly n*ggas argue over who gon' snatch the crown/Look around, my n*gga, white people have snatched the sound. Again, Cole's timing is impeccable, but even he couldn't have guessed that cultural appropriation would be this nation's last talking point of the year (following Azealia Banks' publicized comments on Iggy Azalea, which came only a week later after the album's debut.) That being said: "Fire Squad" is not this album's calling card, not even by a long shot. The song consists of less than five minutes on the album, and is sandwiched between two of the nicest beats I've heard this year.
2014 Forest Hills Drive will earn its stripes for being honest and entertaining – endearing, even. So much of Cole's life has been pressed into this album: from the knee-knocking, palm-drying love-making endeavors of teenage Cole (Wet Dreamz) to the awkward misplacement of attending a PWI months only months after graduating from Fayetteville ('03 Adolescence.) As he ends the album with the 14-minute Note to Self – which is essentially just a vocalized version of the album's liner notes – you start to get the feeling that maybe sincerity is just Cole's default. That's not to say Cole's braggadocios lyrics and antics are nowhere to be found, but that they neither overshadow nor support the album's overall theme. At one point, even Cole wonders aloud about his dependency on them (No Role Modelz.)
If you want to know what this album is about, listen to "Apparently," its first single and perhaps its best song. Over chunky piano chords and the softest 808s, Cole recounts his mother's loss of his childhood home, then publicly mourns his years of indifference towards Forest Hills. One verse later, he spits lines on "two b*tches playing on his trombone" and requests accolades from imitator emcees. And therein lies J.Cole, hip-hop's most honest emcee to date. Happy listening. Recommended tracks: Fire Squad, St. Tropez, Apparently, No Role Modelz, Note to Self
Jeremih & Sholomo – No More (EP)
Long before its Valentine's Day debut, No More had received a substantial amount of buzz from wherever electronic and hip-hop music intersect. And why not: Sholomo and Jeremih make consistently interesting work on their own, so a collaboration could only mean something that would blow our minds (and, ahem, other body parts.) As it were, No More's only fault is that it's not longer. Perhaps to make up for this error, the EP ends on its most sexually confusing note, matching up Jeremih's lyrics about "Gs [in] G-spots" with an aggressively charged verse from Chicago's Chance the Rapper, who shrieks mid-verse that "[p*ssy ass n*ggas…] don't want smoke!" Confusing sure, but not at all unwelcome. Recommended tracks: No More, Bo Peep, The End
Babe Field (Barf Troop) – Half Ripe (EP)
As part of the "nasty, filthy" all-girl rap group Barf Troop, Chicago's Babe Field has been described as its most soulful, calmest character. Her debut, the 8-track Half Ripe, only half-way proves that point, utilizing mid-to-low tempo beats and jazzy horn samples on the second half of the album. And anyway, don't confuse Babe Field's "calm" with "quiet:" the femcee actually has much to say. The EP opens pointedly with an audio sample of the iconic scene from everyone's favorite cheerleading classic "Bring It On" where the Clovers directly confront the Toros' theft of their routines (think about this one for a minute), and doesn't let up with such fire by moving into "Drip," arguably the EP's only club banger. Following immediately is "What You Want," where Field borrows 90s-Queen Latifah & Monie Love's essences to pair her abrasive flow with a beat that can only be explained as a "warning siren."
The EP's clear standout track is "Welfare Qween," which clocks in at a whopping one-minute and 25 seconds long. But that's all Field really needs to comment on what it's like to munch on your fave meals with only food stamps to your name and still avoid the perils of getting fat, teenage-girl style. Recommended tracks: Use the Routine We Have, Drip, What You Want, Welfare Queen, Twice as Good
NOFUTURE – Excuse my French
"Excuse My French" comes to us from Portugal-via-Paris, but doesn't stop at either, mixing in Danish europop, funk carioca, and Southern trap music to create a mixtape that sounds otherworldly. Slotted in the mind-numbing grid of Bandcamp releases, one could easily miss this treasure if not for the album's cover: the fresh, bent-over ass of an anonymous "baddie" – prefacing the content's sexual overtones but not its eclectic sounds or samples. For instance, NOFUTURE includes a minimalist remix of Wale & Big Sean's "Slight Work" – only utilizing pitched violins and muted hi-hats to transform Diplo's stuffiest beat – with a severely pitched down refix of Britney Spears' "Toxic," slowing down Spears' svelte delivery for maximum sultriness.
NOFUTURE's greatest asset is his ability to revise, to make things sound new again. Even his samba-infused remix of Rihanna's "Cockiness" makes the official, ASAP Rocky-inundated version sound lazy in comparison. It's safe to say the word "remix" just doesn't do NOFUTURE's takes much justice. Recommended tracks: Boladona, Slight Work (Remix), nice2meetU, flow.her, Toxic (Remix)
Yumi Zouma – Yumi Zouma (EP)
Nearly a year after their debut EP, there's still not much we know about Yumi Zouma, the New Zealand band (duo? trio?) aside from their ability to create beautiful harmonies. Their self-titled debut is chock-full of them, often over R&B-inspired bass lines and soft snares and hi-hats. Their lyricism wavers between '60 girl group cooing (A Long Walk Home) and the jaw-clenching reminiscing of a bad break-up (The Brae), which can seem strange when paired with the group's obvious indie-rock tendencies. It's possible to get several different "vibes" from the band during the EP's four-track run, but that's precisely what makes their future seem so exciting. Whether it's R&B-flavored pop, so-minimalist-its-almost-acoustic pop, or 70s-disco dance, you can be sure that if it's coming from Yumi Zouma, it's a guaranteed good time. Recommended tracks: The Brae, Salka Gets Her Hopes Up
Flying Lotus – You're Dead!
Lo and behold: one of the most interesting works to come out of this year was about death – or rather, Flying Lotus' interpretation of it. Certainly, "You're Dead!" makes the experience seem a lot more fun than it probably is – maybe you don't hear Snoop Dogg spit over video-game-flavored synths when you go (as heard on Dead Man's Tetris), but one can definitely dream, right? As it were, much of the EP requires use of your imagination, as most of the songs don't last more a couple of minutes, some even a few seconds. What does have vocals borrows those from hip-hop/R&B heavyweights, including the break out single Never Catch Me, where Kendrick Lamar intones on tasting the mysteries of life and death before exclaiming the album's namesake.
If you somehow have not given the album a listen, do so immediately. See you on the other side. Recommended Tracks: Dead Man's Tetris, Never Catch Me, Coronus, the Terminator, Ready Err Not
Doja Cat – Purr! (EP)
Joining a league of rapping-singing femcees is Los Angeles' Doja Cat, whose straightforward takes on love and sex come to a head on her Purr! EP debut. The "sex kitten" angle manages to make it through the 5-track EP without losing its appeal, primarily due to the bite of Doja's verses. Complete with the gum-popping, hair-twirling accent of your least favorite valley girl, Doja raps on "coming for your tail" on the EP's opening track Beautiful, launching into verses on keeping herself flossy and her mother comfortable on the merits of her music. "Cute from my cooch to my cuticles," she boasts – and later supports with following verses that detail countless encounters with thirsting men and the drugs they offer with from her detached viewpoint. "I've done been there, done that," she trills on Nunchucks, "so I wonder why I feel so alone?"
Much of her writing feels like this: the back-and-forth of engaging, then reminiscing when the high is over. On the EP's breakout track, So High, she nearly slurs her verse on "rolling a hunnid f*ckin' blunts" and riding around with her dealer on a warm summer night before chuckling about "the shit these drugs will do to you." But the EP's real star follows: No Police, a shadowy, minimalist cut with Doja Cat delivering her most drugged out verse on sex and Xanny bars over plucked guitars and crunchy synths. "Pop a couple Xannies for me, bitch" indeed. Recommended Tracks: all of them
D.R.A.M. – #1EPICSUMMER
#1EPICSUMMER's cover features its star mid-laugh: mouth stretched wide, teeth all showing, eyes closed into slits. Much of the mixtape that follows feels a lot like this laugh – it's hard to mistake the work for anything than goofy, happy music. Focus on the claps and Mario samples from Cha Cha, a silly ditty on his affinity for dancing "in a Latin bar with a Dominican that resembles Taina" or the Rugrats-theme-song-sampling Cuchadoe where he brushes off his shoulders and his exes in one fell swoop.
Not every song on the tape features that sense of fun – there are quite a number of detours on the tape, in both sound and lyricism. Even then, such songs evoke the same sense of freedom of creating the track that one wants to hear. Even when borrowing one of hip-hop's most iconic beats for "Get Money," (named, obviously, after the Junior M.A.F.I.A. track of the same name) D.R.A.M. makes it his own, crooning to a female lover that he "can do whatever [she] wants to/we can do it" instead of big bills and flashy cars. And it works, perhaps because D.R.A.M. is very much accustomed to Doing Real Ass Music. Recommended: Cha Cha, Get Money, Cuchadoe, #1EPICRANT, #1EPICINTRO
BIG KRIT – Cadillactica
As an album, Cadillactica exists on two planes: the deep country South from which Big K.R.I.T. emerged, and the endless nothingness of space where he hopes to go. Only a rapper with a certain sense of ambition could have the guts to evoke the mystery of "the unknown" with a sound that calls upon funk, R&B, dystopian novels, spirituality, and sci-fi fodder, and make an album that sounds as expansive as space itself. But that's KRIT for you – yelling over his '15s on My Sub Pt.3 and likening their shattering reverb to that of the Big Bang; waxing poetic about his space-age beloved Caddy on Cadillactica; later transforming the same object into his jilted lover on Do You Love Me?; or evoking that of the mad scientist lover on Mind Control.
And because KRIT has never been one to ignore his beloved South, he invites some of its biggest names to hope on these space-age beats with him, including Houston natives Devin the Dude and Big Bun (Mo Better Cool.) Surprisingly, the two only make up a fifth of the collaborators featured on the project, which calls upon names like Mara Hruby, Wiz Khalifa, Rico Love and E-40 to round out stories on love, family, and a "lost" generation of consumers. Recommended tracks: Cadillactica, My Sub Pt.3 (Big Bang), Life, Do You Love Me, Third Eye
Azealia Banks – Broke With Expensive Tastes
One of the worst headlines printed this year comes to us from Vice's attempt at a music blog, Noisey: "1,066 Days After '212,' Azealia Banks Releases Her Debut Album." The following article details the significance of 2012, when the New York native released her sexually-charged debut single "212" (also, as the article will point out, when Barack Obama won a second term and "Gangnam Style" style ruled the airwaves.) Noisey's clickbait aside, the headlines seems pretty significant of the way the media has covered Banks' comings-and-goings since her introduction to the hip-hop scene at large. Long before Broke with Expensive Tastes quietly appeared on iTunes and Spotify, much about Banks' celebrity hinged on quantity: of her singles, her Twitter beefs, her outrageous Twitter comments. To any cautious Banks fan, the expanse between 2012 and 2014 seemed like one long frustrating abyss. No one, not even Azealia herself for a while, knew when the end was in sight. Worse yet, a newcomer with an interestingly similar name appeared on the scene, racking up sales and national attention with one nauseatingly catchy chart-topper (that shall not be named here), causing critics and fans alike to wonder if the Harlem spitter's Twitter romps had caused her to miss the boat. The forewarning bridge of 212 – where Banks cautions a trifling star that "they'll forget your name soon, and won't nobody be to blame but yourself" – became less of a standout one-liner and more of a self-fulfilling prophecy.
To her credit, Banks knew what she had. And by the end of the first week of November, so did everyone else. It goes without saying (although I have no trouble saying it) that Broke with Expensive Tastes is an album of its own, on par with and borrowing from absolutely no one or nothing else, aside from Banks' own incredible imagination. From the chuckling verses of the opening track "Idle Delilah" to the stuttered flow of its closer Miss Camarderie, Banks delivers wallops after wallop of hits, drumming up every vibe one could possibly think of.
Banks' obvious strength is her lyricism, evidenced by "212" and supported again and again by the singles following her debut – but on BWET, it shines through cheeky metaphors, mouthwatering descriptions of sticky sex and unfortunate love, and even a well-placed curse word or two. Banks must be aware of this too, as the only collaborator to actually breathe on the album is the UK's Theophilus London, who first had to match Banks gunfire flow on JFK in order to do so. In an industry that often requires a cosign or two for authenticity, such omission speaks volumes.
Because of its varied influences, Broke with Expensive Tastes is by no means a cohesive album in sound. What you choose to listen to might depend on your mood that day. Feeling sexy and ready to light up the club? Turn to the charging, electropop Heavy Metal & Reflective or its slinky follow up BBD. Aggressive and in-control? Witch pop vibes might be your answer, so let Yung Rapunxel play and scream along to Banks' chorus demanding naysayers to leave her be and let her "pop [her] sh*t and hit that weed." Or you could turn to the tinkling xylophones and shaking bass of "Ice Princess," which transforms Banks into the coldest fashion "baddie," sitting erect next to Anna Wintour at Fashion Week. Maybe you're cooling on the last dude to do you wrong or are suspicious of the next one to come along, in which Wallace or Miss Camarderie might be your best bet. And should you need a radio-friendly disco-pop hit, look no further than Chasing Time, complete with its futuristic black-and-white visuals. Banks has it all.
But it's not exactly her turn-up jams that make the album what it is, it's the quieter spaces in between. Soda, while still poppy and cute on the beat, evoke lyrics on self-medication and depression with Banks listing actual brand names as mere choices in her paraphernalia.
Before BWET's release, I couldn't blame you for sleeping on Banks. But should you continue to slumber on her in the upcoming year, you won't have anyone to blame but yourself. Period. Recommended: Gimme a Chance, JFK, Wallace, Heavy Metal & Reflectic, BBD, Soda, Chasing Time, Miss Amor, Miss Camarderie
Andi Harman
Top 10 Albums
Fatima Al-Qadiri – Asiatisch – From March until this moment, this record shifted from chill background music, to a study of Gulf futurism production tactics semi-popularized by Nguzunguzu, to an engrossing art piece, all inside of my headphones. It has a different effect on me every time I hit play; I can sink into a chair drenched in incense smoke and get lost in swirling melodies anchored by minimal drum beats, or I can feel like a video game heroine pacing through my dark alleyway on a late night walk. These songs transform the mundanity of day-to-day living into something more cinematic and futuristic, which is why it sits at the top of my list.
Layer Cake – Milk Jr. – The borderline cloying harmonies produced by the late Denton quartet float over a brilliantly crafted, albeit short, pop album of mid- to low-tempo feminine musings. It really is a shame that most of us didn't get our hands on a physical copy of Milk Jr. until the band's farewell show, which I was invited to just as I was making time in my music queue to properly discover them. We've talked at length about Layer Cake on FrontRow, but it will never be enough.
FKA Twigs – LP1 – The lauded singer absolutely deserves all of the attention she has been receiving on more mainstream EOTY lists, with or without her romantic life spilled across tabloids. Nothing solidified my adoration for the performer more than seeing her live at Trees last month. Her wistfully glacial high-pitched vocals are admittedly unapproachable to most first-time listeners and require further investment of time to appreciate, but absolutely translate to an exciting stage performance. Twigs' visual presentation of herself is her strongest power. She has filled in Kara Walker's confrontational silhouette with a cherubic-yet-sensual-yet-distorted modern beauty that only accentuates the power of her music.
Lily Taylor – The Ride
Taylor Swift – 1989
Angel Olsen – Burn Your Fire for No Witness
Parquet Courts – Sunbathing Animal
Unconscious Collective – Pleistocene Moon
-topic – Be Good & Do Well
Wye Oak – Shriek
Top 10 Tracks
Lemonade – Sophie
Melba's Call – Bok Bok ft. Kelela
Try Me – Dej Loaf
Heartattack – Sudie
No Type – Rae Sremmurd
Lift Off – Picnictyme ft. Sam Lao
A Little God In My Hands – Swans
fuckitdry – Bludded Head
Wrist Gone Crazy – Rich the Kid
Tuesday – iLoveMakonnen ft. Drake
Top 10 Shows
FKA Twigs at Trees
Sophie (with an appearance by QT) at Vulcan Gas Works during Fun Fun Fun Fest
Philip Glass at Winspear Opera House
Layer Cake farewell show at Rubber Gloves Rehearsal Studios
Beyonce and Jay Z's On The Run Tour at AT&T Stadium
Gorilla vs. Bear IV at Granada Theater
Casket Girls at Dan's Silverleaf
Sudie at Fashion Art Network
Lord Byron video premiere performance at Sundown
Ben Aqua, Shooknite, and Air DJ at The Crown & Harp
Matt Goodman
Albums
Rich Gang – Tha Tour Pt. 1
Spoon – They Want My Soul
YG – My Krazy Life
Fabo – We Amongst U
Run The Jewels – RTJ2
Aphex Twin – Syro
Bludded Head – Bludded Death
Taylor Swift – 1989
Future – Monster
Madlib & Freddy Gibbs – Pinata
Songs
1. Young Thug & Rich Homie Quan – "Lifestyle"
2. Rae Sremmurd – "No Flex Zone"
3. Dej Loaf – "Try Me"
4. Future – "Coupe"
5. Taylor Swift – "Blank Space"
6. DT Blanco – "Flexa$"
7. Bludded Head – "Pouring Rain"
8. T.I. & Young Thug – "About the Money"
9. Spoon – "New York Kiss"
10. Migos – "Struggle"
Shows:
Future and Rico Love at Southside Music Hall
Willie Nelson & Billy Joe Shaver at Southside Ballroom
Run the Jewels at Trees
Dam Funk at Crown & Harp
Drake vs. Lil Wayne at Gexa Energy Pavilion
YG at House of Blues
Bludded Head, Fungi Girls, Geistheistler, and Dim Locator at Rubber Gloves
Parquet Courts & Radioactivity at Club Dada
Fat Tony at Prophet Bar
Ben Aqua at Crown and Harp / Shooknite afterward at Queen City
Jezy Gray
I moved to Indiana halfway through the year, but I managed to catch a few shows in DFW that I'm still thinking about. Baring Teeth at Gatsby's Mansion is one of those. Every time I see that band, I'm blown away by their deadly precision and power. Gatsby's was a really great space to feel the tremendous force generated by these three guys. Their new LP, Ghost Chorus Among Old Ruins, is a perfect example of what sets them apart from their peers. That record and Unconscious Collective's Pleistocene Moon are evidence of the excellent showing heavy music had in Dallas this year.
That said, my favorite night out in 2014 was definitely Layer Cake's farewell show at Rubber Gloves. I wrote about this one over the summer, so I won't go into the details of why it was such a special performance. But I still break out their Milk Jr. EP when I'm feeling homesick, and I always play it through at least twice. I've been looking for something that infectious up here in Bloomington, and the closest I've come is the great new record from local hero Mike Adams at His Honest Weight, "Best of Boiler Room Classics." I saw him open for Mount Eerie at a creepy, abandoned church on the outskirts of town when I first got here. He very masterfully walks this line between smirky showmanship and sincerity which actually reminds me of the best parts of the Denton music scene.
Speaking of Denton, it's always a good year when you can catch a Shiny Around the Edges show or two. A couple, in particular, stick out to me: a basement show with True Widow, and their Rubber Gloves performance with The Baptist Generals. I've missed them in a big way since they've been on hiatus, and if I were you I would start 2015 right by catching their show with Problem Dogg, Terminator 2, and Bukkake Moms at The Texas Theatre on January 3rd.
Nikki Stephens
Best Concerts of 2014
I've had an identity crisis in 2014. People made fun of me this year saying they used to know what music I listened to by how I dressed and acted. Have I matured? Maybe in ways I don't understand but my music taste has regressed and evolved into primarily pop music from a majority punk. I didn't even see the Melvins ONCE this year. Who the hell am I?
FKA Twigs (Trees): I wrote late November about how FKA live made me change my mind about FKA recorded. Her goddess sold-out performance at Trees changed my mind and challenged my taste and way of appreciating live music, so I automatically put her on my best-of list.
Future Islands (Three Links): Another sold out show, I'm mentioning Future Islands because I saw them for the first time this year. What made them one of my favorites was cemented when I cried watching Sam Herring dance because it reminded me of Morrissey (I know I am lame). It prepped and jaded me on actually seeing an older Morrissey a month later.
La Femme (Austin Psych Fest): I call them my favorite 2013 band I discovered in 2014. I first saw them at a gay club during SXSW at an after-hours set and although that performance sealed the deal for me on La Femme as my new favorite high-energy foreign act, I was much more entranced during their eclectic French yeh-yeh + krautrock "special psych" set they put on for Austin Psych Fest just before Liars. Dallas, please get into La Femme!
Sophie (Granada Theater/Vulcan Gas Company Fun Fun Fun Fest Nites): I can't believe Gorilla vs. Bear got Sophie on the bill for GvB4 Festival at Granada. To give Chris Cantalini upmost credit, I can believe it, but I couldn't believe Sophie agreed to it! Dallas gets nice things sometimes. This show was especially hyped for me because I finally saw what Sophie actually looked like by creeping Instagram tags while spending the whole summer getting into his music. Sweaty, short my main reason for attending September's fest.
As for his performance at the Vulcan Gas Company in Austin this past November, I appreciated the crowd dynamic better. It was a darker, more epileptic and sporadic energy that makes a DJ set more enjoyable, intimate. Plus, PC Music sweetie, QT, joined Sophie side booth, making their synthetically sweet act more cohesive.
Blood Orange (Theatre at Asce Hotel – Los Angeles): Friends tried in vain to bring NYC-based Dev Hynes aka Blood Orange to Dallas this past year and sadly didn't succeed. A few friends and I jumped on the chance to see BO as a precursor act to Fuck Yeah Fest (FYF) in August at the Theatre at Ace Hotel in historic Downtown LA. Synth-pop soft funk performer Kindness opened. My two friends, one from Dallas, the other from New Jersey, ditched our already close seats and were able to walk up practically side stage. What was special about this performance was it was 2013's Cupid Deluxe performed in its entirety in tracking order, it feautured not only Caroline Polacheck from Chairlift – Hynes' duet partner Cupid Deluxe's first single "Chamakay"— but included modern pin-up model Dita von Teese reading lines of poetry during "It Is What It Is." Not to mention four mesmerizing backup dancers and Hynes' collaborator and partner Samantha Urbani. Take me back!
Honorable mentions: Seeing Morrissey at Majestic Theater and forgetting he would probably make a point to perform "Meat is Murder" (since being in BBQ Central aka Texas) alongside a grotesque PETA video—gag! Hovering over and falling on John Dwyer at the first Coachwhips reunion show at SXSW. COACHWHIPS! Unhonorably showing up super late and sneaking into the pit thanks to world's most random human/friend for Brand New at Pegasus Fest; Verizon Theater.
Favorite Albums of 2014
Angel Olsen, Burn Your Fire for No Witness
Alex G, DSU
Klaus Johann Grobe, Im Sinne der Zeit
Iceage, Plowing Into the Field of Love
Jessie Ware, Tough Love