Dead White Zombies has spent years carving out its specific niche in Dallas theater, that of the avant-garde troupe that's unafraid to break the rules and mess with your head. In previous shows, such as Bull and T.N.B., the group's trademark immersive staging and scattered storytelling supported the deeper points each piece was attempting to make. In Thomas Riccio's latest, Karaoke Motel, it's all surface and no story.
Staged in an old icehouse near the foot of the Margaret Hunt Hill Bridge, the atmosphere is more abandoned office building/warehouse than motel. Only one room in the walk-through experience resembles a place where people might actually come, stay a while, and then go; the others appear more like cages from which the inhabitants cannot escape.
"I have one question for you," The Driver (Brad Hennigan) asks at the start of the show. "Are you sure?"
"Maybe," answers a guest.
"Smart man," Hennigan smirks, before swinging open to the door to a hallway lined in billowing white fabric.
The audience is free to wander from tableau to tableau as they please, even if the rules aren't clear from the get-go. Hennigan begins by herding groups of 16 (these are small rooms, so onlookers are wisely spaced out with three separate entrance times) into the front office where Pasolini (Michael Cleveland) and his wife, Tao (Lori McCarty), are checking in guests and answering calls. From there, the housekeeper (Alia Tavakolian) beckons down a hallway.
Depending on which rooms you explore, and in what order, your experiences will likely differ. Any security you might think you have in the form of your friends will drift away as you become separated—not always by choice ("We lost Brian!" one man exclaimed, before shrugging and buying another glass of wine from the conveniently placed concession stand in the Lounge).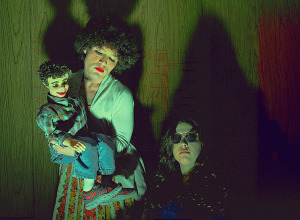 It becomes frustratingly clear early on that there is no narrative thread, and so—consequently and disappointingly—no point in following the actors, like the ruby-lipped Stephanie Oustelet as she coyly, but with a hint of menace, leads Adan Nassem Khan, a photographer, up and out of the basement. Why hasten to see what has spurred Stephen Gardner's Fermor to wander in and out of the bedroom he's sharing with another lost soul (Allie Werle, oddly entrancing with her melancholic, frenetic outbursts)? The housekeeper might be bustling from one room to the next, but we never find out what's propelling her. Tossing out unconnected ideas and hoping the audience will do the hard work of putting them together is more lazy than brilliant.
Though it goes against the conceit, it's far more entertaining to remain ensconced in the Lounge, where Shelby-Alison Hibbs as the Piano Lady is dryly accompanying a glamorous Becki McDonald as she charms guests with saucy patter and expertly sung tunes. Since it's the most central room, characters pass through regularly one their way to their unrecognized missions.
Two weeks ago, I participated in the New York City phenomenon known as Sleep No More. It's a loose retelling of Macbeth performed over six floors in three connected warehouses, and audience members are encouraged to follow actors, explore the elaborately decorated rooms, or simply relax in the 1930s speakeasy if it all becomes too much. Although it may not have always been dramatically clear what was happening (comparing experiences with your friends afterward is half the fun), there was a tension and urgency throughout that made you want to sprint after that departing actor, run up five flights of stairs, or crowd into a tiny room just to see what they might do. At Karaoke Motel, it's simply more exciting to drink some wine and listen to a songstress until check-out time.
Get the FrontRow Newsletter
Get a front row seat to the best shows, arts, and things to do across North Texas. Never miss a beat.