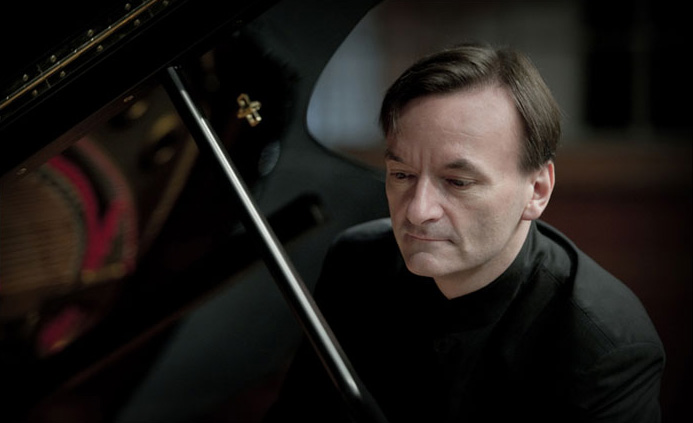 Stephen Hough on Liszt, Macaroons, and What He Can't Do Well.
The pianist, artist, and writer excels at so many things, we tried to ask for a weakness.
This year, British pianist Stephen Hough will perform around one hundred concerts across the U.S. and Europe, including four this weekend in Dallas, where he is joining the Dallas Symphony Orchestra and guest conductor Hans Graf to play Liszt's Piano Concerto No. One.
It's a daunting schedule, but Hough hasn't let his busy career as a concert pianist keep him from pursuing other artistic outlets. In addition to performing and recording, Hough is an active composer, writer and visual artist. He has exhibited his vibrant abstract expressionist paintings in a London gallery, published a book on theology and composed numerous symphonic, choral, chamber and solo piano works. He also maintains a popular blog for the British newspaper The Telegraph, where he writes about music, poetry, dance, politics, religion and any other subject that happens to pique his interest. Hough has had successes in so many arenas, one starts to wonder, what can't this Renaissance man do?
Well, for starters, he says, "I can't dance to save my life." He goes on to list a few more areas in which he feels success eludes him: "I never cook," he confesses, "and I failed math at school." Oh, and "singing," he laughs. "I suppose I can sing to please myself, but I certainly wouldn't want to do it in front of the public."
Hough says that he sees his multiple outlets for artistic expression as completely intertwined as opposed to separate, distinct talents. "I feel all of the arts [are] quite connected in a way," he explains. "I feel that it's the same fountain which is the source of all of those things that I do. Obviously, professionally I play the piano. That's what I earn money doing. I don't earn a lot of money doing any of the other things, but playing the piano spins off into so many other things. It's hard to say in the end which is the closest to me."
Hough speaks about his many talents with an endearing mix of self-awareness, humility and sincerity. He knows where his strengths lie and he knows how to exploit them, but he isn't driven by awards and accolades. Earlier this year, Hough was appointed Commander of the Order of the British Empire. When I spoke with him over the phone last week, I asked him about the award and he responded, "Oh, you know, I think it's just an honorary thing."
And what was it like to receive this award from the Queen of England?  "It was wonderful," he says, explaining that this was not his first time to meet her. He performed for Queen Elizabeth twenty years ago. "I must say," he continued, "to see her now at 87, still incredibly strong — she stood in the ceremony for over an hour and a quarter and then walked out with such a full stride—I thought, 'Gosh, this is extraordinary for someone of that age!' She is amazing. She's seen a lot of life over the years but I think she really does feel that she has to dedicate her whole life [to being Queen] and she's still incredibly conscientious about everything. Most people would have retired twenty years ago. She's still going strong."
Hough identifies with the concept of a life-long commitment to one's vocation. "You know pianists," Hough jokes, "we start thinking about retiring in our 80s." He continues, "It's something you feel that you both love doing and that you should do, that you've been given a gift that you need to exploit and to bring to other people."
When I spoke with Hough last week, he had just spent the day in his studio in London, practicing Liszt's first piano concerto in preparation for this weekend's concerts with the DSO. I asked him if he had any idea how many times he'd performed this particular piece over the course of his career. "Oh, goodness," he responded in his quintessentially polite tone, "certainly more than twenty times, maybe even more than that. It's a wonderful piece. It's full of life and fun and yet, you know, it is also beautifully constructed."
To Hough, playing a piano concerto by Franz Liszt is like biting into a beautiful sweet dessert. "This is one thing I feel when I'm playing both Liszt concertos," he explains, "that although they're not profound pieces, like a [work by] Brahms or Beethoven, they do have tremendous intellectual rigor in the structure which makes them very fabulous to play."
"You know," he explains, "there are certain pieces that go very, very deep inside with emotional and intellectual probing. There are pieces that you feel are life changing. The classic example, of course, is Beethoven's 9th symphony. It's the piece you play when the Berlin Wall is torn down. I don't think you'd feel that way about the Liszt First Piano Concerto."
Liszt has something different to offer. "It's fun and it's frothy," he says. "It's the difference between one of those fabulous Texas steaks and a macaroon from a local bakery. There's a place for both, but I would be very unhappy if I had to give up all my macaroons."