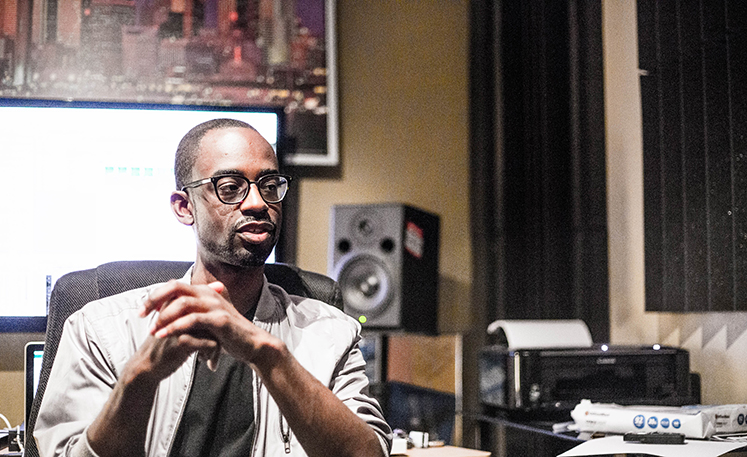 J. Rhodes' Work Has Made it to the Charts, but his Mind is on Oak Cliff
The Dallas producer hopes that Top 10 success can help draw outside attention to his beloved district.
Last week, Lecrae's latest album, Anomaly, claimed the number one spot on Billboard's Top 200. It was a major coup for the gospel rapper, who seemed primed for a mainstream crossover. It was also a heady moment for Dallas rapper and producer J. Rhodes, who, with help from the SKP team, created the beat for the album's second track, "Welcome to America." And although Rhodes has his fingerprints on just one of the 15 songs, this could be a serious boon to the Dallas native's career, particularly if the album sneaks into the Grammys. Its predecessor, Gravity, did just that in 2013. Amidst the galloping success of Anomaly, J. Rhodes wanted to show me the Oak Cliff neighborhood that made him, a place he hopes can gain new hip hop notoriety.
J. Rhodes' local reputation is unassailable. He was born in these streets, literally. Rhodes was born in a car just off the intersection of Lancaster and Ledbetter. His father's name appears on the birth certificate as attending doctor. Joe Louis Rhodes recounts the story of delivering his son as we stand in front of J.L. Automotive, the shop he opened 39 years ago. It has since become a neighborhood fixture. Rhodes credits his father's dogged ambition as a mechanic and businessman for influencing his own perseverance as a producer and rapper. "All I've ever known is him running the business, so I always knew it was possible to be an entrepreneur," says the younger Rhodes.
J. Rhodes also takes me to his childhood home. A short drive away from J.L. Automotive, it sits among an array of single-family dwellings with manicured yards. Spawned by 1970s white flight, this South Oak Cliff neighborhood seems like one of the last vestiges of America's dwindling blue collar middle class. It is a neighborhood, his mother says, where education and hard work are preeminent values.
These places are just glimpses of the Oak Cliff picture that J. Rhodes is so passionate about showing people. Rhodes is jealous of this large swathe of real estate that blankets South Dallas west of the Trinity River. Dallasites are sometimes given to using "Oak Cliff" as shorthand for "land of scrupulous coffee, brunch and delicate French hamburgers." Rhodes admits he is guilty of being a bit unfamiliar with that particular neighborhood. "I didn't even know what Bishop Arts was until about six years ago," he says. "I didn't even know that that part was Oak Cliff." The Oak Cliff he preaches is too broad for a simple characterization. It includes the Kliff Klub – an enduring dump he calls a "monument of blues, old people and drunkenness"—the Big T Plaza bazaar and Carter High School football. J. Rhodes hopes Oak Cliff can add hip hop to that list of cultural markers.
The youngest of five, Rhodes was still a child growing up in this community when Dr. Funk and Rappin' Nookie put on a show in nearby Kiest Park, the first-fruits of Dallas hip hop that plateaued with Nemesis and the Fila Fresh Crew. As he grew and left for UNT, where he began experimenting with a music career, this is the upbringing that rung in his ears. His experiences went a large way in funding his last album, Oak Cliff Huxtable, which we reviewed back in 2012. Rhodes promises that a second volume on that provincial theme is not far away, but for now the rapper/producer is solidly focused on the latter. "I know my foot is in the door," Rhodes says of his production career. "I put most of my eggs in that basket."
J. Rhodes knows that success in either role is elusive. He knew it when he was winning beat battles in 2009. He knew it when he appeared on MTV's RapFix Live in 2010, promoting a track on which he both produced and rapped. He knew it when his collaboration with S1 landed on The Game's 2012 album Jesus Piece. In a city brimming with talented hip hop producers, musicians and MCs, J. Rhodes is both supporting the health of local hip hop while also fighting for a seat at the table. But Rhode's passion for Oak Cliff hints at an even more principled motivation. Far from pursuing success as a vehicle to overcoming his upbringing, he is working toward one that validates it.
Back in Rhodes' studio, he plays me several as-yet unclaimed beats that he has worked on. The studio is little more than a walk-in closet along a hallway of similar rooms in a Deep Ellum suite. As he cues up his work, it is clear that he has ample talent to go with his drive. Even his castaway tracks sound ready-made for an MC's vocals.
Though he touts his versatility in working with an array of artists with different visions, he seems to default to heavy mixes, with foreboding choral swells, tribal chants and rhythms that kick you in the solar plexus. It is a proclivity he says he picked up from the beat battle competitions. "If an artist comes in here, I can make anything," says Rhodes. "But if I'm by myself creating, usually my mood is, 'Man, I just want to make something epic.'" His track for "Welcome to America" was made the same way: vast, furious, dauntless. It makes sense that Lecrae made it the platform for his angry, four-fold indictment of American indifference.
J. Rhodes' creative process for making tracks starts with the minutest of sounds, usually some melody, a quote, an infomercial, something he can't shake from his head. So it makes sense for him to have insisted on giving me an Oak Cliff tour. The place loops around his brain like a melody he can't forget. At this point, his hopes for himself are indissoluble from his hopes for Oak Cliff. They share a particular, multi-faceted DNA.
Rhodes has reason to feel positive. Though Anomaly has since fallen to number eight on the Billboard 200, it continues to gain attention. Lecrae recently sat in with The Roots on The Tonight Show, performing excerpts from his songs throughout the show, and closing with "Welcome to America." Lecrae will be performing at the Verizon Theater on October 4. I never checked with J. Rhodes to see if he would be in attendance. My money is on him being locked away in his studio, working to gain the next foothold.
Lecrae performs at Verizon Theater on Saturday, October 4. All photos by Jason Nelson.