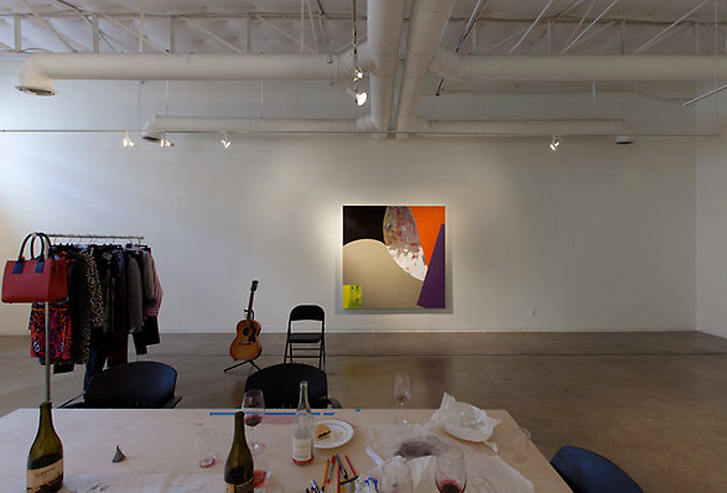 The Dreamlife of Golems: Margaret Meehan and Ludwig Schwarz at Conduit Gallery
Both Margaret Meehan and Ludwig Schwarz surround their exhibitions at Conduit Gallery with a literary gloss.
Both Margaret Meehan and Ludwig Schwarz surround their exhibitions at Conduit Gallery with a literary gloss. For Meehan's Paper Moon, a series of figurines (golems, she calls them) as well as sculptures, paper works, paintings, and collages are situated within an attempt to fuse the story of Frankenstein with the figure of Coco Channel. It may seem like a surprising mashup, but Meehan, as she has for years, is exploring the relation between identity and glamour in a way that romps through the macabre, grotesque, and fanciful. Thus we get an oversized papier-mâché moon sitting on a "sea of cardboard" (a reference to a quote from Paper Moon (1933), written by E.Y. Hardberg and Billy Rose), a table adorned with a number of masked miniatures seemingly pulled from a lost George Méliès film; dripping black paintings adorned with pictures of Frankenstein and models with executioner hoods pasted over their heads; and little historical portraiture photographs with pasted-on ears and lips that adorn or obscure or otherwise creep-ify.
The life in Meehan's work comes from the way it manages to be simultaneously playful and startling, while using collage in a way that functions almost like cinematic montage, a visual language of juxtaposition. Allusion accumulates on the surface of these images, and it draws viewers into the polemic that simmers beneath their surfaces. The result is a dreamlike fragmentation that reveals a conflation of beauty with violence, fashion and subjugation.
Still, while in the exhibit, I found myself drawn into one of a few books that she has placed in the space, Sleeping with the Enemy: Coco Chanel's Secret War, which describes the famous fashion designer's liaisons with the Nazi party. I ended up spending more time reading it than looking at the artwork in the room, which made me realize one of the things that irked me about the exhibition. Meehan's literary conceit – and all its cultural and political punning – may be more interesting and engrossing than her visual one. And while these objects can feel surprising and magical, they can also feel lacking in their intended talismanic power.
I found a similar difficulty with Ludwig Schwarz's exhibition WALKINCLOSET, a painting exhibition couched within one of the artist's absurdist installations. The press materials for WALKINCLOSET describe an imaginary game which merely consists of occupying a space and claiming it, but the game's invention backstory doubles as a narrative about abandonment, obscurity, isolation, and the novelty of arcane interests fostering sociality in the digital landscape of the internet. This conceit is carried into the gallery with the simple introduction of a dining table strewn with empty wine bottles, a clothes rack, an acoustic guitar on a stand. Stinking of dried-out, vinegar-ing wine, it feels like an abandoned set in a Fassbinder film, some mundane, violent ruin of the bourgeois every day.
How Schwarz's situationalist-ish gesture reconciles to his paintings is less clear. What I've always loved about Schwarz's paintings is that I can never seem to articulate exactly what I love about them. They can seem both insistent and unremarkable, confident and lackadaisical, accidental and meticulous composed. Martin Kippenberger is an artist that always seems close to Schwarz's mind. His painting possesses a playfulness that can also feel elusive and intellectually aloof. Still, this installation nagged on me. Perhaps it was because these paintings don't feel as consistently assured as some of the other work I've seen of the artist. Perhaps it was because gestures like placing a scale in front of a canvas or playing a video askew into an out-of-the-way corner of the gallery feel a little too tangential. And what to make of the story of the game and its instructions? Was it just an example of an artist's pithy, non-committal attempts to figure out how to work unapologetically – a concealing ploy necessary to free up the space to allow Schwarz to merely paint on his own terms? Why not just paint? Or just drink?
The following photographs were taken at the opening by Andi Harman: