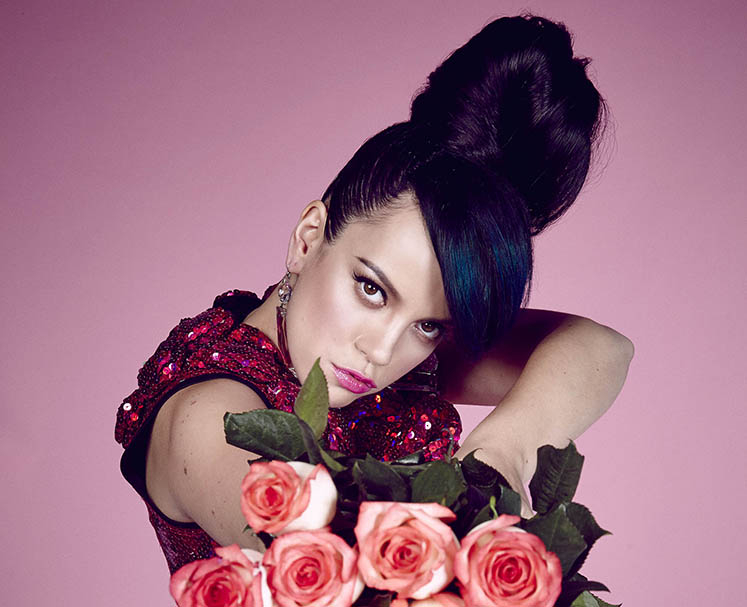 Q&A: Lily Allen On Not Reading Your Own Press and Covering Squeeze
A brief chat with the sharp-tongued UK singer.
Lily Allen came of age in the Myspace era, when that site still played a large role in the development of new stars. A lot has changed since 2006, and she has maintained a steady stream of provocative lyrics and headlines both, and remains one of the more interesting pop singers of her generation. Her most recent record Sheezus called out her fellow chart-topping musicians by name with the same fearlessly jabbing humor one would expect from a rap album (hence the title, which is obviously a take on Kanye West's last record). I spoke to her by phone ahead of her Dallas performance, a city she revealed she has never visited.
FrontRow: Have you spent much time in Dallas?
Lily Allen: No, I haven't actually. I don't think I've ever been to Dallas. Actually, I'm going to be there a couple of days before my tour stop. I'm hoping to catch Drake and Lil Wayne. So, yeah, I'm going to be there a few days early.
FR: The gap between albums was a handful of years, and you make a lot of references to pop music, obviously, on your newest record. What changed about pop music to you in that five year span that compelled you to comment on it? 
LA: Bands don't really sell as much pop music as they once did in the music industry.
FR: You covered "Up the Junction" by Squeeze. 
LA: I did. [laughs]
FR: It's such a lyrically complex song and one of my favorites. What does it say to you? 
LA: That song has a resonance because my mom was really young when she had her first child, who's my older sister. She came to London and met a guy, and I don't know. I suppose when I listen to that song I imagine my mom being very young and kind of lost, and at a difficult crossroads in her life. It kind of has a resonance in that sense.
FR: You've been given a pretty hard time by the press over lyrical content and videos. Do you think you get a harder time from the US or the UK press? 
LA: I actually wouldn't know at this point, because since Sheezus came out, I've kind of just been ignoring it all. So, I couldn't tell you. You'd probably be better equipped to tell me.
FR: Do you have any advice for ignoring the press? I try to sometimes, even though it's my job. 
I just don't read it. It's generally crap. And I think that what's really bad about it all is that, and I'm not saying that you do necessarily, but that people research—when they come to do an interview with someone like myself—past articles that have been written which generally are based on lies.
FR: Have you been reading anything interesting lately? 
LA: Oh, god. I haven't. I've been watching a lot of stuff on Netflix. Baby books and parenting books. I really haven't had the time.
Lily Allen performs tonight at the House of Blues. Mr. Little Jeans is the supporting act. Doors are at 7 pm.