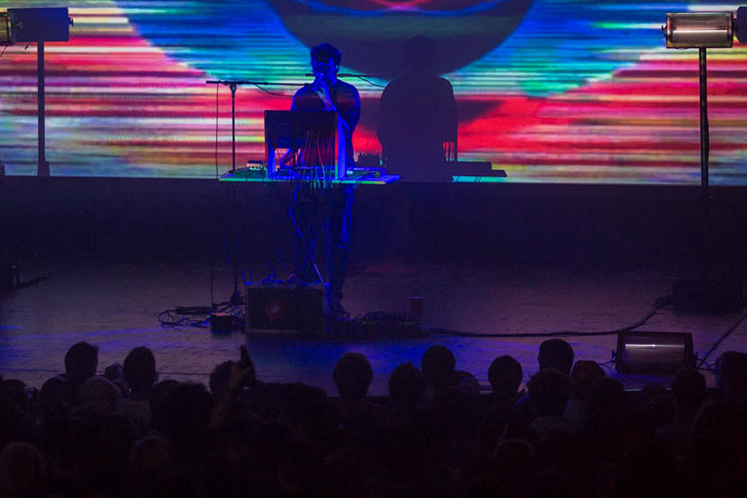 Believe the Youth: Thoughts On Gorilla vs Bear 4
It's the kind of music that reminds you that youth gets its kicks from destroying the past, that demolition and abandonment are symptoms of reinvention.
The FrontRow staff unsurprisingly had a lot to say about our pick for Dallas' best music festival for 2014. Let's just get to it:
Peter Simek on London's PC Music Label
"Believe the youth." In some crazed, half-drunken, mad dancing, sweaty moment deep in the Sophie set at GvB IV, I typed that line into the notes on my iPhone. It's one of just two notes from the show, neither of which I can quite remember why, at any particular moment, the ideas jumped into my head. The other one is even more ambiguous: "Maybe at the end of the world, just before the planet expires, for a brief moment, humanity reinvents itself."
Sophie is one of a handful of London-based producers with whom I've been obsessed over the past few months. He joins a host of artists who record on A.G. Cooke's PC Music label, which includes geniuses like Danny L. Harle, who, in between composing contemporary classical music, churned out one of the year's best pop songs, "Broken Flowers," and Hannah Diamond, a pink pixie dust vocalist who sounds like a next generation Britney Spears, that is, if Spears sucked a bunch of helium and listened only to J-Pop. The music is an insane blend of musical inanity, superficiality, bleeps, blips, and scatter-shot, jumpy beats. The productions are surprisingly complex, and if the melodies sound strange, it's because they are slyly ambitious and defy pop convention. (I've once listened to a Hannah Diamond song on really low volume and noticed its melodic affinity to Renaissance and medieval dance music.) It owes a lot to the glossy, cutesy hyper-kitsch aesthetic of Japanese "kawaii", but its attitude injects something else into the candy-colored commercial nightmare, something reminiscent of Tracey Emin's stained bed sheets.
Sophie's music, like much of this work, is emphatically youthful and gleefully apocalyptic. It's knowing dance music for the art school set, adopting teenager crush-pop as a kind of act of cultural defiance. And yet, it does so without irony, reveling in its non-commitment to meaning, emotion, or expression. At GvB, Sophie's performance fluctuated between moments of nefarious, snarling, nearly introspective digital deconstruction, and hyperactive indulgences in musical cuteness. The structure of one his releases, "Lemonade," follows this pattern, matching a slow club grove and the infectiously annoying lyrics ("La-la lemonade" – over and over) with a break that sounds like the radio abruptly flipped to a Japanese soda commercial. "Bipp" is a more straight-ahead track, with its jumpy, ADD house pulse. It sounds not so much like Culture Beat's "Mr. Vain," as it does like what it felt like holding hands ice skating in junior high, while Culture Beat's "Mr. Vain" blared out through loudspeakers. "Hard" may be Sophie's best production. Baroque and complex, dark and giddy, it works itself into a black frenzy, with the squeaky-voiced lyrics – "Latex gloves, I get so hard / platform shoes, I get so hard" – repeating in a maddening circle until the surface meaningless of the lyrical content seems to morph into something Bacchanalian and brilliant. Somehow amidst this vacuity, the language of Euripides' Bacchae still fits: "And they washed their hands of the thick blood / while the snakes licked clean their spattered cheeks."
You either love or hate this music. It can sound like it was created specifically for interrogation rooms at Guantanamo Bay, or it can sound like the closest thing to knowing what it was like to hear rock and roll in 1955, full of a frightening kind of newness. It's the kind of music that reminds you that youth gets its kicks from destroying the past, that demolition and abandonment are symptoms of reinvention. — Peter Simek
Andi Harman on Ejecta 
This was the third time I was able to make it to an Ejecta performance, after their album release in Brooklyn and a Hype Hotel performance at this year's South by Southwest. Therefore, I thought I had a rough idea of what to expect when they took the stage at Granada. Joel Ford took his stance mid-stage to monitor the moving parts of the bouncing pop tune-producing machines splayed across his tabletop, as usual. To my surprise, however, vocalist Leanne Macomber ditched her guitar shield that used to keep her cemented to a mic stand. For her Dallas homecoming, she replaced the absent instrument with a more suitable gilded microphone, its cord swung promiscuously around her person at will, and boundless Kate Bush-esque choreography.
This time, Macomber was also able to devote much more of her stamina to replicating the ardently lofty upper-register melodies she recorded on the duo's debut LP, Dominae. It still surprises me how someone with such a saccharine voice in-person can have such a persistently brutal Twitter persona. The lovely vocals were countered by a dark jumpsuit, shiny harness, and exquisite stage make-up applied by Dallas' Joshaa Flores. Generally, I don't discuss a performer's outfit, but Ejecta is often presented nude in promotional images, so this toothsome apparition that took the stage is worth a description. — Andi Harman  
Eric Martinez on Everything
It was a night that unfolded through the billowing haze of the constantly evolving experimental psych band, Blues Control, yet courted us through dance with the provocative and moody pop of Ejecta. Unlike Blues Control and Panda Bear who scheduled this stop on their tour together, Sophie and DOSS flew out exclusively for this fest appearance. The night of course, capped off with the celestial hymns of Panda Bear, in what was an illuminating and visually arresting performance.
"I can make you feel better, if you let me!" is the repeated verse on mysterious UK producer Sophie's futuristic electronic 2013 single, "BIPP." It's a dynamic, shifty single, fluid and continually evolving in a bubbly 3-minute session. The message and the resonance of the song is actually the essence of the Gorilla vs Bear Fest in terms of continuing to remain loyal to North Texas by providing a music festival that only showcases the most compelling electronic and pop music working its way up from the underground. We may not know how lucky we are to have had such a remarkable music fest. A few years out from the inaugural installment, the message is clear: Gorilla vs Bear can make you feel better, Dallas. If you only let it. — Eric Martinez 
Christopher Mosley on The Annual Dallas Music Event That's Not Very Local (Lucky You)
Since its inception, Gorilla vs Bear has been on the receiving end of heaps of criticism for not focusing enough on local music or championing music that is too obscure, whether local or otherwise. I've already addressed this on multiple occasions. I will gladly talk about it again.
There is a certain civic arrogance that comes with assuming that the "best" bands, artists, or musicians will happen to be from the city you live in, simply because you choose to live there. Art and music are not soccer clubs, I hate to break it to you. Simply because you choose Dallas for any of the following reasons—great economy, you go to school locally, you or your parents are from here—does not mean that every book, movie, or band that is locally sourced is going to be great. Just like we have started to demand more from the various aspects our city, from the quality-of-life impact of the basic infrastructure to the places where one can purchase an expensive doughnut, we have to also strive for similarly high standards for the arts, even pop music.
Gorilla vs Bear has been one of the rare exceptions in this pursuit of excellence. It has always demanded that a local act must stand out, dramatically, in order to be included on the site. The work will not be included simply because you are from Dallas and you play a guitar or synthesizer. I've met dozens of bitter artists over the years, frustrated that their music is not included on the site, as they know very well that a mere mention can result in attention from national and international media organizations. It feels like some sort of personal insult to the struggling musician, who already faces an uphill climb.But it's the opposite. In doing so, I believe that the site has actually shown you, the artist, and in turn, the city, the respect we deserve. If someone merely hands you a participant award simply for making an effort, you are not being taken seriously as an artist. There are plenty of local publications who will gladly do that, and honestly, they are holding your hand while your best years get away from you, without ever challenging you to be better. Every week we are fed the same articles about the same artists that for the better part of a decade, still remain staunchly local beings. Let's say that music is a soccer club. Wouldn't you want that club to get out of the city and take on the entire world?
As for the event itself, there was not a single moment where I felt tense. To be out all the time as a writer or critic is to feel you are constantly working. It's not a complaint; we wouldn't do it if we didn't somehow adore it. But with most shows, there is a moment where I tense up, and I slowly pull out my phone or a notepad to jot something down that caused that tension. Sometimes I just record some inane stage banter. I didn't do that here. From the first beautifully obnoxious laptop blip to the final strains of "Last Night at the Jetty," I just stood in awe. I thought of the acts who are left off of the site, and the artists who quickly leave Dallas once they get recognition from beyond the city limits. What makes a city great is also what it lacks, what leaves, and what is never there. I was reminded of the closing credits of Iñarritu's 2001 animal-as-metaphor classic, Amores Perros. It dealt with dogs fighting one another, as opposed to gorillas or bears. The message is this: We are also what we have lost. — Christopher Mosley 
All photographs by Andi Harman.