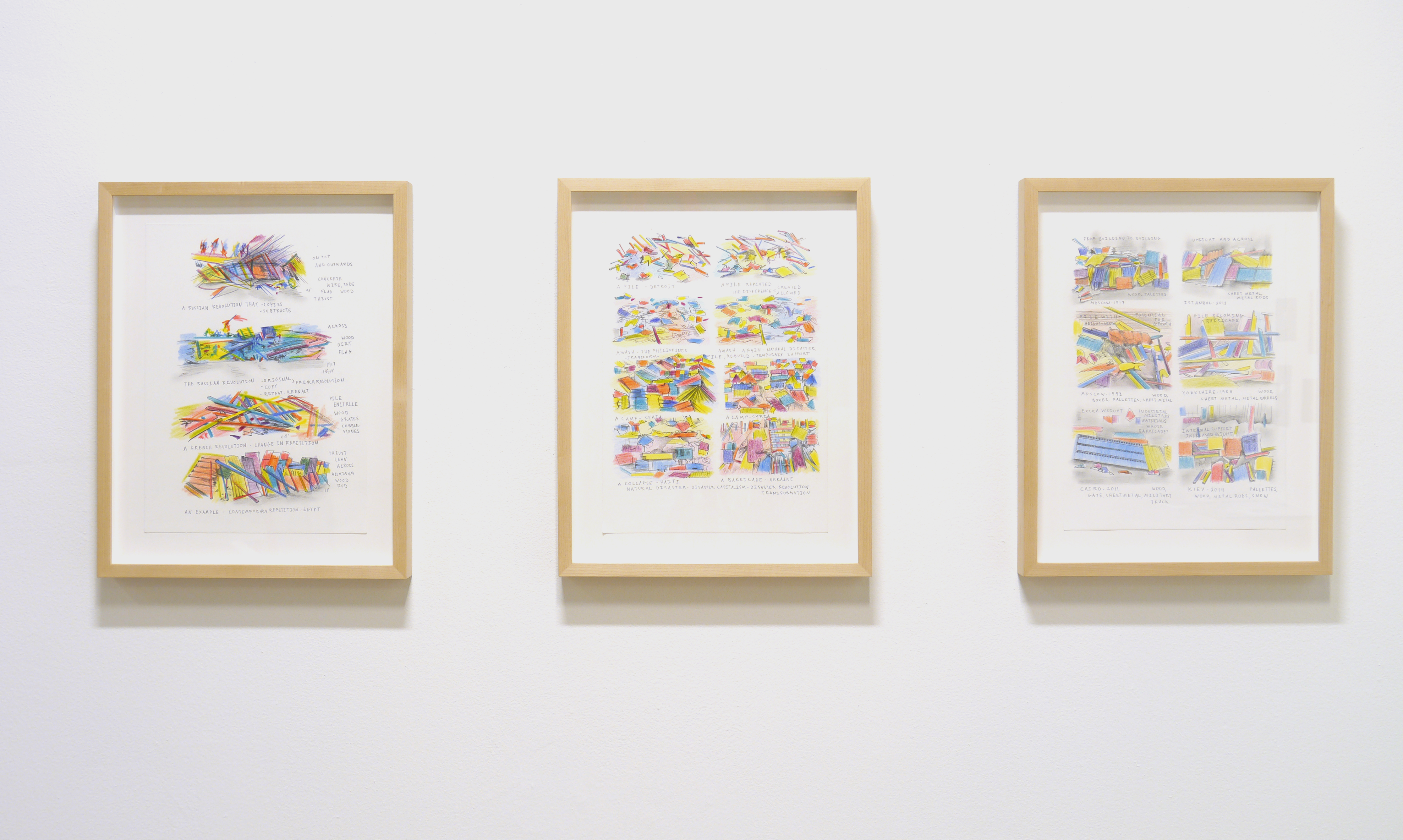 After Walker Evans is a Group Show that Makes You Think
Objects have a long and contentious history with being displayed in a manner that pulls them from their real-world contexts.
A recent scroll through my Instagram feed revealed three selfies taken in the reflective surface of Anish Kapoor's bean-shaped, mirrored monolith, Cloud Gate, each with the hashtag #chicagobeanselfie, and a caption acknowledging the ubiquity of such an image. Now, I've never seen Cloud Gate in person, but I've seen various iterations of it in photographs hundreds, maybe thousands, of times. These pictures have given the sculpture a different sort of life wherein it has morphed into a social phenomenon completely devoid of any sort of context or meaning; where the object itself has been trumped by the act of taking portraits in its surface. Although self-reflection has long been an aspect of Kapoor's work, I doubt he could have predicted that one of his pieces would become a touchstone for this specific type of post-millennial narcissism.
It's not exactly a new problem. Objects have a long and contentious history with being displayed in a manner that pulls them from their real-world contexts. Anyone who has studied museum history knows that these hallowed institutions are borne from wunderkammers—early collections of "exotic" paraphernalia that were assembled for maximum visual impact and with little regard for their contents history or function. Photography's advent further complicated matters because, as it was soon discovered, despite the fact that the medium is used as a documentary tool, it has an infinitely subjective and malleable perspective. It's a muddy area, and one that is particularly relevant today as the rapid cultivation and reproduction of images, memes and social media platforms confounds traditional notions of visual semiotics.
Rachel Cook, Assistant Curator at Diverseworks in Houston, tackles this issue in After Walker Evans, currently on display at The Art Galleries at TCU. The basis for this show is a series of photographs Walker Evans made to accompany MoMA's 1935 exhibition African Negro Art, one of the first US shows to display African sculptures as works of art and not ethnographic objects. Evans' tightly-cropped images eschewed cultural anchors in favor of imposing his intimate, formal aesthetic, indicative of the Modernist philosophies of the era. Cook uses this as a jumping off point for investigating the mediums of sculpture and photography, and the grey space in between, as they relate to larger ideologies and narratives. Additionally, she broaches the problems inherent in utilizing either medium as a vehicle for conveying ethnicity or cultural experiences, particularly when a photograph or sculptural replica serves as a stand-in for the original.
It's a lot to cover in a fairly compact group show of 10 artists, and because of this the exhibition doesn't coalesce. Instead it reads like a mash-up of works that are addressing similar themes, but have differing primary agendas. Jamal Cyrus, Rosaine Kouamen and Julia Brown deal overtly with traditional cultural representations, while Carrie Cook, Sterling Allen, and Lauren Moya Ford are concerned with the artist's hand and style; literally shifting perspectives in a decidedly more contemporary fashion. J Parker Valentine, Adam Schreiber and Cassandra Emswiler Burd are immersed in their own private and systemized worlds, and Anna Elise Johnson's petite drawings of political barricades get somewhat lost in the shuffle.
That's not to say that these artists belong in separate shows, but rather that the thoughts behind bringing them together seem rigorously dogmatic, yet unresolved; as though we're catching the curator in the midst of working through a number of specific questions whose answers are still beyond her grasp. There is an attempt to create cohesion though the installation by breaking up multiple works and series by individual artists, but it only heightens the disconnectedness and makes it difficult to fully discern each artist's relevance within the show. I found myself wishing there had been didactics or some sort of obvious thematic or visual groupings that broke down the different ideas swirling around and drew connections to the artists. I realize this is a gallery setting and not a museum, but I think a topic as broad and dense as this one requires significant backstory.
Even if the show doesn't gel as a whole, there are some shining moments. Centraltrak alum Cassandra Emswiler Burd once again demonstrates that she is one of this city's most unique and superior talents, with Michigan, Michigan (a collaborative artist/curator reworking of a previous piece by Ms. Burd). It consists of a single painting, a bold blue and green stripe painted across two overlapping walls and a shelf of delicately arranged objects. An X on the floor directs the viewer to a spot where you can see the three-part installation all at once – as though you were taking a photograph to document the piece. It's intelligent and inviting, and works equally well from the pre-determined vantage point as it does upon closer examination.
The two works by Lauren Moya Ford are also standouts. Artefacts is a grid of photographs of the artist's hand caressing or measuring pictures from a 1957 book of Greek antiquities, while Far Off Places is a dual slideshow of the artist holding cutout pictures of parrots and the same Greek artifacts against the backdrops of a botanical garden and the ocean, respectively. They are intimate and playful dissections of how we interact with "exotic" species through photographs, and a goofy, half-assed attempt to return the species from whence they came; to place them back into the world. It's a nice turnaround on Evans original photos, which wrested the African objects from their habitats and placed them into the flat pages of a book.
Adam Schrieber's photo negatives of library bookends are simply stunning. The most formal and traditionally photographic of the group; employing the fundamentals of the medium to great effect. I could have looked at a whole gallery of these images. Unfortunately his works are one of the series that was broken up for thematic effect, and the photo purist in me cried a little at not being able to fully enjoy their sculptural qualities in a single shot. It is deeply satisfying to immerse yourself in a deceptively simple, well-executed suite of photographs, and I felt robbed of that opportunity.
Despite my issues with After Walker Evans, I applaud Ms. Cook for this show. It's clear she is thoughtful and working through a complex set of ideas that are relevant and exciting (all the more so because they deal with photography, which is sorely underrepresented in this geographical area). We need more of this type of curatorial rigorousness in North Texas. Too often our city is populated by artist-driven shows based around the sort of grassroots scrappiness that drives the local scene; which is great, but does nothing to raise the bar or institute new ways of thinking. It's wonderful to see an exhibition with intellectual chops that brings together artists from all over Texas, and beyond. Most importantly, it's a show that makes you think.
Adam Schreiber.
Untitled, 2014.
Negative silver print.
Courtesy the artist & Sasha Wolf Gallery, New York.

J. Parker Valentine
The book pages of the original book were of drawings in process. She made the books with these drawings and then did new drawings on top of them. Then those books were documented and those photos were used for the published Sternberg book, which she gave to me as a book to rephotograph again. Prints displayed on floor.
Sterling Allen
Untitled R, 2014.
Inkjet prints, plywood, paint. Courtesy of the artist.
Lauren Moya Ford
Far Off Places Made These, 2014.
55 color slides, Audio: 8 min 18 seconds
Courtesy of the artist.


Lauren Moya Ford
Artifacts, 2014
digital print
Courtesy of the artist

Jamal Cyrus
Eroding Witness 7_a, 2014
Laser-cut papyrus, ed 1 of 2
Courtesy of the artist and Inman Gallery, Houston.
Jamal Cyrus
Eroding Witness 7_b, 2014
Laser-cut papyrus, ed 1 of 2
Courtesy of the artist and Inman Gallery, Houston
All photos by Devon Nowlin. After Walker Evans is on view at The Galleries at TCU until October 25, 2014.