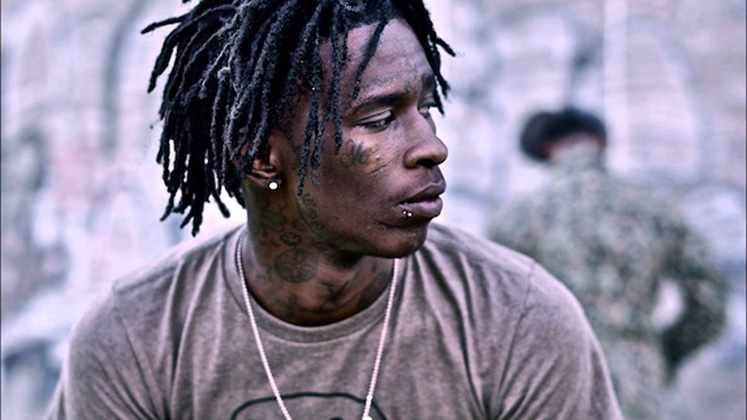 Young Thug is a No-Show; Disappointed Crowd Sprayed with Fire Extinguisher
The headlining artist wasn't even in the state and someone sprayed the crowd with a fire extinguisher. All for the low ticket-cost of 30 dollars.
When you're walking through a room that's been sprayed with a fire extinguisher, you notice your skin tighten. It stings a little. You squint your eyes to try and find the exit through the hazy cloud of potassium bicarbonate. It is one of the last things you want to experience at a packed concert.
To preface: There was not a fire at Saturday night's aborted Young Thug show at the Prophet Bar in Deep Ellum. Thug, perhaps rap's most discussed artist of the moment, was apparently not even in the city, a fact that was announced to the 800 or so people in the room by a nervous looking young man in a Been Trill t-shirt and jeans just before 1 a.m. At that time, there was no mention of refunds.
The lights turned on and the crowd went nowhere. A couple attendees hurled their cups at the stage. Someone near the doors for the patio yanked a fire extinguisher off the wall, yelling "HE AIN'T HERE," and then let the thing rip. The crowd started moving. A tall bouncer sprinted toward the spray. After the venue emptied, he bragged to a woman near the door, "I almost got him."
It was a tense ending to the night. The audience had stood through half a dozen middling openers waiting for Young Thug. The most notable was Houston's Maxo Kream, a very worthwhile rapper in his recordings whose live show amounted to 20 minutes of bouncing on a crowded stage while intermittently shouting in his microphone over a vocal track.
After fees, Saturday night's ticket cost $30. And it was an endurance test. The crowd stood through the openers in the hopes that Thug would be worth it.
He is exactly the type of artist you want in any genre of which you're a fan. He has little regard for those who came before him and his style is unpredictable and shifty—sounding familiar yet foreign. He pitches his voice high and raps in bursts, sometimes stopping to sing or shout, or whisper or whine. The crowd was primed to see it live and was understandably furious after being told their evening was wasted.
Thug promoted both Saturday's Dallas and Sunday's Houston concerts on his Twitter ahead of the show. After the evening bubbled over, he posted a video of himself walking through what looks like an airport: "We not in Houston, we not in Texas. False promotion, false promotion."
The promoter—Houston-based 365 Live Entertainment—vowed on Twitter to refund all tickets by Monday. But Saturday night was a mess: "It wasn't really our f*ck-up," Prophet Bar's doorman said. "It's on 365 Promotions. We can't help you with refunds."
And so the crowd milled about on Commerce Street before dispersing, choosing to voice their displeasure online. Beyond a few tense moments, there weren't any incidents. 365 hasn't responded to requests for comment.
This doesn't happen at every show, and one wonders why some artists operate with such little regard for their fan base. Last month, Rico Love, the hit-making producer who opened for Future at Southside Music Hall, brought an MPC onstage as well as a turntable and a laptop. The three men manning them created the beats as he sang and rapped, just like a band. It was a terrific performance. And Rico left us with a sentiment that I thought back to Saturday night: "Support real performers."